ITP
ITP Holeshot ATV Rear Tire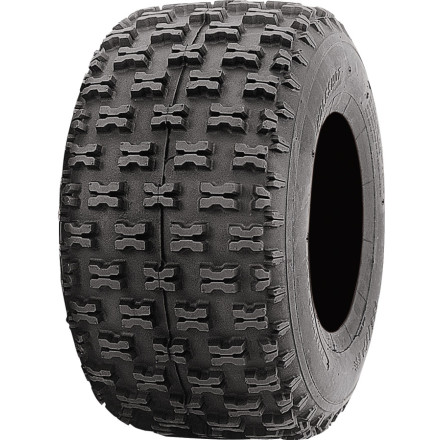 ITP Holeshot ATV Rear Tire
---
21% Off - Save up to $22.00
---
5 Star
10
4 Star
4
3 Star
3
2 Star
0
1 Star
1
Write a Review
Write your review and you'll automatically be entered in our monthly drawing. Include an image or video to DOUBLE your chances to win!
Write Your Review
Over 8 months ago
Massachusetts, USA
Best tires for the price
These tires perfectly fit my trx 450r 2006 they look super nice and very durable i would recommend them alot
1 year 9 months ago
Ohio, USA
Not bad
Nice tire but I wish I would have bought the itp holeshot gncc tire.. I used to have those and they have larger and thicker tred.
1 year 9 months ago
Ohio, USA
Great tire!
It's a great tire can't go wrong with itp
Great tires
Nice look and great grip.
Great tires
These tires have a great look and an awesome grip.
2 years 2 months ago
Edgerton, WI 53534, USA
Insane Grip
Best tires i have ever used. These things will let u turn so fast and never lose traction or control of were u going. They also help with stopping no more sliding to a stop it just a stop lol great tire.
Over 3 years ago
California, USA
These tires run big
Be careful when ordering these tires. The advertised tire size(in my case) was about 2 inches bigger than other tire brands(like maxxis) which has caused me a pretty big headache. I know this because I compared them to my friends maxxis tires that were the same advertised size. Luckily after speaking with motosport online and over the phone I will be able to return them but will still have to pay for return shipping. From what the expert said through chat, ITP doesn't measure the same way as other tire brands.
Over 5 years ago
Rouses Point, NY, USA
ITP Tires
Great tire, the rear tire is a little large but thats okay. Overall perfect tire
Q: I have a Tao Tao Rhino
I don't see this ATV on your list My tire size is 20 x 9.5 x 8 Do you have tires in this size and pattern? Front and Back? Do you have parts for this ATV in case I have repairs to do?
MotoSportExpert
1 year 9 months ago
A: The ITP Holeshot ATV Rear Tire does come in a 20x11-8 which would be the same height, 1.5" wider and the same 8" diameter wheel size.
Unfortunately we do not have parts for your Tao Tao Rhino.
Feel free to give us a call at 888-676-8853 and we would be happy to help you out with your order.
Q: Inner tube for ITP Holeshot Tires
Have ITP Holeshot HD Tire size AT20x11-9. Need inner tube for two. What size do I use? Cannot find replacement tube anywhere.
MotoSportExpert
1 year 10 months ago
A: The Kenda ATV Tube 20x10-9 should work great.
Q: Will these fit a stock 2010 raptor 250 and get good grip in the holeshot if i were to race the atv?
the oem size for the back is 19x10-9
MotoSportExpert
2 years 5 months ago
A: Yes the 20x11-9 would fit. It would be 1" taller and 1" wider.
Q: I have a 2003 trx250ex and I was wondering if these tires will fit the stock rims without a tube or If I would have to purchase different rims.
MotoSportExpert
2 years 9 months ago
A: Yes the 20x11-9 would fit the stock 9" wheels on your 250EX. This would be a shorter (20) and wider (11) tire than stock.

OEM Stock Sizes for a 2003 Honda TRX250EX
Front Tire: 22x7-10 Rear Tire: 22x10-9
Q: Are these a long lasting tire
hows the wear? whats your longest lasting tires that also have good traction and are 22-7-10 for the front and 20-10-9 in the rear.
james718
Over 9 years ago
A: These are the most copied ATV tire in the industry. The wear life would be determined on where these are rode on. As long as you stay off the pavement, these will last you a long time.
Hondarider
Over 9 years ago
A: for a 2-ply tire probably not very good. i just got them about a month ago. the most long lasting tire i have had is maxxis rzr 2 they have a 6-ply rating, with an expensive price tag
Q: Will these fit my stock 20x10x9 rims?
i have stock rims on my TRX 450R and the tires are 20x10x9. Will 20x11x10's fit?
bountybob
Over 9 years ago
A: NO, the first # is for height 20" tall the second # is width of the tires and the third # is Rim size so if your looking for a tire to fit your stock wheels in the Holeshot you would need a 20x11-9 here's a link to give you a better understand: (http://www.itptires.com/tiresizing.html)
Q: Will these fit on a 10x8 wheel?
Drewski
Over 9 years ago
A: Yes they will fit a 10x8 wheel.
Q: Will these fit my ltz400
when i out the type and the make of my quad and ur thingy says they will fit but my stock tires are 20-10-9?
Drewski
Over 9 years ago
A: If your stock tire size is a 20/10/9 the 20/11/10's will not fit because they require a 10in rim, It shows they will because people sometimes go to a larger rim size so it gives you all the available options that would fit if you have the proper equipment. So if you are looking for a tire to fit on your stock rim you would need the 20/11/9's.
Q: Tires now are 22x10x10 will a 20x11x10 fit
Drewski
Over 9 years ago
A: Yes they will fit.
Q: Holeshot tires for the TRX-700XX?
I've been looking everywhere for the Maxxis or ITP tire you've got listed, but how do you fit the "HOLESHOT REAR TIRE 20-11-10" on the TRX-700XX, when it has an 11" diameter back rim? Either your auto match is incorrect or you've got some good news. Hopefully it's good news!
Drewski
Over 9 years ago
A: Well it pulls those tires up because if you were running a 10in rim those 20x11x10 would work. The reason we have you profile your machine is to make sure that if you ordered rims they would come with the correct bolt pattern since tires aren't specific as far as what brand of machine you got, they are only specific to the rim size. So if you are looking to run 20X11X10 you are going to have to buy the appropriate rim size to go with those tires.
See all bikes that this part fits...
| Product Variant | Manufacturer Part # |
| --- | --- |
| 20x11-10 | 532035 |
| 20x11-8 | 532031 |
| 20x11-9 | 532032 |