ITP
ITP Delta Steel Wheel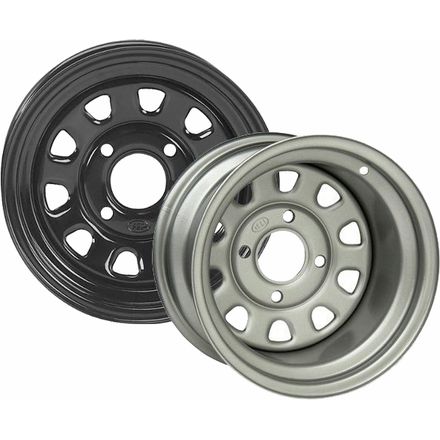 ---
7% Off - Save up to $4.63
---
5 Star
44
4 Star
6
3 Star
0
2 Star
1
1 Star
1
29 days ago
Spring Grove, PA
Nice shiny Finnish
Haven't mounted a tire on it yet but it looks like really good quality.
3 months 8 days ago
College Grove Tennessee
3 months 15 days ago
Edgewood, New Mexico
Steel wheel
I bought this rim to use as a spare, it is working out great.
4 months 14 days ago
Clayton, North Carolina
Not real Fancy but they work
I bought these rims because they have a hole in the middle. My 17 y/o Arctic Cat came with rims with no hole in the center. This was a problem when I wanted to get new tires a couple of years back. These rims/wheels fit my ATV perfectly, and the new tires I got for them fit with no problem either. I called and talked with the MotoSport customer support person, and he suggested I get the hub caps also... He was right, get the caps also, will make a not so fancy rim a little more stylish.
4 months 20 days ago
Parkers Chapel Arkansas
Great purchase
I bought these wheels for my 2005 Honda Foreman. They are the exact size I needed and the are a great value for the money. And they made my four wheeler look like brand new.
4 months 27 days ago
Arizona
Great wheel!
These wheels fit perfectly, look good, and have a durable finish---what more could you ask?
Over 6 months ago
central ny
Perfect fit for 2005 arctic cat 400
purchased to replace a rear rim i bent,,the offset is different but works out fine because the rim offsets to the outside of the hub and gives more clearance to the shock and swing arm,, very happy with the purchase andwil buy another one to even off the rear end,,
Over 8 months ago
arizona
Great rim
Fit perfect fast shipping!!!
Returns are slow to get processed & U pay shipping
The hub cover did not fit, so I returned the wheel and it took over 2 weeks to get the credit back on my card plus I had to pay for shipping both ways. Would not use this company again.
Over 8 months ago
Winters Tx
Just what I was looking for
Just what I was looking for
Evan
Q: Does this fit model 2010 mule?
roadrunner
Q: Do you get all 4 rim or just one?
Mclay
Q: Will this fit a 2016 Polaris rzr 170 
Trevor Gearhead
Over 6 months ago
A: I can't find the stock sizing of your wheel anywhere. I was able to find your OEM replacements (PN 0450749-067 & 0452675-067). Options may be limited as it's a smaller wheel. These will not fit though.
Copwilli
Q: Will this wheel work on a 2017 Massimo MSU 500?
robert
Over 6 months ago
A: We do not carry model specified parts for your 2017 Massimo MSU 500.
Tyler
Q: I have a 2017 polaris sportsman 450 HO I was wondering if the itp delta steel rim will fit on it
Paul
Over 6 months ago
A: Yes, the 12 x 7 ITP Delta Steel Wheel fits your 2017 Polaris Sportsman 450 HO
Curt
Q: I'm looking for front and rear wheel/tires for a 2016 Kawasaki Mule Pro FX (model KAF820F) but your site says the front AND rear wheels are both 12" x 7" and my owners manuals states that the rear wheel is a 12" x 8" wheel. Is this a mistake?
JamesGearhead
Over 7 months ago
A: On Your Machine, 2016 Kawasaki Mule Pro FX the rear wheel OEM is in fact a 12x8. The Delta Steel wheel is only available in a 12x7 option, which will still fit your machine no problem just a bit more narrow than original equipment.
Joey
Q: Whats the distance between two opposite holes?
JamesGearhead
Over 7 months ago
A: The ITP Delta Steel Wheel is a vehicle specific fitting wheel. Depending on your ATV/UTV's make, model and year the dimensions will vary. To help find your specific needs, you can also call MotoSport at 1-888-676-8853
Jackie
Q: Will this fix my 2015 .4010 mule tire size 26x11.00R12
Chowe
Over 8 months ago
A: Unfortunately those wheels will not fit your vehicle. You will need to profile your vehicle on the site and check out the wheels that are an exact fit. If you have any questions give us a call at 1-888-676-8553.
Airedale
Q: My 2018 825m has the 27x9-R14 tires on the front and x 11 on the rear. I want an inexpensive rim for a spare tire. Is this delta available for the 27x9-R14?
Paul
Over 9 months ago
A: Yes, the ITP Delta Steel Wheels are available in 14" diameter to fit your 27x9-14 tires.

To help us to find parts to fit correctly, we will need to know the year, make, and full model description of your ATV. We will also need to know the bolt-pattern for your hubs.
Ga boy
Q: Do you guys have any center caps that fit these ITP 12x7 steel wheels 4/137? If not, do you know of anyone who does or what might work for center caps on these particular wheels? Thanks guys, ordered 4 new steel wheels today.
Dan Gearhead
Over 10 months ago
A: ITP does make center caps for those wheels, but we only offer them for 4/110 bolt pattern as of right now. You might try reaching out to ITP directly and see if they offer a cap for 4/137. They can be reached directly here: Technical Support Team (Mon-Fri 8am - 5pm PST) 909.390.1905
See all bikes that this part fits...
| Product Variant | Manufacturer Part # |
| --- | --- |
| Black / Rear Wheel / 12x7 4/110 2+5 | 1225544014 |
| Black / Front Wheel / 12x7 4/110 5+2 | 1225553014 |
| Black / Rear Wheel / 12x7 4/110 5+2 | 1225553014 |
| Black / Rear Wheel / 12x7 4/137 2+5 | 1225565014 |
| Black / Front Wheel / 12x7 4/137 4+3 10mm | 1225573014 |
| Black / Rear Wheel / 12x7 4/137 4+3 10mm/ Fitment 3 | 1225573014 |
| Black / Front/Rear Wheel / 12x7 4/156 4+3 | 1225579014 |
| Black / Front/Rear Wheel / 12x7 4/110 4+3 | 1221753014 |
| Black / Front/Rear Wheel / 12X7 4/137 12mm | 1225571014 |
| Black / Front/Rear Wheel / 12x7 4/115 5+2 | 1225564014 |
| Black / Front Wheel / 4/110 5+2 14x7 | 1425553014B |
| Black / Front/Rear Wheel / 4/156 4+3 14x7 | 1425579014B |
| Black / Front / 14X7 4/137 4+3 12mm | 1422319014B |
| Black / Rear / 14X7 4/137 4+3 12mm | 1422319014B |
| Black / Front/Rear / 14X7 4/156 4+3 12mm | 1422320014B |
| Black / Front / 14X7 4/137 4+3 | 1425573014B |
| Black / Rear / 14X7 4/137 4+3 | 1425573014B |
| Silver / Rear Wheel / 12x7 4/110 2+5 | 1225544032 |
| Silver / Front Wheel / 12x7 4/110 5+2 | 1225553032 |
| Silver / Rear Wheel / 12x7 4/110 5+2 | 1225553032 |
| Silver / Front/Rear Wheel / 12x7 4/115 5+2 | 1225564032 |
| Silver / Rear Wheel / 12x7 4/137 2+5 | 1225565032 |
| Silver / Front Wheel / 12x7 4/137 4+3 10mm | 1225573032 |
| Silver / Rear Wheel / 12x7 4/137 4+3 10mm/ Fitment 3 | 1225573032 |
| Silver / Front/Rear Wheel / 12x7 4/156 4+3 | 1225579032 |
| Silver / Front/Rear Wheel / 12x7 4/110 4+3 | 1221753032 |
| Silver / Front/Rear Wheel / 12X7 4/137 12mm | 1225571032 |