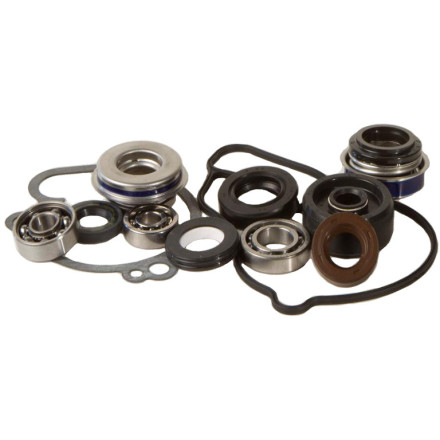 HOT RODS Water Pump Repair Kit
---
10% Off - Save up to $6.99
---
5 Star
24
4 Star
6
3 Star
2
2 Star
0
1 Star
0
Write a Review
Write your review and you'll automatically be entered in our monthly drawing. Include an image or video to DOUBLE your chances to win!
Write Your Review
Perfect
I bought this a month ago and haven't installed it yet but its perfect
Missing crush washer
Have had great luck with hot rod bearings in the past, and this kit had a very high quality gasket and bearing, but sadly no new crush washer. Real pain to put a repair on hold over a .02 part. Mine could of been a fluke but look out for this on a YZ kit. 5 stars otherwise
1 month 17 days ago
Nebraska
Did exactly what its supposed to do
I had a weep hole leak on my '09 CRF 250x. It was causing a high pitched whistle once the bike warmed up. everything fit perfect and fixed the problem. since you have to take the right case cover off to get to these components, you need a right side case gasket.
1 month 20 days ago
portland,or
Complete and easy
Complete kit and super easy to use and install. Great rebuild kit
2 months 23 days ago
Portland OR
Great replacement
My 2008 YFZ450 had an impeller shaft seal blow out, dripping coolant and mixing in with my oil :( This kit came with everything I needed to replace the seal and bearing itself. Great shipping, got here very fast.
Over 9 months ago
Cottonwood, AZ
Easy fix
This kit has everything you need to fix that leaking weap hole. The repair is relatively simple, gaskets and seals are good quality.
Over 10 months ago
Huntington
Over 10 months ago
Mandeville, LA, USA
I some how got 2 for the price of one!
Ended up with 2 kits for the water pump. Two shipping boxes one kit in each box. Installed one kit, put one on my shelf for later. Hoping, I will not a have to do another repair. If I do, I have another kit. As for the kit, it has all the parts and it really good quality parts. The only thing missing is a very small copper washer behind the impeller. Don't toss the washer keep it or order an OEM one to replace it. It is really important part to put back on your water pump.
1 year 4 months ago
96137
Good alternative to stock
They give you a few extra parts I guess it's different from certain years but they cover everything you really need
Easy to install
Easy to install fits my 99 yz 250 great purchase
See all bikes that this part fits...
| Product Variant | Manufacturer Part # |
| --- | --- |
| HOT RODS Water Pump Repair Kit | WPK0030 |
| HOT RODS Water Pump Repair Kit | WPK0064 |
| HOT RODS Water Pump Repair Kit | WPK0065 |
| HOT RODS Water Pump Repair Kit | WPK0066 |
| HOT RODS Water Pump Repair Kit | WPK0068 |
| HOT RODS Water Pump Repair Kit | N/A |
| HOT RODS Water Pump Repair Kit | N/A |
| HOT RODS Water Pump Repair Kit | N/A |
| HOT RODS Water Pump Repair Kit | N/A |
| HOT RODS Water Pump Repair Kit | N/A |
| HOT RODS Water Pump Repair Kit | N/A |
| HOT RODS Water Pump Repair Kit | N/A |
| HOT RODS Water Pump Repair Kit | N/A |
| HOT RODS Water Pump Repair Kit | N/A |
| HOT RODS Water Pump Repair Kit | N/A |
| HOT RODS Water Pump Repair Kit | N/A |
| HOT RODS Water Pump Repair Kit | N/A |
| HOT RODS Water Pump Repair Kit | N/A |
| HOT RODS Water Pump Repair Kit | N/A |
| HOT RODS Water Pump Repair Kit | N/A |
| HOT RODS Water Pump Repair Kit | N/A |
| HOT RODS Water Pump Repair Kit | N/A |
| HOT RODS Water Pump Repair Kit | N/A |
| HOT RODS Water Pump Repair Kit | N/A |
| HOT RODS Water Pump Repair Kit | WPK0056 |
| HOT RODS Water Pump Repair Kit | N/A |
| HOT RODS Water Pump Repair Kit | WPK0054 |
| HOT RODS Water Pump Repair Kit | N/A |
| HOT RODS Water Pump Repair Kit | N/A |
| HOT RODS Water Pump Repair Kit | N/A |
| HOT RODS Water Pump Repair Kit | N/A |
| HOT RODS Water Pump Repair Kit | N/A |
| HOT RODS Water Pump Repair Kit | N/A |
| HOT RODS Water Pump Repair Kit | N/A |
| HOT RODS Water Pump Repair Kit | N/A |
| HOT RODS Water Pump Repair Kit | N/A |
| HOT RODS Water Pump Repair Kit | N/A |
| HOT RODS Water Pump Repair Kit | N/A |
| HOT RODS Water Pump Repair Kit | N/A |
| HOT RODS Water Pump Repair Kit | N/A |
| HOT RODS Water Pump Repair Kit | N/A |
| HOT RODS Water Pump Repair Kit | N/A |
| HOT RODS Water Pump Repair Kit | N/A |
| HOT RODS Water Pump Repair Kit | N/A |
| HOT RODS Water Pump Repair Kit | N/A |
| HOT RODS Water Pump Repair Kit | N/A |
| HOT RODS Water Pump Repair Kit | N/A |
| HOT RODS Water Pump Repair Kit | N/A |
| HOT RODS Water Pump Repair Kit | N/A |
| HOT RODS Water Pump Repair Kit | N/A |
| HOT RODS Water Pump Repair Kit | N/A |
| HOT RODS Water Pump Repair Kit | N/A |
| HOT RODS Water Pump Repair Kit | N/A |
| HOT RODS Water Pump Repair Kit | N/A |
| HOT RODS Water Pump Repair Kit | WPK0057 |
| HOT RODS Water Pump Repair Kit | WPK0058 |
| HOT RODS Water Pump Repair Kit | WPK0051 |
| HOT RODS Water Pump Repair Kit | WPK0055 |
| HOT RODS Water Pump Repair Kit | WPK0059 |
| HOT RODS Water Pump Repair Kit | WPK0060 |
| HOT RODS Water Pump Repair Kit | WPK0061 |
| HOT RODS Water Pump Repair Kit | WPK0062 |
| HOT RODS Water Pump Repair Kit | WPK0063 |