HOT RODS
HOT RODS Crank Bearings And Seals Kit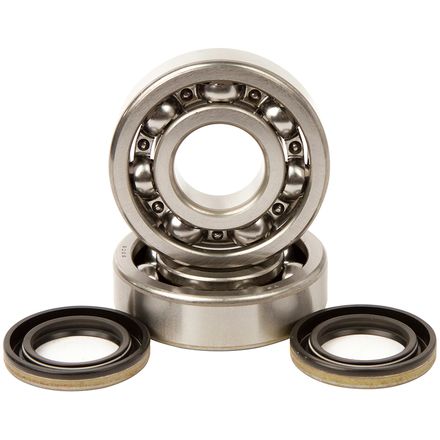 HOT RODS Crank Bearings And Seals Kit
5 Star
16
4 Star
1
3 Star
0
2 Star
0
1 Star
2
Write a Review
Write your review and you'll automatically be entered in our monthly drawing. Include an image or video to DOUBLE your chances to win!
Write Your Review
1 month 20 days ago
New jersey
Cheaper than oem
After doing some online pricing this kit was cheaper than oem.
2 months 23 days ago
Jl.godean-minggir sendangmulyo km.16 Yogyakarta
KX250 2T
what brand of bearing is best for kx 250 2 stroke motorcycle ??
this is the size of the outer diameter bearing 72, the inner diameter 28.
Bad design
Bought this kit for a 2009 CRF450R. Which uses the cage needle bearing at the stator. So I was surprised when I opened the package up and seen the needle bearing had a plastic cage instead of a metal cage. Skeptical, I still tried it anyway and I was right to be skeptical halfway in the cage cracked, and the bearing started falling apart. So I went out and bought a oem bearing which I should have done in the first place a little over $35. I'm not bashing Motorsports I've spent thousands of dollars with them over the years. Just a poor design for a bearing on hot rods part. Hundreds of dollars go into these engines it'd be a shame for one bearing to take out the whole engine so manufacturer could save a dollar or so on manufacturing line.
Bearings
They're bearings. They work
1 year 1 month ago
Fort Kent, Maine
Good buy
Bought a full rebuild kit for a 99 cr 250r and everything was a perfect fit. The customer service was amazing, they even called me personally to make sure someone didn't steal my card because my delivery address was different than the address on my card. Couldn't be happier with this company
1 year 2 months ago
Augusta, ks
one of the best bearing and seal kits on the market.
Great price excellent product
Great bearing have excellent choice
Fit 99 yz250
Got them in a kit and it fits my 99yz250 make sure you use dry ice and heat when installing bearings
Best bearings and seals
Quality bearings and seals. Installed with no problem.
Q: This part is for the clutch right
Q: These bearing will fit with rm250 2007 ? cuz one bearing have a little cut all around the outside on one side of the bearing
DaveGearhead
1 month 21 days ago
A: Yes, as long as you have entered the correct Year/Make/Model in our ride selector on our site you will receive the correct item.
Q: Is this the same thing as a bottom end bearing?
a guy on craigslist is telling me that his rm85 wont run because "the bearing is needed to allow a full cycle on the crank shaft and if you run it with out fixing it, the pieces will be sucked into the cylinder and ruin the top end" is this part what i need?
MotoSportExpert
1 year 11 months ago
A: Without tearing it down and inspecting the engine its difficult to say what would be needed.
See all bikes that this part fits...
| Product Variant | Manufacturer Part # |
| --- | --- |
| HOT RODS Crank Bearings And Seals Kit | K065 |
| HOT RODS Crank Bearings And Seals Kit | K014 |
| HOT RODS Crank Bearings And Seals Kit | K020 |
| HOT RODS Crank Bearings And Seals Kit | K064 |
| HOT RODS Crank Bearings And Seals Kit | K017 |
| HOT RODS Crank Bearings And Seals Kit | K002 |
| HOT RODS Crank Bearings And Seals Kit | K003 |
| HOT RODS Crank Bearings And Seals Kit | K001 |
| HOT RODS Crank Bearings And Seals Kit | K041 |
| HOT RODS Crank Bearings And Seals Kit | N/A |
| HOT RODS Crank Bearings And Seals Kit | K019 |
| HOT RODS Crank Bearings And Seals Kit | N/A |
| HOT RODS Crank Bearings And Seals Kit | K063 |
| HOT RODS Crank Bearings And Seals Kit | K071 |
| HOT RODS Crank Bearings And Seals Kit | K074 |
| HOT RODS Crank Bearings And Seals Kit | N/A |
| HOT RODS Crank Bearings And Seals Kit | N/A |
| HOT RODS Crank Bearings And Seals Kit | N/A |
| HOT RODS Crank Bearings And Seals Kit | N/A |
| HOT RODS Crank Bearings And Seals Kit | N/A |
| HOT RODS Crank Bearings And Seals Kit | N/A |
| HOT RODS Crank Bearings And Seals Kit | N/A |
| HOT RODS Crank Bearings And Seals Kit | K049 |
| HOT RODS Crank Bearings And Seals Kit | K005 |
| HOT RODS Crank Bearings And Seals Kit | K227 |
| HOT RODS Crank Bearings And Seals Kit | K004 |
| HOT RODS Crank Bearings And Seals Kit | K043 |
| HOT RODS Crank Bearings And Seals Kit | K056 |
| HOT RODS Crank Bearings And Seals Kit | K016 |
| HOT RODS Crank Bearings And Seals Kit | K006 |
| HOT RODS Crank Bearings And Seals Kit | K044 |
| HOT RODS Crank Bearings And Seals Kit | K057 |
| HOT RODS Crank Bearings And Seals Kit | K233 |
| HOT RODS Crank Bearings And Seals Kit | K013 |
| HOT RODS Crank Bearings And Seals Kit | K046 |
| HOT RODS Crank Bearings And Seals Kit | K047 |
| HOT RODS Crank Bearings And Seals Kit | K010 |
| HOT RODS Crank Bearings And Seals Kit | K045 |
| HOT RODS Crank Bearings And Seals Kit | K009 |
| HOT RODS Crank Bearings And Seals Kit | K012 |
| HOT RODS Crank Bearings And Seals Kit | K011 |
| HOT RODS Crank Bearings And Seals Kit | K007 |
| HOT RODS Crank Bearings And Seals Kit | K008 |
| HOT RODS Crank Bearings And Seals Kit | K042 |
| HOT RODS Crank Bearings And Seals Kit | K048 |
| HOT RODS Crank Bearings And Seals Kit | K051 |
| HOT RODS Crank Bearings And Seals Kit | K052 |
| HOT RODS Crank Bearings And Seals Kit | K059 |
| HOT RODS Crank Bearings And Seals Kit | K060 |
| HOT RODS Crank Bearings And Seals Kit | K066 |
| HOT RODS Crank Bearings And Seals Kit | K067 |
| HOT RODS Crank Bearings And Seals Kit | K068 |
| HOT RODS Crank Bearings And Seals Kit | K069 |
| HOT RODS Crank Bearings And Seals Kit | K081 |
| HOT RODS Crank Bearings And Seals Kit | K084 |
| HOT RODS Crank Bearings And Seals Kit | K085 |
| HOT RODS Crank Bearings And Seals Kit | K086 |
| HOT RODS Crank Bearings And Seals Kit | K087 |
| HOT RODS Crank Bearings And Seals Kit | K088 |
| HOT RODS Crank Bearings And Seals Kit | K226 |
| HOT RODS Crank Bearings And Seals Kit | K228 |
| HOT RODS Crank Bearings And Seals Kit | K229 |
| HOT RODS Crank Bearings And Seals Kit | K230 |
| HOT RODS Crank Bearings And Seals Kit | K231 |
| HOT RODS Crank Bearings And Seals Kit | K232 |
| HOT RODS Crank Bearings And Seals Kit | K235 |
| HOT RODS Crank Bearings And Seals Kit | K236 |
| HOT RODS Crank Bearings And Seals Kit | K237 |
| HOT RODS Crank Bearings And Seals Kit | K238 |