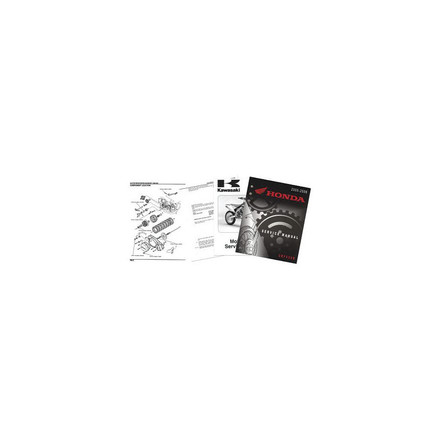 Honda OEM Parts Factory Service Manual
---
7% Off - Save up to $10.98
---
5 Star
0
4 Star
1
3 Star
0
2 Star
0
1 Star
0
Write a Review
Write your review and you'll automatically be entered in our monthly drawing. Include an image or video to DOUBLE your chances to win!
Write Your Review
Crf250r manual
This was a good book. not quite as detailed as the Clymer books but works
Tunechi
Q: What's the difference between this and the OEM service manual?
robert
1 month 22 days ago
A: They have a lot of the same information. This will have a more extensive step-by-step repair instructions including: disassembly, inspection, testing / troubleshooting, repair, assembly and adjustment.
Nate
Q: Is there an estimated stock shipment, I ordered one back may 14th still waiting on stock.
Michael
3 months 23 days ago
A: Hi Nate,
This section is reserved for Questions and Answers about particular products. If you have a question about your order feel free to email us at: https://www.motosport.com/contact or feel free to give us a call to speak with one of our expert Gear heads about your order on 1-888-676-8853. Thank you so much and we look forward to assisting you with your order.
greathousen
Q: Is this the correct service manual for my 03 cr250?
MotoSportExpert
1 year 7 months ago
A: Yes, just select your CR250 on this page and you will get the correct service manual for your bike.
See all bikes that this part fits...
| Product Variant | Manufacturer Part # |
| --- | --- |
| Honda OEM Parts Factory Service Manual | 6110703 |
| Honda OEM Parts Factory Service Manual | 6111609 |
| Honda OEM Parts Factory Service Manual | 6116902 |
| Honda OEM Parts Factory Service Manual | 6118105 |
| Honda OEM Parts Factory Service Manual | 6133303 |
| Honda OEM Parts Factory Service Manual | 6136906 |
| Honda OEM Parts Factory Service Manual | 6137102 |
| Honda OEM Parts Factory Service Manual | 6137407 |
| Honda OEM Parts Factory Service Manual | 6137501 |
| Honda OEM Parts Factory Service Manual | 6139300 |
| Honda OEM Parts Factory Service Manual | 6141000 |
| Honda OEM Parts Factory Service Manual | 6141307 |
| Honda OEM Parts Factory Service Manual | 6141505 |
| Honda OEM Parts Factory Service Manual | 6141906 |
| Honda OEM Parts Factory Service Manual | 6142202 |
| Honda OEM Parts Factory Service Manual | 6142506Y |
| Honda OEM Parts Factory Service Manual | 6142603 |
| Honda OEM Parts Factory Service Manual | 6142901 |
| Honda OEM Parts Factory Service Manual | 6144604 |
| Honda OEM Parts Factory Service Manual | 6146103 |
| Honda OEM Parts Factory Service Manual | 6193704 |
| Honda OEM Parts Factory Service Manual | 6194303 |
| Honda OEM Parts Factory Service Manual | 6194304 |
| Honda OEM Parts Factory Service Manual | 6195700 |
| Honda OEM Parts Factory Service Manual | 6195803 |
| Honda OEM Parts Factory Service Manual | 6195850 |
| Honda OEM Parts Factory Service Manual | 6196103 |
| Honda OEM Parts Factory Service Manual | 6196502 |
| Honda OEM Parts Factory Service Manual | 6196801 |
| Honda OEM Parts Factory Service Manual | 6196900 |
| Honda OEM Parts Factory Service Manual | 61GAN03 |
| Honda OEM Parts Factory Service Manual | 61GBF00 |
| Honda OEM Parts Factory Service Manual | 61GBF03 |
| Honda OEM Parts Factory Service Manual | 61GC400 |
| Honda OEM Parts Factory Service Manual | 61GC401 |
| Honda OEM Parts Factory Service Manual | 61GC411 |
| Honda OEM Parts Factory Service Manual | 61GCF02 |
| Honda OEM Parts Factory Service Manual | 61GCF03 |
| Honda OEM Parts Factory Service Manual | 61GCF06 |
| Honda OEM Parts Factory Service Manual | 61GEL03 |
| Honda OEM Parts Factory Service Manual | 61GEL63 |
| Honda OEM Parts Factory Service Manual | 61GN112 |
| Honda OEM Parts Factory Service Manual | 61GW810 |
| Honda OEM Parts Factory Service Manual | 61HA002 |
| Honda OEM Parts Factory Service Manual | 61HA201 |
| Honda OEM Parts Factory Service Manual | 61HA501 |
| Honda OEM Parts Factory Service Manual | 61HA602 |
| Honda OEM Parts Factory Service Manual | 61HA802 |
| Honda OEM Parts Factory Service Manual | 61HB302 |
| Honda OEM Parts Factory Service Manual | 61HB501 |
| Honda OEM Parts Factory Service Manual | 61HB601 |
| Honda OEM Parts Factory Service Manual | 61HC001 |
| Honda OEM Parts Factory Service Manual | 61HC052 |
| Honda OEM Parts Factory Service Manual | 61HC406 |
| Honda OEM Parts Factory Service Manual | 61HF107 |
| Honda OEM Parts Factory Service Manual | 61HL104 |
| Honda OEM Parts Factory Service Manual | 61HL300 |
| Honda OEM Parts Factory Service Manual | 61HL303 |
| Honda OEM Parts Factory Service Manual | 61HL401 |
| Honda OEM Parts Factory Service Manual | 61HL502 |
| Honda OEM Parts Factory Service Manual | 61HM307 |
| Honda OEM Parts Factory Service Manual | 61HM355 |
| Honda OEM Parts Factory Service Manual | 61HM362 |
| Honda OEM Parts Factory Service Manual | 61HM400 |
| Honda OEM Parts Factory Service Manual | 61HM708 |
| Honda OEM Parts Factory Service Manual | 61HM807 |
| Honda OEM Parts Factory Service Manual | 61HM860 |
| Honda OEM Parts Factory Service Manual | 61HN006 |
| Honda OEM Parts Factory Service Manual | 61HN105 |
| Honda OEM Parts Factory Service Manual | 61HN157 |
| Honda OEM Parts Factory Service Manual | 61HN203 |
| Honda OEM Parts Factory Service Manual | 61HN258 |
| Honda OEM Parts Factory Service Manual | 61HN604 |
| Honda OEM Parts Factory Service Manual | 61HN651 |
| Honda OEM Parts Factory Service Manual | 61HN659 |
| Honda OEM Parts Factory Service Manual | 61HN703 |
| Honda OEM Parts Factory Service Manual | 61HN802 |
| Honda OEM Parts Factory Service Manual | 61HN861 |
| Honda OEM Parts Factory Service Manual | 61HP005 |
| Honda OEM Parts Factory Service Manual | 61HP108 |
| Honda OEM Parts Factory Service Manual | 61HP209 |
| Honda OEM Parts Factory Service Manual | 61HP600 |
| Honda OEM Parts Factory Service Manual | 61HP601 |
| Honda OEM Parts Factory Service Manual | 61HP705 |
| Honda OEM Parts Factory Service Manual | 61HR001 |
| Honda OEM Parts Factory Service Manual | 61HR300 |
| Honda OEM Parts Factory Service Manual | 61HR301 |
| Honda OEM Parts Factory Service Manual | 61HR304 |
| Honda OEM Parts Factory Service Manual | 61HR400 |
| Honda OEM Parts Factory Service Manual | 61K2602 |
| Honda OEM Parts Factory Service Manual | 61K2803 |
| Honda OEM Parts Factory Service Manual | 61K3302 |
| Honda OEM Parts Factory Service Manual | 61KA202 |
| Honda OEM Parts Factory Service Manual | 61KA300 |
| Honda OEM Parts Factory Service Manual | 61KA301 |
| Honda OEM Parts Factory Service Manual | 61KA303 |
| Honda OEM Parts Factory Service Manual | 61KA403 |
| Honda OEM Parts Factory Service Manual | 61KA502 |
| Honda OEM Parts Factory Service Manual | 61KA509 |
| Honda OEM Parts Factory Service Manual | 61KA601 |
| Honda OEM Parts Factory Service Manual | 61KAF01 |
| Honda OEM Parts Factory Service Manual | 61KBG08 |
| Honda OEM Parts Factory Service Manual | 61KCE08 |
| Honda OEM Parts Factory Service Manual | 61KCY08 |
| Honda OEM Parts Factory Service Manual | 61KEN18 |
| Honda OEM Parts Factory Service Manual | 61KF001 |
| Honda OEM Parts Factory Service Manual | 61KFB00 |
| Honda OEM Parts Factory Service Manual | 61KFB01 |
| Honda OEM Parts Factory Service Manual | 61KK001 |
| Honda OEM Parts Factory Service Manual | 61KN451 |
| Honda OEM Parts Factory Service Manual | 61KN455 |
| Honda OEM Parts Factory Service Manual | 61KN500 |
| Honda OEM Parts Factory Service Manual | 61KPJ07 |
| Honda OEM Parts Factory Service Manual | 61KPS12 |
| Honda OEM Parts Factory Service Manual | 61KPT12 |
| Honda OEM Parts Factory Service Manual | 61KR302 |
| Honda OEM Parts Factory Service Manual | 61KRN50 |
| Honda OEM Parts Factory Service Manual | 61KRN52 |
| Honda OEM Parts Factory Service Manual | 61KRN53 |
| Honda OEM Parts Factory Service Manual | 61KRN63 |
| Honda OEM Parts Factory Service Manual | 61KS605 |
| Honda OEM Parts Factory Service Manual | 61KS705 |
| Honda OEM Parts Factory Service Manual | 61KSC02 |
| Honda OEM Parts Factory Service Manual | 61KSC10 |
| Honda OEM Parts Factory Service Manual | 61KSJ08 |
| Honda OEM Parts Factory Service Manual | 61KSR00 |
| Honda OEM Parts Factory Service Manual | 61KT011 |
| Honda OEM Parts Factory Service Manual | 61KT052 |
| Honda OEM Parts Factory Service Manual | 61KT109 |
| Honda OEM Parts Factory Service Manual | 61KV002 |
| Honda OEM Parts Factory Service Manual | 61KV605 |
| Honda OEM Parts Factory Service Manual | 61KYJ02 |
| Honda OEM Parts Factory Service Manual | 61KYK05 |
| Honda OEM Parts Factory Service Manual | 61KZ301 |
| Honda OEM Parts Factory Service Manual | 61KZ360 |
| Honda OEM Parts Factory Service Manual | 61KZ450 |
| Honda OEM Parts Factory Service Manual | 61KZ460 |
| Honda OEM Parts Factory Service Manual | 61KZZ03 |
| Honda OEM Parts Factory Service Manual | 61KZZ50 |
| Honda OEM Parts Factory Service Manual | 61MA001 |
| Honda OEM Parts Factory Service Manual | 61MA101 |
| Honda OEM Parts Factory Service Manual | 61MA200 |
| Honda OEM Parts Factory Service Manual | 61MAA05 |
| Honda OEM Parts Factory Service Manual | 61MAA09 |
| Honda OEM Parts Factory Service Manual | 61MAF00AH |
| Honda OEM Parts Factory Service Manual | 61MAH04 |
| Honda OEM Parts Factory Service Manual | 61MAL00 |
| Honda OEM Parts Factory Service Manual | 61MAL03 |
| Honda OEM Parts Factory Service Manual | 61MAM00AH |
| Honda OEM Parts Factory Service Manual | 61MAM01AH |
| Honda OEM Parts Factory Service Manual | 61MAM03AH |
| Honda OEM Parts Factory Service Manual | 61MAM04AH |
| Honda OEM Parts Factory Service Manual | 61MAM05AH |
| Honda OEM Parts Factory Service Manual | 61MAS03 |
| Honda OEM Parts Factory Service Manual | 61MAT01 |
| Honda OEM Parts Factory Service Manual | 61MB004 |
| Honda OEM Parts Factory Service Manual | 61MB203 |
| Honda OEM Parts Factory Service Manual | 61MB301 |
| Honda OEM Parts Factory Service Manual | 61MB403 |
| Honda OEM Parts Factory Service Manual | 61MB600 |
| Honda OEM Parts Factory Service Manual | 61MBA05 |
| Honda OEM Parts Factory Service Manual | 61MBB06 |
| Honda OEM Parts Factory Service Manual | 61MBB07 |
| Honda OEM Parts Factory Service Manual | 61MBG03 |
| Honda OEM Parts Factory Service Manual | 61MBH04 |
| Honda OEM Parts Factory Service Manual | 61MBN07 |
| Honda OEM Parts Factory Service Manual | 61MBW01 |
| Honda OEM Parts Factory Service Manual | 61MBW52 |
| Honda OEM Parts Factory Service Manual | 61MBW53 |
| Honda OEM Parts Factory Service Manual | 61MBW55 |
| Honda OEM Parts Factory Service Manual | 61MBZ00 |
| Honda OEM Parts Factory Service Manual | 61MBZ01 |
| Honda OEM Parts Factory Service Manual | 61MC003 |
| Honda OEM Parts Factory Service Manual | 61MC700 |
| Honda OEM Parts Factory Service Manual | 61MC801 |
| Honda OEM Parts Factory Service Manual | 61MC900 |
| Honda OEM Parts Factory Service Manual | 61MCA04 |
| Honda OEM Parts Factory Service Manual | 61MCA55 |
| Honda OEM Parts Factory Service Manual | 61MCA61 |
| Honda OEM Parts Factory Service Manual | 61MCA66 |
| Honda OEM Parts Factory Service Manual | 61MCF01 |
| Honda OEM Parts Factory Service Manual | 61MCF03 |
| Honda OEM Parts Factory Service Manual | 61MCF06 |
| Honda OEM Parts Factory Service Manual | 61MCH06 |
| Honda OEM Parts Factory Service Manual | 61MCJ01 |
| Honda OEM Parts Factory Service Manual | 61MCJ30 |
| Honda OEM Parts Factory Service Manual | 61MCJ31 |
| Honda OEM Parts Factory Service Manual | 61MCK03 |
| Honda OEM Parts Factory Service Manual | 61MCK07 |
| Honda OEM Parts Factory Service Manual | 61MCN03 |
| Honda OEM Parts Factory Service Manual | 61MCR02 |
| Honda OEM Parts Factory Service Manual | 61MCR05 |
| Honda OEM Parts Factory Service Manual | 61MCS14 |
| Honda OEM Parts Factory Service Manual | 61MCV06 |
| Honda OEM Parts Factory Service Manual | 61MCW01 |
| Honda OEM Parts Factory Service Manual | 61MCW07 |
| Honda OEM Parts Factory Service Manual | 61MCZ01 |
| Honda OEM Parts Factory Service Manual | 61MCZ03 |
| Honda OEM Parts Factory Service Manual | 61MCZ05 |
| Honda OEM Parts Factory Service Manual | 61ME503 |
| Honda OEM Parts Factory Service Manual | 61ME700 |
| Honda OEM Parts Factory Service Manual | 61ME800 |
| Honda OEM Parts Factory Service Manual | 61ME902 |
| Honda OEM Parts Factory Service Manual | 61MEA00 |
| Honda OEM Parts Factory Service Manual | 61MEA06 |
| Honda OEM Parts Factory Service Manual | 61MEC01 |
| Honda OEM Parts Factory Service Manual | 61MEG05 |
| Honda OEM Parts Factory Service Manual | 61MEG55 |
| Honda OEM Parts Factory Service Manual | 61MEL00 |
| Honda OEM Parts Factory Service Manual | 61MEL01 |
| Honda OEM Parts Factory Service Manual | 61MEL03 |
| Honda OEM Parts Factory Service Manual | 61MEN70 |
| Honda OEM Parts Factory Service Manual | 61MEN74 |
| Honda OEM Parts Factory Service Manual | 61MEN77 |
| Honda OEM Parts Factory Service Manual | 61MEW01 |
| Honda OEM Parts Factory Service Manual | 61MEY10 |
| Honda OEM Parts Factory Service Manual | 61MF202 |
| Honda OEM Parts Factory Service Manual | 61MF504 |
| Honda OEM Parts Factory Service Manual | 61MFE02 |
| Honda OEM Parts Factory Service Manual | 61MFE57 |
| Honda OEM Parts Factory Service Manual | 61MFJ00 |
| Honda OEM Parts Factory Service Manual | 61MFJ05 |
| 08 | 61MFL00 |
| 09 | 61MFL01 |
| 10-11 | 61MFL03 |
| 08-16 | 61MFL08 |
| Honda OEM Parts Factory Service Manual | 61MFN05 |
| Honda OEM Parts Factory Service Manual | 61MFR03 |
| Honda OEM Parts Factory Service Manual | 61MG100 |
| Honda OEM Parts Factory Service Manual | 61MG301 |
| Honda OEM Parts Factory Service Manual | 61MG500 |
| Honda OEM Parts Factory Service Manual | 61MG801 |
| Honda OEM Parts Factory Service Manual | 61MG950AH |
| Honda OEM Parts Factory Service Manual | 61MGC02 |
| Honda OEM Parts Factory Service Manual | 61MGE00 |
| Honda OEM Parts Factory Service Manual | 61MGE01 |
| Honda OEM Parts Factory Service Manual | 61MGE03 |
| Honda OEM Parts Factory Service Manual | 61MGH00 |
| Honda OEM Parts Factory Service Manual | 61MGH01 |
| Honda OEM Parts Factory Service Manual | 61MGR03 |
| Honda OEM Parts Factory Service Manual | 61MGS01 |
| Honda OEM Parts Factory Service Manual | 61MGS03 |
| Honda OEM Parts Factory Service Manual | 61MGZ03 |
| Honda OEM Parts Factory Service Manual | 61MGZ04 |
| Honda OEM Parts Factory Service Manual | 61MJ401 |
| Honda OEM Parts Factory Service Manual | 61MJ801 |
| Honda OEM Parts Factory Service Manual | 61MJC03 |
| Honda OEM Parts Factory Service Manual | 61MJE03 |
| Honda OEM Parts Factory Service Manual | 61MJF03 |
| Honda OEM Parts Factory Service Manual | 61MJM01 |
| Honda OEM Parts Factory Service Manual | 61MJN00 |
| Honda OEM Parts Factory Service Manual | 61MJP01 |
| Honda OEM Parts Factory Service Manual | 61MJR01 |
| Honda OEM Parts Factory Service Manual | 61MK202 |
| Honda OEM Parts Factory Service Manual | 61MK301 |
| Honda OEM Parts Factory Service Manual | 61MK601 |
| Honda OEM Parts Factory Service Manual | 61MK701 |
| Honda OEM Parts Factory Service Manual | 61MK801 |
| Honda OEM Parts Factory Service Manual | 61MKA01 |
| Honda OEM Parts Factory Service Manual | 61MKE00 |
| Honda OEM Parts Factory Service Manual | 61MKE01 |
| Honda OEM Parts Factory Service Manual | 61MKF00 |
| Honda OEM Parts Factory Service Manual | 61ML860AH |
| Honda OEM Parts Factory Service Manual | 61ML950AH |
| Honda OEM Parts Factory Service Manual | 61MM201 |
| Honda OEM Parts Factory Service Manual | 61MM501 |
| Honda OEM Parts Factory Service Manual | 61MM808 |
| Honda OEM Parts Factory Service Manual | 61MN001 |
| Honda OEM Parts Factory Service Manual | 61MN109 |
| Honda OEM Parts Factory Service Manual | 61MN112 |
| Honda OEM Parts Factory Service Manual | 61MN500AH |
| Honda OEM Parts Factory Service Manual | 61MN803 |
| Honda OEM Parts Factory Service Manual | 61MR107 |
| Honda OEM Parts Factory Service Manual | 61MR506 |
| Honda OEM Parts Factory Service Manual | 61MR600 |
| Honda OEM Parts Factory Service Manual | 61MS201 |
| Honda OEM Parts Factory Service Manual | 61MT200AH |
| Honda OEM Parts Factory Service Manual | 61MT406 |
| Honda OEM Parts Factory Service Manual | 61MT601 |
| Honda OEM Parts Factory Service Manual | 61MT880AH |
| Honda OEM Parts Factory Service Manual | 61MV903 |
| Honda OEM Parts Factory Service Manual | 61MW002 |
| Honda OEM Parts Factory Service Manual | 61MW307 |
| Honda OEM Parts Factory Service Manual | 61MW500AH |
| Honda OEM Parts Factory Service Manual | 61MY303 |
| Honda OEM Parts Factory Service Manual | 61MY304 |
| Honda OEM Parts Factory Service Manual | 61MY305 |
| Honda OEM Parts Factory Service Manual | 61MY311 |
| Honda OEM Parts Factory Service Manual | 61MY400AH |
| Honda OEM Parts Factory Service Manual | 61MY601 |
| Honda OEM Parts Factory Service Manual | 61MY614 |
| Honda OEM Parts Factory Service Manual | 61MY657 |
| Honda OEM Parts Factory Service Manual | 61MZ009 |
| Honda OEM Parts Factory Service Manual | 61MZ101 |
| Honda OEM Parts Factory Service Manual | 61MZ203 |
| Honda OEM Parts Factory Service Manual | 61MZ509 |
| Honda OEM Parts Factory Service Manual | 61MZ700 |
| Honda OEM Parts Factory Service Manual | 61MZ801 |
| Honda OEM Parts Factory Service Manual | 61MZ810 |
| Honda OEM Parts Factory Service Manual | 61VM301 |
| Honda OEM Parts Factory Service Manual | 61VM402 |
| Honda OEM Parts Factory Service Manual | 6204501 |
| Honda OEM Parts Factory Service Manual | 6228301 |
| Honda OEM Parts Factory Service Manual | 622835 |
| Honda OEM Parts Factory Service Manual | 6228604 |
| Honda OEM Parts Factory Service Manual | 6230010 |
| Honda OEM Parts Factory Service Manual | 6231502 |
| Honda OEM Parts Factory Service Manual | 623231 |
| Honda OEM Parts Factory Service Manual | 6291806 |
| Honda OEM Parts Factory Service Manual | GL1183 |
| Honda OEM Parts Factory Service Manual | MS441851L |
| Honda OEM Parts Factory Service Manual | N/A |
| Honda OEM Parts Factory Service Manual | N/A |
| Honda OEM Parts Factory Service Manual | N/A |
| Honda OEM Parts Factory Service Manual | N/A |
| Honda OEM Parts Factory Service Manual | N/A |
| Honda OEM Parts Factory Service Manual | N/A |
| Honda OEM Parts Factory Service Manual | N/A |
| Honda OEM Parts Factory Service Manual | N/A |
| Honda OEM Parts Factory Service Manual | N/A |
| Honda OEM Parts Factory Service Manual | N/A |
| Honda OEM Parts Factory Service Manual | N/A |
| Honda OEM Parts Factory Service Manual | N/A |
| Honda OEM Parts Factory Service Manual | N/A |
| Honda OEM Parts Factory Service Manual | N/A |
| Honda OEM Parts Factory Service Manual | N/A |