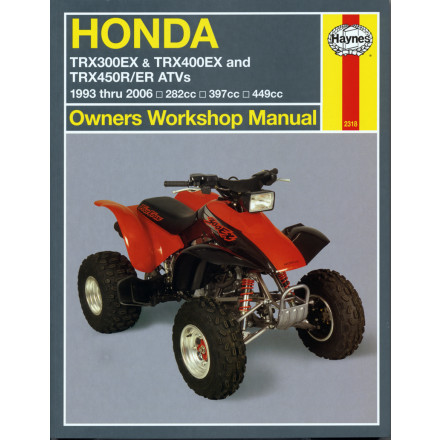 5 Star
5
4 Star
2
3 Star
0
2 Star
0
1 Star
0
Write a Review
Write your review and you'll automatically be entered in our monthly drawing. Include an image or video to DOUBLE your chances to win!
Write Your Review
2 years 7 months ago
Elk Grove, CA, USA
Loved the manual
really easy to use and comes in handy all the time. :)
Over 4 years ago
Helena, MT, USA
Great product!
This is a must for all do it yourselfers
Over 4 years ago
Sula, MT.
MotoSport Review 2014-05-27
Excellent products and delivered fast, found it and got it when I needed it!
Great Manual
This manual is great. Has everything an average Joe needs to know to work on his own stuff.
chris
Q: The picture shown is of a different bike, will the correct manual ship for the bike selected? 07 YZ250F
MotoSportExpert
Over 4 years ago
A: Yes, the Image is for reference only. Actual manual will be based on the ride you have selected.
Joey
Q: Does this Manuel include torque specifications for bolts on the bike?
MotoSportRyanT
Over 4 years ago
A: Yes, the manual will include Torque Specifications.
See all bikes that this part fits...
| Product Variant | Manufacturer Part # |
| --- | --- |
| Haynes Repair Manual | M2314 |
| Haynes Repair Manual | M2317 |
| Haynes Repair Manual | M2318 |
| Haynes Repair Manual | 2899 |
| Haynes Repair Manual | 2910 |
| Haynes Repair Manual | M2302 |
| Haynes Repair Manual | M2508 |
| Haynes Repair Manual | M2553 |
| Haynes Repair Manual | M309 |
| Haynes Repair Manual | M2199 |
| Haynes Repair Manual | M2225 |
| Haynes Repair Manual | M2312 |
| Haynes Repair Manual | M2313 |
| Haynes Repair Manual | M2457 |
| Haynes Repair Manual | M4072 |
| Haynes Repair Manual | M2618 |
| Haynes Repair Manual | 802 |
| Haynes Repair Manual | 820 |
| Haynes Repair Manual | 2787 |
| Haynes Repair Manual | 4195 |
| Haynes Repair Manual | 4913 |
| Haynes Repair Manual | M2183 |
| Haynes Repair Manual | M2218 |
| Haynes Repair Manual | M2222 |
| Haynes Repair Manual | M2630 |
| Haynes Repair Manual | 2219 |
| Haynes Repair Manual | 2350 |
| Haynes Repair Manual | 2662 |
| Haynes Repair Manual | 2689 |
| Haynes Repair Manual | 2933 |
| Haynes Repair Manual | 4629 |
| Haynes Repair Manual | M1780 |
| Haynes Repair Manual | M2055 |
| Haynes Repair Manual | M2056 |
| Haynes Repair Manual | M2162 |
| Haynes Repair Manual | M3290 |
| Haynes Repair Manual | M3367 |
| Haynes Repair Manual | M3541 |
| Haynes Repair Manual | M3702 |
| Haynes Repair Manual | M3721 |
| Haynes Repair Manual | M3754 |
| Haynes Repair Manual | M3755 |
| Haynes Repair Manual | M3756 |
| Haynes Repair Manual | M3900 |
| Haynes Repair Manual | M3901 |
| Haynes Repair Manual | M3911 |
| Haynes Repair Manual | M3912 |
| Haynes Repair Manual | M4060 |
| Haynes Repair Manual | M4184 |
| Haynes Repair Manual | M4382 |
| Haynes Repair Manual | M3466 |
| Haynes Repair Manual | 1681 |
| Haynes Repair Manual | 1730 |
| Haynes Repair Manual | 2052 |
| Haynes Repair Manual | 2070 |
| Haynes Repair Manual | 2100 |
| Haynes Repair Manual | 2145 |
| Haynes Repair Manual | 3238 |
| Haynes Repair Manual | 3744 |
| Haynes Repair Manual | 3986 |
| Haynes Repair Manual | 3987 |
| Haynes Repair Manual | 4083 |
| Haynes Repair Manual | 4196 |
| Haynes Repair Manual | 4601 |
| Haynes Repair Manual | 4604 |
| Haynes Repair Manual | 4605 |
| Haynes Repair Manual | 4742 |
| Haynes Repair Manual | 4751 |
| Haynes Repair Manual | 4790 |
| Haynes Repair Manual | 4796 |
| Haynes Repair Manual | 4798 |
| Haynes Repair Manual | 4874 |
| Haynes Repair Manual | 4876 |
| Haynes Repair Manual | M4590 |
| Haynes Repair Manual | 2053 |
| Haynes Repair Manual | M342 |
| Haynes Repair Manual | M4598 |
| Haynes Repair Manual | 131 |
| Haynes Repair Manual | 262 |
| Haynes Repair Manual | 341 |
| Haynes Repair Manual | 363 |
| Haynes Repair Manual | 378 |
| Haynes Repair Manual | 535 |
| Haynes Repair Manual | 738 |
| Haynes Repair Manual | 4761 |
| Haynes Repair Manual | 442 |
| Haynes Repair Manual | 2756 |
| Haynes Repair Manual | M2126 |
| Haynes Repair Manual | M2351 |
| Haynes Repair Manual | M2465 |
| Haynes Repair Manual | M2567 |
| Haynes Repair Manual | 2125 |