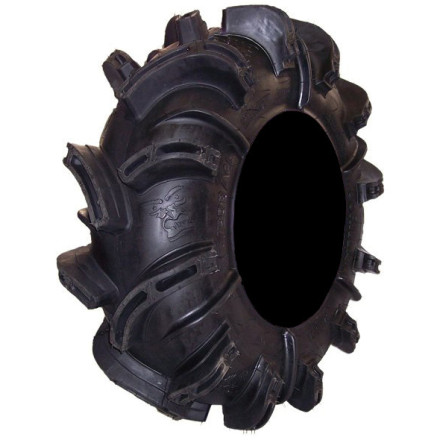 Gorilla ATV Silverback Mud Tire
---
30% Off - Save up to $88.00
---
5 Star
15
4 Star
1
3 Star
0
2 Star
0
1 Star
2
Write a Review
Write your review and you'll automatically be entered in our monthly drawing. Include an image or video to DOUBLE your chances to win!
Write Your Review
Amazing
has great grip in the mud
Gorillas 30x9-14 Can am Outlander
Outstanding mud and trail terrain tire, not bad even in the yard, if you don't mind a couple 6" chucks of grass, roots & soil missing.
1763 miles on them hardly worn, never a flat even with hawthorne needles in them!
Anyone says they ripped lugs off is nuts, unless they are crossing rail road tracks smoking the tires!?
Aggressive? Yes, will they last and get you out of just about any situation..? YES
1 year 5 months ago
Victorville, CA, USA
Awesome
This things are a monster and make your dirt toy unstoppable and besides they look mean as they are aggressive. Yes they are pricier than others but good things are expensive .
1 year 9 months ago
Hollister, FL 32148, USA
Cleats are ripping off
I loved these tires at first I play in the mud and water a lot but started noticing that my cleats was ripping off and I have a honda 420 not enough power to do that so now after paying 1400$ for rims and tires I have to buy another tires bcuz one of them has a lot of rips in it and can't fix it
2 years 1 month ago
Columbus, GA, USA
Great tire for price
Great price and product a's advertised. Fast shipping. Great company. Very nice tire if you want good aggressive traction.
2 years 8 months ago
Leander, TX 78641, USA
Over 3 years ago
Bennettsville, SC 29512, USA
Outstanding tire , outstanding seller!
Tires were shipped lightning fast, I had them installed locally, and that is some mean rubber. The ONLY downside that I see is those huge cleats will beat you silly on hard packed soil or pavement....but then again, that's not what they were designed for, is it?
Over 3 years ago
Kentwood, LA 70444, USA
Best mud tire out there 27"
Fast shipping and got here a day early! Better than expected great tires! Can go where can ams can go with 30 inch outlaws. Best tire out there recommend for serious mudder's.
Kevin
Q: I have a 2006 Canam outlander max 800 I'm wondering if the 27-12-12 will fit the front and rear with no modifications? I use this mostly for snow removal. The tires that are on it are 26-8-12 front and 26-10-12 rear
JerryGearhead
1 month 9 days ago
A: Only going one inch taller on the tires should not cause any problems at all.
Caleb66
Q: I have a 2019 can am outlander 650 xmr with stock wheels and tires will the 28" 12 12 silverbacks fit my stock rim
Paul
1 month 13 days ago
A: The original tires on the 2019 Can-Am Outlander 650 XMR are 28x8-12 front, and 28x10-12 rear.
The Gorilla ATV Silverback Mud Tires in 28x12-12 will fit your stock rims.
You will need to measure the clearances under your chassis to determine if there is enough space for the larger tires. It's particularly important to measure the clearances at the front, with the front wheels steered fully to the left and the right. Oversized tires may require adding a lift kit, or wheel-spacers, or both.
Kyaline
Q: Whould these fit on my wolverine 350
robert
2 months 8 days ago
A: Your original specs would be too small to run these tires without modifications to the atv.
Jeffro
Q: Will the 28" gorillas fit on my atv ..tires on there now say 26-12-12 on front tires and back ..I have a lift but not sure if will fit rims
Tyler Gearhead
3 months 5 days ago
A: We would need to know the year, make and model of your ATV as some have more clearance for larger tires then others. Even with a lift. You will need to measure to make sure you have clearance, but the size you'd want would be 28x12-12..
buck shot 11
Q: Will these tires fit Honda 1000
Paul
3 months 7 days ago
A: To help us to find tires to fit correctly, we will need to know the year and complete model description of your Honda 1000, and if you have the original wheels or after-market wheels, and their sizes.

The recommended tire sizes for the 2018 Honda Pioneer 1000 are 27x9-12 in front, and 27x11-12 at the rear. The Gorilla ATV Silverback Mud Tires are not available in these sizes, however they are available in 27x10-12 and 27x12-12, which are one inch wider than recommended but will fit the original rims on the '18 Pioneer 1000. If changing tires to other than what's recommended, it's up to the vehicle owner to measure clearances to determine if there is space for larger or wider tires.
Jake1996
Q: If I purchase the 28x12 and put them on crushlocks about how tall would they run?
Trevor Gearhead
3 months 29 days ago
A: Actually height would vary by air pressure and machine weight.
Ken1
Q: I have a YAMAHA banshee i have a 532 cheetah kit i want to try to make it fly across the top of mud pits like super modify mud trucks will this be the tire I'm looking for 
Isaac
Over 9 months ago
A: That is a great mud tire but it is only offered for 12 or 14 inch rims.
Jordantich
Q: Would these tires be good for my 2013 Honda rancher 420 at which has a 2 inch lift?
Tyler Gearhead
Over 11 months ago
A: Unfortunately we do not have a metric to determine the size of tire that would fit your application. I would suggest referring to Online Forum's to see what others have done.
Jonnyboi
Q: Would the 28x12x1will this fit on my 1991 big bear 4x4
It's all stock
rknight
2 years 1 month ago
A: No. those will be way to tall to fit on your stock machine.
Keyanna
Q: Will the 27-12-12/27-10-12 fit my 2016 Polaris 570 midsize? I just put clearance A-arms on the front?
I already have 2in lift.
See all bikes that this part fits...