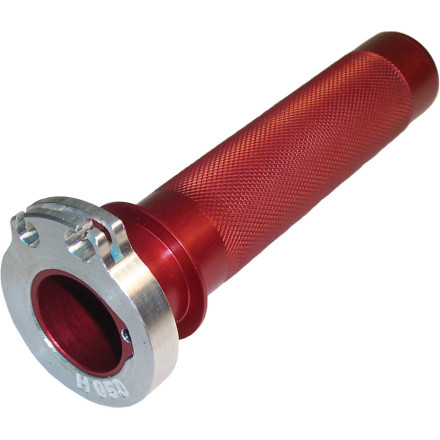 G2 Ergonomics Quick Turn Throttle Tube
5 Star
34
4 Star
6
3 Star
1
2 Star
1
1 Star
2
2 months 3 days ago
Florida
Awesome
I bought this about a 3 weeks ago and I'm really Impressed on how real this product worked.
A+++
high quality product that works really welll.
Over 3 years ago
Portland, OR, USA
Just what I was looking for
I purchased this to help perk up the lazy throttle response on my Z750S. So far I'm happy with the result.
Over 3 years ago
Bunn, NC 27508, USA
One of the best things i bought this year
the g2 quick turn throttle tube is amazing for track racing and good for woods riding if you like the full power of your bike. i have it on my 2005 kx250f and it is amazing i go almost twice as fast is some of the places i ride i love it for the vxcs cross-country racing because it allows me to get the power i need to get around in the woods and it only uses about half of the movement of the stock one i had. it has a removable end cap and interchangeable cams to adjust the quickness of the turn but those are sold in a different pack so if you have the money to spend on an $80 throttle tube then go for it but if you want more response out of your bike this is the best way with out breaking the bank and the cams are like $20 a piece so if you want to try one later on you can
G2 Ergo
A really super quality throttle tube. makes for a short twist of the throttle and helps motor stay in rev zone. Would recommend this for faster individuals.
Over 4 years ago
Statesvegas NC
Just another mouse trap?
The machine work and nylon liners are spot on. Very smooth rotation. I normally don't drop money on parts like this, but with my second plastic tube damaged I thought I'd try it out. Not so sure I agree with the quick turn bit. If its quicker its not by much. I find it has much less resistance there fore a "quicker turn". This product will go on future bikes the same time as the WC clutch perch from now on. Buttery smooth, but they lost a star for the asking price.
Over 5 years ago
South Africa, Randfontein
Worth the money
I bought the G2 quick turn throttle for my wife to eliminate bent wrist.
It is not too aggressive on the Honda crf250x. My wife has had only one day with it and it does seem to help limit the amount of turn.
I will check this over the next few rides.
The quality is good.
Gianni
Over 5 years ago
Ventura, CA, USA
Bars
great product over all real nice smooth acceleration the only sucky thing is that you have to oil up the handle bars every once in a while
Markkx
Q: Can somebody please help me narrow down if im missing 2 cams from the box or does it come with just one? Instructions say two
Michael
1 month 19 days ago
A: If this is in regards to a recent purchase, you will want to contact us directly using the phone number provided at the bottom of the page, or through our interactive live chat program found on the website.
Dallas
Q: I have a 2010 Honda crf250r and I love that super quick panic rev that the Kawasaki and suzuki have. my rev is slower. Will this give me that fast rev
MotoSportExpert
Over 4 years ago
A: The G2 system will change how fast the throttle is twisted with less arm movement. It will NOT change your ignition system on the bike.
David36Schneider
Q: What is the Diameter of the part where the cables lie on? And what is exactly the degree i have to turn the throttle with this tube?
MotoSportExpert
Over 5 years ago
A: The cam is approximately 10% larger in diameter than the stock cam and will reduce the rotation by 10 degrees.
privateerpower
Q: What size bars does this fit on?
stock handlebars are 7/8 diameter will it fit oversized 1 1/8 bars?
MotosportStaff
Over 6 years ago
A: This will fit both. All 1-1/8th handlebars are still 7/8s at the grip ends.
Dirtbikes4life
Q: Dose this tube have ball bearing like the pro taper tube?
Nichro
Over 9 years ago
A: No, it doesn't
patrick77
Over 9 years ago
A: No it doesn't have bearings.
Clint13W
Q: Pieces included with purchase
On the G2 Quickturn throttle (tube) what is included? The throttle clamp end pieces, special throttle cable? I don't see this tube fitting into the stock Honda CR85 clamps.
james718
Over 9 years ago
A: This throttle tube is not available for the CR85. It's only available for big bike 4 strokes.
Nichro
Over 9 years ago
A: Only thing included is what you see in the picture. Just the throttle tube with the cam permanantly attached.
Josh9
Q: What do you have to adjust on your throttle cable?
Drewski
Over 9 years ago
A: No adjustments are needed on the throttle cable.
Nichro
Over 9 years ago
A: No adjustments needed. The cam on the tube adjusts everything for you.
RMZPERSON
Q: Does it come with adjustable cams
does this one come with different cames like the other guy?
Nichro
Over 9 years ago
A: No, it doesn't
james718
Over 9 years ago
A: This quick turn is different to the Cam system (the other guy). This will only include 1 cam that cuts the throttle turn down to about 1/4 turn.
derjuicen
Over 9 years ago
A: actually, this company does offer different cams and can be purchased separately and easily swapped out for the cam that comes on this particular throttle tube. the wonderful folks here at motosport should be able to special order them if they are able to get these.
Brandon5377
Q: Bar size?
Will this throttle assembly fit a 1 1/8" bar?
james718
Over 9 years ago
A: All handlebars taper down to 7/8" where the controls mount to. This throttle tube assembly will fit just fine.
Nichro
Over 9 years ago
A: The bar ends on all bars are 7/8" whether they are oversized 1 1/8 bars or not, so yes, they will fit.
tattoojosh
Q: Is the end of the throttle tube open to accept brush bars
I have a YZ450F and need a new throttle tube but i am installing brush gaurds that mount in the end of the handlebars, thus i was wondering if the end of this tube has a hole to accept the mounting hardware or do i have to, and should i drill out the end
FiZZZUrP
Over 10 years ago
A: These tubes has a removable cap on the end to accomodate a hand guard or bar end.
Nichro
Over 10 years ago
A: It has a removeable end cap to allow for the brush guards.
See all bikes that this part fits...
| Product Variant | Manufacturer Part # |
| --- | --- |
| G2 Ergonomics Quick Turn Throttle Tube | 50-100 |
| G2 Ergonomics Quick Turn Throttle Tube | 50-300 |
| G2 Ergonomics Quick Turn Throttle Tube | 50-210 |
| G2 Ergonomics Quick Turn Throttle Tube | 50-200 |