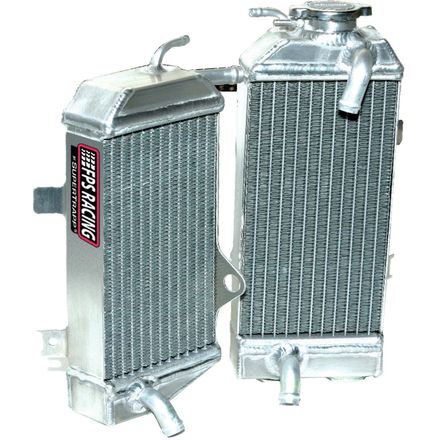 5 Star
6
4 Star
0
3 Star
1
2 Star
0
1 Star
0
Write a Review
Write your review and you'll automatically be entered in our monthly drawing. Include an image or video to DOUBLE your chances to win!
Write Your Review
2 years 3 months ago
San Dimas,CA
These radiators look,fit and work well,but I've seen better TIG welds.
2 years 10 months ago
Myton, UT, USA
Bought these used
I bought these radiators from a guy that ceased his motor on a 07 yz450f. They bolted right up to my 09 yz450f with no problem. They keep my bike a lot cooler. I do a lot of desert and hill climbing. With the stock radiators I had a lot of boil off. With these there is zero boil off. Has seemed to add power but not sure. I would buy them for the price motosport is asking for.
Over 3 years ago
Redding, CA, USA
Super strong
put these on my 2010 yz250f as replacements, much stronger than the stock ones, holds more coolant, the only draw-back is there are no known radiator braces that will fit these oversized radiators, on the other hand the sides of these radiators are super thick and is a hard aluminum, so it would take quite a crash to harm these radiators.
Over 4 years ago
Portland, PA, USA
Awesome Purchase
Fit right up, was very happy with this.
Over 5 years ago
Kittery Point, Kittery, ME, USA
Solid product
I ordered this radiator for a 2010 yz450f because I mangled the stock one. Everything fit just fine like it's suppose too. I had also been boiling off coolant even with a 30psi cap with the install of this radiator I was boiling off a lot less coolant than before so there is gains in cooling effeciency.
Over 6 years ago
Maui, HI
Fits perfectly
Radiator is obviously bigger and more well constructed than stock....one of the few parts I've ordered that fit perfectly.
Over 6 years ago
Corona, CA
Fitment issue with Plastic
The radiator fit up into the frame of my 2008 CRF450. After re-attaching the shroud to the radiator attachment point it was not possible to connect any of the other 3 points. The new location on the bigger radiator had shifted forward causing mis-alignment of the plastic shroud. I'm calling to see if there's an easy fix OR will have to go back to OEM.
See all bikes that this part fits...
| Product Variant | Manufacturer Part # |
| --- | --- |
| Left | FPS11-11KTM350-L |
| Left | FPS11-11RMZ250-L |
| Right | FPS11-11RMZ250-R |
| Left | FPS11-14CRF250R-L |
| Right | FPS11-14CRF250R-R |
| Left | FPS11-14CRF450R-L |
| Right | FPS11-14CRF450R-R |
| Right | FPS11-14KTM450-R |
| Left | FPS11-14YZ250F-L |
| Right | FPS11-14YZ250F-R |
| Left | FPS11-15CRF450R-L |
| Right | FPS11-15CRF450R-R |
| Left | FPS11-15FE350-L |
| Right | FPS11-15FE350-R |
| Left | FPS11-16KTM250-L |
| Right | FPS11-16KTM250-R |
| Left | FPS11-2S-YZ125-L |
| Right | FPS11-2S-YZ125-R |
| Left | FPS11-2S-YZ250-L |
| Right | FPS11-2S-YZ250-R |
| Left | FPS11-9TE450-L |
| Right | FPS11-9TE450-R |
| FPS Racing Radiator | FPS11-CR85R |
| Left | FPS11-XR650-L |
| Right | FPS11-XR650-R |
| FPS Racing Radiator | FPS11-YZ85 |
| Left | FPS11-7CRF150-L |
| Right | FPS11-7CRF150-R |
| Left | FPS11-6CRF250-L |
| Right | FPS11-6CRF250-R |
| Left | FPS11-10CRF250-L |
| Right | FPS11-10CRF250-R |
| Left | FPS11-CRF450-L |
| Right | FPS11-CRF450-R |
| Left | FPS11-05CR450-L |
| Right | FPS11-05CR450-R |
| Left | FPS11-9CR450-L |
| Right | FPS11-9CR450-R |
| Left | FPS11-CRF450X-L |
| Right | FPS11-CRF450X-R |
| Left | FPS11-DRZ400-L |
| Right | FPS11-DRZ400-R |
| Left | FPS11-DRZ400SM-L |
| Right | FPS11-DRZ400SM-R |
| Left | FPS11-6KX250F-L |
| Right | FPS11-6KX250F-R |
| Left | FPS11-9KX250-L |
| Right | FPS11-9KX250-R |
| Left | FPS11-6KX450F-L |
| Right | FPS11-6KX450F-R |
| Left | FPS11-8KX450-L |
| Right | FPS11-8KX450-R |
| Left | FPS11-9KX450-L |
| Right | FPS11-9KX450-R |
| Left | FPS11-RM85 |
| Left | FPS11-250KS-L |
| Right | FPS11-250KS-R |
| Left | FPS11-7RMZ250-L |
| Right | FPS11-7RMZ250-R |
| Left | FPS11-RMZ450-L |
| Right | FPS11-RMZ450-R |
| Left | FPS11-6RMZ450-L |
| Right | FPS11-6RMZ450-R |
| Left | FPS11-7RMZ450-L |
| Right | FPS11-7RMZ450-R |
| Left | FPS11-8RMZ450-L |
| Right | FPS11-8RMZ450-R |
| Left | FPS11-KTM450-L |
| Right | FPS11-KTM450-R |
| Left | FPS11-7KTM450-L |
| Right | FPS11-7KTM450-R |
| Left | FPS11-9KTM250-L |
| Right | FPS11-9KTM250-R |
| Left | FPS11-9KTM300-L |
| Right | FPS11-9KTM300-R |
| Left | FPS11-8KTM450-L |
| Right | FPS11-8KTM450-R |
| Left | FPS11-YZ250F-L |
| Right | FPS11-YZ250F-R |
| Left | FPS11-6YZ250F-L |
| Right | FPS11-6YZ250F-R |
| Left | FPS11-7YZ250F-L |
| Right | FPS11-7YZ250F-R |
| Left | FPS11-10YZ250F-L |
| Right | FPS11-10YZ250F-R |
| Left | FPS11-YZ450-L |
| Left | FPS11-6YZ450F-L |
| Right | FPS11-6YZ450F-R |
| Left | FPS11-7YZ450F-L |
| Right | FPS11-7YZ450F-R |
| Left | FPS11-10YZ450F-L |
| Right | FPS11-10YZ450F-R |