FMF
FMF Megabomb Header - Stainless Steel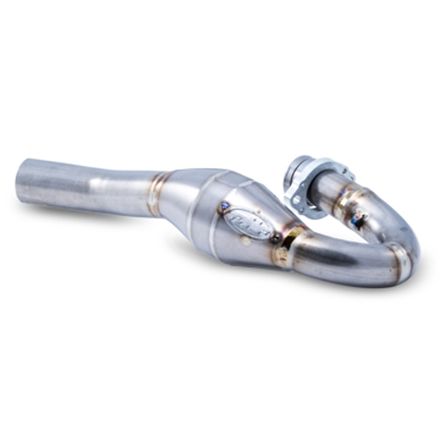 FMF Megabomb Header - Stainless Steel
5 Star
21
4 Star
5
3 Star
0
2 Star
0
1 Star
1
Write a Review
Write your review and you'll automatically be entered in our monthly drawing. Include an image or video to DOUBLE your chances to win!
Write Your Review
23 days ago
Southlouisana
Good looking great sound perfect fit
Bought the mega bomb,4-1 ex.and the jd jet kit, very happy with the product and the service from motosport
1 month 1 day ago
Michigan
Da bomb
Very happy about the buy.. went right on no problems .. Did burn my boot a bit no big deal.
2 months 5 days ago
West Salem, WI 54669, USA
Smooths out the power band
Works great, lots of power, fast off the line.
2 months 16 days ago
Frederick, Maryland
Everything I️ expected and more!
I️ bought this to add power and dampen the sound, and was amazing by the results. I️ have a 2004 yz250f and you can't go wrong with the power of the mega bomb. This also has my bike set up with a full fmf exhaust which has been an excellent purchase.
2 months 24 days ago
Denham Springs La
Perfect fit
Bought this for my sons bike. It was a perfect fit and great craftsmanship. Made a nice improvement on higher rpm performance.
1 year 5 months ago
Arizona, USA
FMF megabomb
ive had this on my bike for a few weeks now and its slip on is rattling but the header and stuff is all good. idk the hp gains but it sounds great
2 years 4 months ago
Fergus Falls, MN 56537, USA
It fits!!!
Installed on my 2014 YFZ450R, Love the look and power of this pipe , I paired it with my big gun
evo R slip on , had a hard time finding out if it would fit so I'll make it easier on you it does fit this slip on
2 years 5 months ago
Phoenix, AZ, USA
2013 KX 250 F Megabomb
Decided to add the Megabomb header to my previously installed FMF silencer. Very light weight but not as solid as the OEM header. Installation was simple however joining to the FMF midpipe/silencer was difficult. Even with high temp grease, difficult to join together. I have never had this problem with FMF before. Likely just a "one-off" thing. I have already purchased a carbon heat shield to place over the header - you will burn your boots/pants if you are not careful.

Unable to detect a power increase but slightly more responsive throttle. The biggest change occurred when I installed the FMF silencer 6 months ago. It will give your bike that factory look.
Q: I have a powercore 4 slip on. Will this fit with that? And does it come with the programmer 
Isaac
1 month 18 days ago
A: Yes this will work with any FMF slip on exhaust. No a programmer is not included.
Q: What's the main difference between the Megabomb and the Powerbomb? I have a WR250R that I'd like to get a little more bottom end out of.
Thumbs
2 months 2 days ago
A: The Megabomb will get you the bottom end you are wanting and has more power gains than the Powerbomb. Also have a larger expansion cavity will help reduce sound output as well.
Q: Fitment Will this bolt up to my lexx mx exhaust
Will this bolt up to my lexx mx exhaust
BillyEXT3407
4 months 25 days ago
A: The FMF Megabomb Header will work with OEM or FMF exhaust only.
Q: Will this fit both my crf450r 04' and my crf250r 06' or are they completely different? Thank you!
David
Over 7 months ago
A: This will not.
Q: Will this fit onto a yoshimura muffler
have a 09 ltr 450 Suzuki with a yoshimura muffler on it. wanting to make sure if the megabomb will fit onto the muffler before purchasing as I am located in Australia
Motoexpert
Over 8 months ago
A: We do not recommend mix and matching header pipes to exhausts. These items are very performance specific as well as machine fitment specific. There could be an issue with the ltr exhaust mounting brackits not lining up because of the taper of the pipe allowing it to slide on more or less then yoshimura intended.
Q: Will this fit my 05 crf150f
It would be very nice if it would of any thing like it
MotoStaff
1 year 4 months ago
A: No, unfortunately FMF does not offer a Megabomb header for the CRF150F.
Q: Inside diameter
is the football shaped part just a cover or sort of decoration or is it the same shape on the inside like an expansion chamber?
Q: Will the megabomb fit with a RS-4 Yoshimura Slip on?
Q: Will I need to re map my ecu after installing this on my 2015 kx250f?
Q: I have a yz450f 2006. It it barley touches the cylinder how can I fix that??
See all bikes that this part fits...
| Product Variant | Manufacturer Part # |
| --- | --- |
| FMF Megabomb Header - Stainless Steel | 041555 |
| FMF Megabomb Header - Stainless Steel | 041566 |
| FMF Megabomb Header - Stainless Steel | 042251 |
| FMF Megabomb Header - Stainless Steel | 041426 |
| FMF Megabomb Header - Stainless Steel | 041431 |
| FMF Megabomb Header - Stainless Steel | 041427 |
| FMF Megabomb Header - Stainless Steel | 041428 |
| FMF Megabomb Header - Stainless Steel | 041485 |
| FMF Megabomb Header - Stainless Steel | 041429 |
| FMF Megabomb Header - Stainless Steel | 041430 |
| FMF Megabomb Header - Stainless Steel | 041459 |
| FMF Megabomb Header - Stainless Steel | 041491 |
| FMF Megabomb Header - Stainless Steel | 042249 |
| FMF Megabomb Header - Stainless Steel | 042250 |
| FMF Megabomb Header - Stainless Steel | 042276 |
| FMF Megabomb Header - Stainless Steel | 043290 |
| FMF Megabomb Header - Stainless Steel | 043286 |
| FMF Megabomb Header - Stainless Steel | 043340 |
| FMF Megabomb Header - Stainless Steel | 043287 |
| FMF Megabomb Header - Stainless Steel | 043309 |
| FMF Megabomb Header - Stainless Steel | 041433 |
| FMF Megabomb Header - Stainless Steel | 044358 |
| FMF Megabomb Header - Stainless Steel | 044350 |
| FMF Megabomb Header - Stainless Steel | 044351 |
| FMF Megabomb Header - Stainless Steel | 044352 |
| FMF Megabomb Header - Stainless Steel | 044421 |
| FMF Megabomb Header - Stainless Steel | 044353 |
| FMF Megabomb Header - Stainless Steel | 044354 |
| FMF Megabomb Header - Stainless Steel | 044402 |
| FMF Megabomb Header - Stainless Steel | 045498 |
| FMF Megabomb Header - Stainless Steel | 041519 |
| FMF Megabomb Header - Stainless Steel | 041538 |
| FMF Megabomb Header - Stainless Steel | 042338 |
| FMF Megabomb Header - Stainless Steel | 044356 |
| FMF Megabomb Header - Stainless Steel | 044357 |
| FMF Megabomb Header - Stainless Steel | 42343 |
| FMF Megabomb Header - Stainless Steel | 45362 |