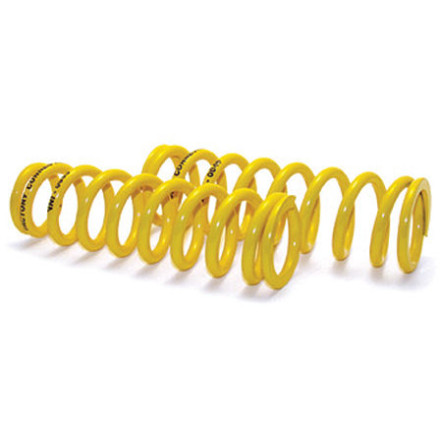 Factory Connection Shock Spring
5 Star
32
4 Star
2
3 Star
0
2 Star
1
1 Star
1
Write a Review
Write your review and you'll automatically be entered in our monthly drawing. Include an image or video to DOUBLE your chances to win!
Write Your Review
Works as intended to
Factory connection puts great finishes on their rear springs
1 month 27 days ago
Dover, De
Great!
I bought this shock spring along with fork springs about a month that ago and I love that I did. I didn't know what size to get so I called factory connection and they told me what I should get for my height and weight. Fter riding a few times I'm noticing I can get on the throttle earlier and harder than before going through corners. Jumping is much smoother and scrubbing is easier as well. Definitely the best purchase I've ever made for my bike.
3 months 2 days ago
Your ma house
Awesome
Can't beat it for the price. In my opinion having properly set up suspension is the first upgrade any rider should do.
Over 5 months ago
Livermore California
To short
The spring was at least an inch to short had to make a spacer just to make it work
Over 7 months ago
asheville
Must Have For Dirt Bikes
Perfect. Unless your the perfect size for your bike, you'll need a spring. Factory connection is the bomb. Thanks Motosport.
1 year 3 months ago
Midwest
Its a spring.
Makes a big difference to have it setup right.
1 year 5 months ago
Pleasant Hill, CA, USA
Great quality
Always use factory connection products. Bar none the best out there!
1 year 5 months ago
Lima OH
2008 Yamaha WR450F
I bought this shock spring along with new fork springs for my bike and man what a differnce! The stock spring was so soft that I was always using the entire stroke and I don't ride on a track with this bike. This spring made the bike jump more predictable and flat. It doesn't blow through the stroke and gave me a lot of adjustment that I can use now. We'll worth the money! I wish I wouldn't have waited and done this sooner.
See all bikes that this part fits...
| Product Variant | Manufacturer Part # |
| --- | --- |
| 5.1 Kg | NNR-0051 |
| 4.4 Kg | NNU-0044 |
| 4.6 Kg | NNU0046 |
| 4.8 Kg | NNU-0048 |
| 5.0 Kg | NNU-0050 |
| 5.2 Kg | NNU0052 |
| 5.4 Kg | NNU0054 |
| 4.1 Kg | AAL-0041 |
| 4.3 Kg | AAL0043 |
| 4.7 Kg | AAL0047 |
| 4.8 Kg | AAL0048 |
| 4.9 Kg | AAL-0049 |
| 5.0 Kg | AAL-0050 |
| 5.1 Kg | AAL0051 |
| 5.2 Kg | AAL-0052 |
| 5.3 Kg | AAL-0053 |
| 5.4 Kg | AAL0054 |
| 5.5 Kg | AAL0055 |
| 5.6 Kg | N/A |
| 5.7 Kg | AAL-0057 |
| 5.8 Kg | AAL-0058 |
| 5.9 Kg | AAL0059 |
| 6.1 Kg | AAL-0061 |
| 6.3 Kg | AAL-0063 |
| 6.7 Kg | AAL0067 |
| 4.4 Kg | ALN-0044 |
| 4.6 Kg | ALN-0046 |
| 4.8 Kg | ALN-0048 |
| 5.0 Kg | ALN-0050 |
| 5.2 Kg | ALN0052 |
| 5.4 Kg | ALN-0054 |
| 5.6 Kg | ALN0056 |
| 5.8 Kg | ALN0058 |
| 6.0 Kg | ALN0060 |
| 6.3 Kg | ALN-0063 |
| 4.7 Kg | ALS-0047 |
| 4.9 Kg | ALS-0049 |
| 5.1 Kg | ALS-0051 |
| 5.3 Kg | ALS-0053 |
| 5.5 Kg | ALS-0055 |
| 5.7 Kg | ALS0057 |
| 5.9 Kg | ALS-0059 |
| 6.1 Kg | ALS-0061 |
| 6.3 Kg | ALS-0063 |
| 7.5Kg-9.7Kg | FCW2 |
| 8.0Kg-10.3Kg | FC-FCW-3 |
| 8.5Kg-11.0Kg | FC-FCW-4 |
| 9.0Kg-11.5Kg | FC-FCW-H |
| 5.0 Kg | NNE0050 |
| 4.5 Kg | NNI-0045 |
| 4.7 Kg | NNI-0047 |
| 5.1 Kg | NNI-0051 |
| 3.5 Kg | NNR-0035 |
| 4.5 Kg | N/A |
| 4.7 Kg | ALR-0047 |
| 4.9 Kg | ALR-0049 |
| 5.1 Kg | ALR-0051 |
| 5.5 Kg | ALR-0055 |
| 5.2 Kg | ALA-0052 |
| 5.5 Kg | ALA-0055 |
| 5.8 Kg | ALA-0058 |
| 6.1 Kg | ALA-0061 |
| 6.4 Kg | ALA-0064 |
| 4.5 Kg | NNR-0045 |
| 4.7 Kg | NNR-0047 |
| 3.0 Kg | NNR-0030 |
| 3.0 Kg | NNE-0030 |
| 3.5 Kg | NNE-0035 |
| 3.7 Kg | NNE-0037 |
| 4.0 Kg | NNE-0040 |
| 4.5 Kg | NNE-0045 |