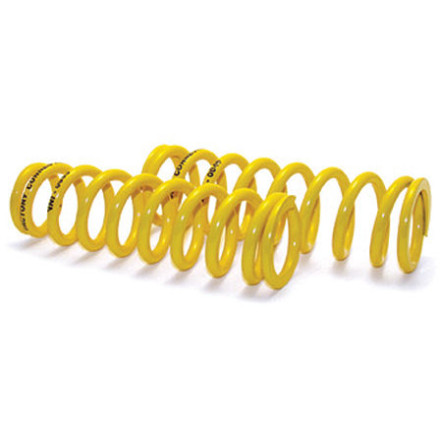 Factory Connection Shock Spring
5 Star
35
4 Star
3
3 Star
0
2 Star
1
1 Star
1
Write a Review
Write your review and you'll automatically be entered in our monthly drawing. Include an image or video to DOUBLE your chances to win!
Write Your Review
7 days 10 hours ago
Florida
Great quality
The shock spring is a nice improvement
1 month 2 days ago
Washington
Plush
Great spring very easy to install after watching the youtube video. very easy. bought the bike had a much to heavy spring replaced it with this and it rides better then ever. so glad i bought this with i had gotten it sooner
1 month 8 days ago
Tri cities Washington
Good spring
Good spring so far, go on a website and figure out what spring rate you need for your weight
1 month 17 days ago
Endoor
Super boingy thing!
The paint is fantastic! I like this thing, but it did take me a few hours to straighten it out. It was all coiled up like a garden hose in the box when it arrived at my door. Once I got it straight, I was abe to install it in my Van.
Works as intended to
Factory connection puts great finishes on their rear springs
4 months 2 days ago
Dover, De
Great!
I bought this shock spring along with fork springs about a month that ago and I love that I did. I didn't know what size to get so I called factory connection and they told me what I should get for my height and weight. Fter riding a few times I'm noticing I can get on the throttle earlier and harder than before going through corners. Jumping is much smoother and scrubbing is easier as well. Definitely the best purchase I've ever made for my bike.
Over 5 months ago
Your ma house
Awesome
Can't beat it for the price. In my opinion having properly set up suspension is the first upgrade any rider should do.
Over 7 months ago
Livermore California
To short
The spring was at least an inch to short had to make a spacer just to make it work
Over 9 months ago
asheville
Must Have For Dirt Bikes
Perfect. Unless your the perfect size for your bike, you'll need a spring. Factory connection is the bomb. Thanks Motosport.
See all bikes that this part fits...
| Product Variant | Manufacturer Part # |
| --- | --- |
| 5.1 Kg | NNR-0051 |
| 4.4 Kg | NNU-0044 |
| 4.6 Kg | NNU0046 |
| 4.8 Kg | NNU-0048 |
| 5.0 Kg | NNU-0050 |
| 5.2 Kg | NNU0052 |
| 5.4 Kg | NNU0054 |
| 4.1 Kg | AAL-0041 |
| 4.3 Kg | AAL0043 |
| 4.7 Kg | AAL0047 |
| 4.8 Kg | AAL0048 |
| 4.9 Kg | AAL-0049 |
| 5.0 Kg | AAL-0050 |
| 5.1 Kg | AAL0051 |
| 5.2 Kg | AAL-0052 |
| 5.3 Kg | AAL-0053 |
| 5.4 Kg | AAL0054 |
| 5.5 Kg | AAL0055 |
| 5.6 Kg | N/A |
| 5.7 Kg | AAL-0057 |
| 5.8 Kg | AAL-0058 |
| 5.9 Kg | AAL0059 |
| 6.1 Kg | AAL-0061 |
| 6.3 Kg | AAL-0063 |
| 6.7 Kg | AAL0067 |
| 4.4 Kg | ALN-0044 |
| 4.6 Kg | ALN-0046 |
| 4.8 Kg | ALN-0048 |
| 5.0 Kg | ALN-0050 |
| 5.2 Kg | ALN0052 |
| 5.4 Kg | ALN-0054 |
| 5.6 Kg | ALN0056 |
| 5.8 Kg | ALN0058 |
| 6.0 Kg | ALN0060 |
| 6.3 Kg | ALN-0063 |
| 4.7 Kg | ALS-0047 |
| 4.9 Kg | ALS-0049 |
| 5.1 Kg | ALS-0051 |
| 5.3 Kg | ALS-0053 |
| 5.5 Kg | ALS-0055 |
| 5.7 Kg | ALS0057 |
| 5.9 Kg | ALS-0059 |
| 6.1 Kg | ALS-0061 |
| 6.3 Kg | ALS-0063 |
| 7.5Kg-9.7Kg | FCW2 |
| 8.0Kg-10.3Kg | FC-FCW-3 |
| 8.5Kg-11.0Kg | FC-FCW-4 |
| 9.0Kg-11.5Kg | FC-FCW-H |
| 5.0 Kg | NNE0050 |
| 4.5 Kg | NNI-0045 |
| 4.7 Kg | NNI-0047 |
| 5.1 Kg | NNI-0051 |
| 3.5 Kg | NNR-0035 |
| 4.5 Kg | N/A |
| 4.7 Kg | ALR-0047 |
| 4.9 Kg | ALR-0049 |
| 5.1 Kg | ALR-0051 |
| 5.5 Kg | ALR-0055 |
| 5.2 Kg | ALA-0052 |
| 5.5 Kg | ALA-0055 |
| 5.8 Kg | ALA-0058 |
| 6.1 Kg | ALA-0061 |
| 6.4 Kg | ALA-0064 |
| 4.5 Kg | NNR-0045 |
| 4.7 Kg | NNR-0047 |
| 3.0 Kg | NNE-0030 |
| 3.5 Kg | NNE-0035 |
| 3.7 Kg | NNE-0037 |
| 4.0 Kg | NNE-0040 |
| 4.5 Kg | NNE-0045 |