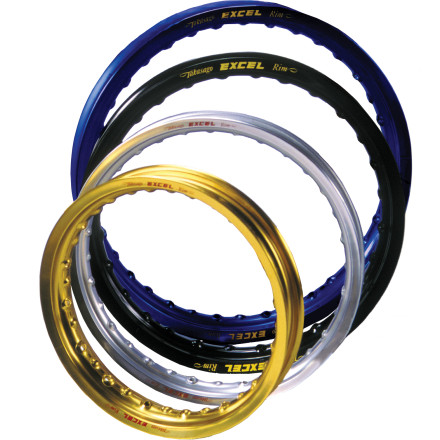 ---
10% Off - Save up to $23.00
---
5 Star
12
4 Star
1
3 Star
0
2 Star
0
1 Star
0
Over 7 months ago
Slvester, GA
1 year 5 months ago
Southern Wv
Easier than I thought
First wheel I have ever spoked. Maybe beginners luck, or just a good rim, but the rim trued easily. I bent my other excel rim. My fault tho. Air pressure was to low trying to run in the mud. Excel rims are bullet proof.
Nice looking rim
L00ks good seems well built performs like it should
1 year 6 months ago
Whittier,California
Excel rim
Great!! Thank you Motosport
2 years 11 months ago
Miranda ca.
Excel rear wheel
Wanted a black excel A60 rear rim, but didn't come in 18". Ended up getting the black takasado rim. The takasado rims are also high quality, you can't go wrong with them.
Over 3 years ago
South of Boston, Ma
Sick!
I bought this rim for my 91 CR250R, it functions as good as it looks! Only draw back was that I really wanted a gold one to go for that 80's look on my retro ride. Sometimes you can't win them all. Now I need to get a matching front rim to complete the look. Thanks motosport.com
Over 3 years ago
Silverado
18" Excel
There is not much to say about these rims except they are Excel "ent" rims. Swap out for a 19" on a YZ 250, direct fit! Don't forget spokes when changing to the 18" rim... LOL, no, I have done a few so I remembered to get spoke kit also.

YZDOC
Over 3 years ago
New England
Rugged
Replaced my stock D.i.D rim. Pretty rugged, I haven't had a bad excel rim yet
Over 3 years ago
Texas, USA
TRUE is BEST
These rims are STRONG, and run extremely TRUE. Color is perfect and styling is first class!!
Over 3 years ago
Kennewick, WA, USA
Rim review
Strong durable and looks good. Not for the average rider to install any rim it takes some finesse. there are some good youtube videos to give you some directions. The end results are worth the effort.
See all bikes that this part fits...
| Product Variant | Manufacturer Part # |
| --- | --- |
| Black / 12" | ACK352 |
| Black / 14" | BCK400 |
| Black / 14" | BCK404 |
| Black / 14" | BCK405 |
| Black / 16" | DDK404 |
| Black / 16" | DDK405 |
| Black / 18" | FDK406 |
| Black / 18" | FEK422 |
| Black / 18" | FEK410 |
| Black / 18" | FEK411 |
| Black / 18" | FEK418 |
| Black / 19" | GDK406 |
| Black / 19" | GDK411 |
| Black / 19" | GEK410 |
| Black / 19" | GEK411 |
| Black / 19" | GEK422 |
| Silver / 14" | BCS404 |
| Silver / 18" | FDS406 |
| Silver / 18" | FES422 |
| Silver / 18" | FES410 |
| Silver / 18" | FES411 |
| Silver / 18" | FES418 |
| Silver / 19" | GDS406 |
| Silver / 19" | GDS411 |
| Silver / 19" | GES410 |
| Silver / 19" | GES411 |
| Silver / 19" | GES422 |
| Blue / 18" | FED422 |
| Blue / 19" | GDD406 |
| Blue / 19" | GED410 |
| Blue / 19" | GEB422 |