Excel
Excel Front Wheel Spoke Kit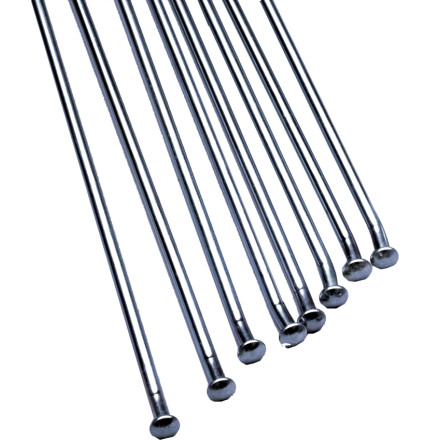 Excel Front Wheel Spoke Kit
---
9% Off - Save up to $10.00
---
5 Star
15
4 Star
2
3 Star
1
2 Star
1
1 Star
4
Write a Review
Write your review and you'll automatically be entered in our monthly drawing. Include an image or video to DOUBLE your chances to win!
Write Your Review
Perfect Fit
Perfect fit on my Excel Wheels!
1 year 9 months ago
Mayagüez, Mayagüez, Puerto Rico
Great spokes
perfect fit iam still riding my bike and the look brand , i will stongly recomend this product.
2 years 6 months ago
Texas
Style and Strength
Excel produces a world class rim, the spokes are nothing short of perfection. You want strength added with a little style, check out the SPLINE nipples!! The spokes will stay tight, no loosening what so ever.

Highly recommend the Excel adjustable torque wrench, torque all the spokes to 42-46 inch pounds (per the excel tech department) and you rims will stay true!!!
2 years 7 months ago
Texas, USA
Strength in Numbers
" Stop breaking spokes REPLACE THEM ALL!!!

These spokes are strong, easy to install and with the spline nipple even stylish!! "
2 years 11 months ago
Dallas
Great spokes
Looking for a new set of shiny spokes. Very high quality and look great. Fit just right
Over 4 years ago
Powhatan, VA 23139, USA
Excel stands for eccellents!
If you want the best buy the the best. We have used these spokes on all our bikes. They are strong and with the spline drive nipples give a positive adjustment every time!
Best good quality spoke I have ever bought
the spline drive is the best they don't strip like oem nipple and spokes will very good quality spokes and nipples very strong
scottieman15
Q: How many spokes come with the kit
Alex
1 year 1 month ago
A: It will come with the exact amount your specific front wheel needs. Simply put your vehicle information into the selector and it will allow you to order the kit for the wheel that you need spokes for.
Thumbs
1 year 1 month ago
A: Your spoke kit for a CR80 will be 28 spokes. Just be sure to order for the correct size rim.
nickmoto176
Q: Will these excel spokes fit with the excel hubs?
Motodad
2 years 7 months ago
A: YEs they will fit Excel hubs as well as OEM hubs
Jostein
Q: Does these fit a wr125r stock hub, with takasago rims?
i got 21" front rim and a 19" back rim.
MotoSportGrantK
Over 4 years ago
A: The Yamaha WR125R is not available here in the US and I don't have the spec's for that bike. I would recommend contacting your local Yamaha dealer for conformation.
braaten252
Q: Is the nipple the same size as the rearspline drive nipple or do I need a different head for my torque wrench?
Motodad
Over 4 years ago
A: the soke kit comes with a SPLINE nipple and will require a different adapter for your torque wrench. the set does come with a EXCEL spline torque wrench
MotoSportGrantK
Over 4 years ago
A: The front and rear will be the same so you will not need a different size.
Ronnienap
Q: What size nipples are in this kit? Also do they work for an excel takasago rim? thanks
MotoSportRyanT
Over 4 years ago
A: The nipples are 8.5mm excel nipples and yes, this spoke set is specifically made for Excel Takasago Rims.
RobertV
Q: Will this kit work with my OEM rim on a 2002 CR250R?
MotoSportRyanT
Over 4 years ago
A: Excel Spoke kits will only work on rims with 8.5 mm spoke nipple holes.
orlando
Q: Are these compatible with DID dirtStar rims!
MotoSportExpert
Over 5 years ago
A: The DID Dirt Star Wheels are specifically designed to use stock spokes. For your 2009 CRF450r the Excel front spokes will not work. The rears would but then you would have two different styles of nipples. Stock Honda spokes are some of the best out there so don't feel bad running them. Plenty of teams run stock Honda spokes versus the aftermarket companies.
Motodad
Over 5 years ago
A: Yes they will Fit the Dirtstar rim with no issues
brapaholic451
Q: Are the nipple high quality or no
is that a problem excel has with there nipples? whats the chance it will happen to me if I buy them and put them in? the reviews some say the nipples pulled out of the spokes?
Motodad
Over 5 years ago
A: Yes very strong and durable when torqueing. THe spline nipples add to strength and durability!! Well worth the money
MotoSportExpert
Over 5 years ago
A: This spoke and nipple kit is one of the highest quality kits in the industry. I have used Excel spoke kits exclusively for the last 15 years and have never had an issue. These are aluminum nipples on a steel spoke, they can stripped fairly easily if overtightened. Also after installing spokes, after the first 10-15 minutes of riding, the spokes need to be re-checked as they can settle in the wheel and may loosen up some. This should be done with any spoke set regardless of brand. If installed properly and tightened to the correct specification, you should have no problems.
Todd
Q: Will excel spokes fit a pro wheel front rim
MotoSportExpert
Over 5 years ago
A: Unfortunately some will and some wont. Typically it is a good idea to match Pro Wheel spokes with a Pro Wheel rim and the same goes for Excel. That way you know everything will work no problem.
See all bikes that this part fits...
| Product Variant | Manufacturer Part # |
| --- | --- |
| 17" | XS0-11177 |
| 19" | XS0-11197 |
| 17" | XSO-12177 |
| 19" | XSO-13197 |
| 17" | N/A |
| 19" | XS031197 |
| 17" | XS0-41177 |
| 19" | XS041197 |
| 21" | XS9-11207 |
| 21" | XS9-11217 |
| 21" | XS9-12217 |
| 17" | XS921177 |
| 19" | XS9-21197 |
| 21" | XS9-21217 |
| 21" | XS9-22217 |
| 21" | XS9-32217 |
| 21" | XS9-51217 |