EVS
EVS Fusion Undersleeve Socks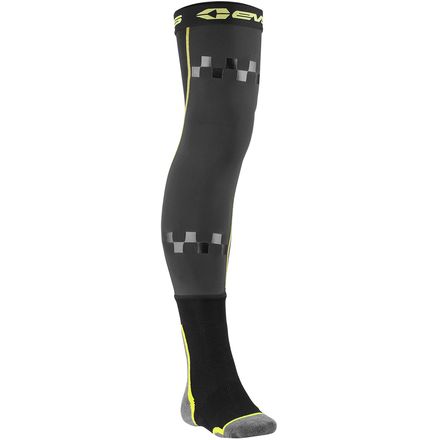 5 Star
24
4 Star
6
3 Star
5
2 Star
1
1 Star
0
3 months ago
Knoxville tn
Perfect knee brace socks
i ordered these for my daughter and she loves them. they fit just like they should
Comfortable
Bought these because the sleeves that my asterisks came with weren't cutting it. I was getting brush burns on the back of my legs from the straps. Hasn't happened since I started using these
Over 6 months ago
California
Super comfortable knee brace sock
Love these socks. They stay up on your legs, no seems to dig in to you skin and they seem to last forever too.
Over 9 months ago
Blanchard, OK
Lasting Socks
I have two pairs of these socks and have had both for many years. I wear them under EVS Axis Pro knee braces, so they get tested more than just a regular sock. The front is a super thin and breathable material and the back is a perforated thin material. The two sides are sewn together with a strip of fabric. The sock bottom is joined with the upper with thick stitching. The footbed is very plush while the top side of the sock is thinner and more breathable. These socks have been very comfortable in terms of heat and do not make my legs or feet hot. Durability has been pretty good. The older set has unraveled a little bit on that strip of joining fabric on the upper. They are still usable, but I imagine they will get worse over time. The thick stitching between the upper and lower is comfortable on one set, but is tighter on the other and can be a little uncomfortable if I pull them up too high (I have thicker calves-ankles but not total tree trunks). One set is also ever so slightly longer in the bottom foot than the other. These are all just manufacturing differences that you would find in any garment. The very top of the sock has a gummy material on the inside to keep them from slipping and they do a great job. I have worn these all day on many occasions and they have never slipped below the braces. I will definitely keep buying these as I think they are a great combination of comfort-durability-value. Most knee brace socks are much more expensive, and I haven't found that more expensive = better socks. If you have knee pads or knee braces that chafe your legs, grab these socks and you'll be a lot more comfortable and only have to worry about bringing one garment instead of socks and knee brace sleeves.
1 year 1 month ago
goleta ca
Wanna like them, but they ripped right away
I bought these and some Fox ones at the same time and the fox ones I have used 25 times (they are still good as new) and these about the third time these ripped/tore right at the ankle. Not sure if it was my boot that ripped them or me putting them on, but they are no good anymore.
Undersleeve Sock
Great fit and comfortable feel. i thought it might be a little big for my husband but fit great!
1 year 8 months ago
Springboro, OH, USA
Short lived
I bought these sock in late summer, at fisrt they were great but after about 4 rides the knee brace grips we're peeling off and by the 6th ride they were ripped at the heel
2 years 3 months ago
San Antonio, TX, USA
Only use these on two rides so far they are comfortable don't know how long they will last you have to be careful when putting them on or you can hear the seems starting to rip work good with my knee brace
2 years 3 months ago
Billings, MT
Wonderful for knee guard use
Great fit and sizing per MotoSport.
Wonderful fit beneath knee guards of several types.
Wonderful way to prevent rubbing or chafing from knee guards. Also, some added cold weather protection if needed. They don't seem too warm during the hot weather either.

Very pleased overall.
Happy riding!
2 years 3 months ago
Arizona
Best and most comfortable socks
Finally bought myself a pair of these EVS fusion socks and I can without a doubt say they are best socks to wear when riding, especially if you wear knee braces. They stay up the whole time while riding, no rubbing or irritating the skin, comfortable with knee braces since you don't feel the straps rubbing against your skin. Love them and would definitely buy another pair if I have to.
PatF
Q: Looking for sizing? I am 5'9" and wear a size 9 boot
MotoSportExpert
Over 3 years ago
A: S/M = 7-10 Shoe Size (US)
L/XL = 10-13 Shoe Size (US)
Siege
Over 3 years ago
A: Get A medium
| Product Variant | Manufacturer Part # |
| --- | --- |
| Black/Hi-Viz Yellow / Large/X-Large | FSN-HIVIZ-L/XL |
| Black/Hi-Viz Yellow / Small/Medium | FSN-HIVIZ-S/M |