Evans
Evans Waterless Powersports Engine Coolant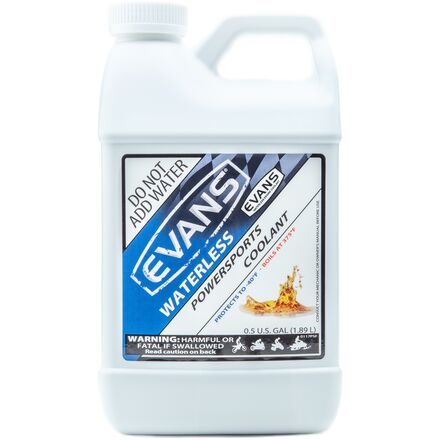 Evans Waterless Powersports Engine Coolant
---
4.95
5
19
Rating: 5 out of 5 stars
---
19 Reviews
18

reviews

1

reviews

0

reviews

0

reviews

0

reviews
All Reviews
Stopped my Bike from Boiling
My 250 four stroke was boiling over, i replaced the rad cap and installed evans, no more boiling over!
Over 6 months ago
Alabama's
Best Ever
Looked at getting the lowest temps in our practice and race bikes and there was nothing that compared
Over 7 months ago
Jackskonvillw
Never overheat again
Very happy with this product, never overheat again,
1 year 2 months ago
Millboro va
Awesome product
I couldn't tell you the last time I bought regular anti freeze. I like Evans run it in all my bikes
Good investment
This has such a high boiling point and doesn't build pressure like a water based coolant you're less likely to have a failure or boil over especially in a hare scramble bottleneck or tight technical sections when you go a while with little to no airflow on your radiators. It's expensive but is worth it.
Worth the money
My set up limits the space for an overflow bottle. With this stuff I done even run one.
1 year 10 months ago
Indiana
Evans waterless coolant
I have a built ltr 450 and wouldn't recommend anything else for the track!
2 years 1 month ago
Paso Robles, CA 93446, USA
This stuff works!
I was having issues with my recently acquired KDX220 boiling and pushing all of the coolant out through the overflow tank, she was a real steamer when the going got tough. I.tried a different motorcycle specific coolant with exactly the same results, lots of steam .... I purged the system and installed the Evans, no more steam, It really does the trick for me. The only downside I can come up with is that you have to be smart enough to know when you are doing something to overheat the bike! My opinion is that if you are slipping the clutch, screaming the engine with little or no air flow though the radiators,you are adding more heat than the cooling system can get rid of, you will fry your engine.
Evans
No boil over and my bike runs a lot cooler. Great stuff
# Part Numbers
| Product Variant | Manufacturer Part # |
| --- | --- |
| Evans Waterless Powersports Engine Coolant | EC72064 |