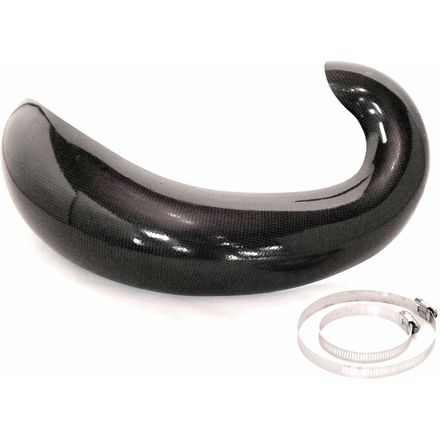 5 Star
0
4 Star
1
3 Star
0
2 Star
0
1 Star
0
Did not fit
This did not fit my 19 tc250. It seems like it would protect very well though.
Millsy
Q: How can I get a pipe guard to go with my FMF Gnarly I want for my 2015 Beta XTrainer?
DaveGearhead
2 months 5 days ago
A: E-line only offers this item for a stock configuration. You may want to contact them directly to see if they are planning to make something for the pipe you are running.
Bing
Q: Which one do I need for a stock pipe on a 19 300xc?
CodyGearhead
2 months 26 days ago
A: For any bike, you will need to choose the stock pipe option if you have a stock pipe. These are fitted for specific exhausts.
See all bikes that this part fits...
| Product Variant | Manufacturer Part # |
| --- | --- |
| Stock | BPG12518 |
| Stock | BPG2312 |
| Stock | BPG300X |
| Stock | GPG095 |
| FMF Gnarly | GPG25006 |
| Stock GG Pipe | GPG25012 |
| FMF Fatty/FMF Factory / Stock | GPG25018 |
| FMF Mega Bomb | HMB2506 |
| FMF Mega Bomb | HMB450 |
| FMF Mega Bomb | HMB4509 |
| FMF Power Bomb | HPB250F |
| FMF Power Bomb | HPB45004 |
| FMF Power Bomb | HPB4509 |
| Fatty/Gnarly/SST/Factory Fatty | HPG006 |
| Stock | HPG25003 |
| Stock | HPG4504 |
| Stock / Yoshimura | HPG4509 |
| Stock | HPG450X |
| FMF Fatty/FMF Factory | HPGH62 |
| FMF Fatty/FMF Factory | HPGH70 |
| Pro Circuit | HPGPC04 |
| FMF Power Bomb | KPB4509 |
| FMF Mega Bomb | MMB250F11 |
| FMF Mega Bomb | MMB250SXF |
| FMF Mega Bomb | MMB250SXF11 |
| FMF Mega Bomb | MMB350SXF |
| FMF Mega Bomb | MMB45010 |
| FMF Mega Bomb | MMB4508 |
| FMF Gnarly | MPG087 |
| Stock | MPG12504 |
| Stock | MPG15016 |
| FMF Gnarly | MPG183 |
| Stock | MPG2006 |
| FMF Fatty/FMF Factory | MPG202 |
| FMF Gnarly | MPG203 |
| Stock | MPG25011 |
| Stock | MPG25017 |
| Stock | MPG25019 |
| FMF Fatty | MPG25019C |
| Stock | MPG2504 |
| Stock/Akrapovic | MPG250F |
| Stock | MPG250XCF |
| Pro Circuit Platinum 2 | MPG300P2 |
| Stock | MPG35011F |
| Stock | MPG500E |
| Stock | MPG530EXC |
| Stock | MPGKT85 |
| FMF Fatty/FMF Factory | MPGM32 |
| Pro Circuit Platinum | MPGPC03 |
| Pro Circuit Platinum | MPGPC04 |
| Pro Circuit Platinum 2 | MPGPC04P2 |
| Pro Circuit Platinum 2 | MPGPC300P2 |
| Stock | QPG2504 |
| Stock | QPG300 |
| FMF Mega Bomb | YMB24 |
| FMF Mega Bomb | YMB2507 |
| FMF Power Bomb | YPB2507 |
| FMF Power Bomb | YPB250F |
| FMF Power Bomb | YPB450 |
| FMF Power Bomb | YPB4507 |
| Stock | YPG2005 |
| Stock | YPG25005 |
| Pro Circuit Platinum | YPGPC02 |