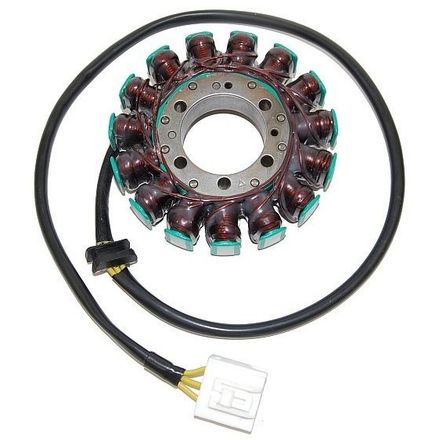 5 Star
6
4 Star
0
3 Star
0
2 Star
1
1 Star
5
Write a Review
Write your review and you'll automatically be entered in our monthly drawing. Include an image or video to DOUBLE your chances to win!
Write Your Review
Electrosport stator will leave you stranded
Plan on the Electrosport stator to leave you stranded and will cost you a bike tow.
So far so good
1 month has passed and no problems at all and I got it in 3 days. I'm happy, I'm riding again!
Honda Magna 750 1994
I purchased and installed on my bile and The stator only lasted 10 months.
1 year 9 months ago
Apopka
Great buy.
Correct mounting, correct wiring, and connectors. All that and a great price too! Fast shipping easy ordering. Thanks Motosport
Do not buy this stator!!
after 6 to 8 months of having this stator it failed on me and melted my plugs going from the stator to the rectifier regulator i contacted electrosport about the stator and they told me that it happens sometimes (later finding out that they lied to me and it happens all the time) and they sent me a new stator, another 7 to 9 months of having that stator, it fried my wire harness and the plugs, lesson learned never go with aftermarket electric parts, there's reason why they're dirt cheap because there are poorly made.
Over 3 years ago
Chantilly, VA, USA
Short Lifespan
January 13, 2012, I put this stator and its matching regulator on my VStar 1100. I did like the extra power for running my accessories.

All worked well for 18 months, then the regulator failed resulting in fried wires. New regulator put in August 1, 2013.

May 31, 2014, stator has a melt-down, leaving me stranded.

I'll be looking at different brand stators this time.
Not OEM fit.
I bought this for a 2001 Honda Shadow Spirit 1100. I had to remove the small clamp holding the wires on the stator to get it to fit. I'm not sure what effect this will have on the life of this part, but I imagine that the clamp was placed there for a reason.
Be prepared to retrofit if you order this.
Over 4 years ago
Navarre, FL, USA
New Stator and on the road again
I ordered the stator and it was shipped and delivered on time. I installed it and was back on the road quickly. I got the stator at a lower cost than if I purchased locally. When I need parts for my bikes Motorsport is my first stop on the net.
Over 5 years ago
Leesburg, Fl
Satisfied Customer
Motorsport is an excellent company to do business with. I spoke to a Rep. on the phone. He answered ALL my questions! The Stator they sold me works great. Finally a full charge. I would recomend Motorsport Products to everyone.
Thanks,
John Magnifico
Over 5 years ago
Livermore ca
Steve
Q: How many volts and watts does the Baja stator put out for a xr100?
mrwassatt97
Q: Will this be substantial in powering a headlight tailight and turn signals on a 1997 wr250?
bgrraeyednon
Location: Denver, CO, USA
Q: Gasket?
Is a new gasket included?
MotoSportExpert
1 year 10 months ago
A: No the Electrosport Stator would not include the gasket. A new gasket can be found in our OEM section.

http://www.motosport.com/motorcycle/oem-parts/suzuki/2006/gsxr750/crankcase-cover
Pinky
1 year 9 months ago
Location: Apopka
A: No. The cover gasket is sold separately.
p5yc071c
Q: Shadow?
Will this stator work with my 92 Honda Shadow VT1100C?
MotoSportExpert
Over 3 years ago
A: Yes! . Just be sure to correctly select the Year/Make/Model of your bike before ordering so we can be sure to send you the correct stator for your bike. Also, feel free to give us a call at 888-676-8853 and we would be happy to help you out with your order.

**Please note there are no returns on electrical products!
Rich
Location: San Diego, CA, USA
Q: Re-wiring New stator?
I bought a stator for a 2003 Yamaha R1. The connectors are different, I was wondering if I can just splice in the old connector to the stator provided? Is there a certain wire sequence or are they al lthe same and it won't matter which wire goes to which slot in the connector?
MotoSportRyanT
Over 3 years ago
Location: Portland, OR, USA
A: If you ordered an Electrosport Stator for your 2003 Yamaha R1 it should have come with the same style connector as your OEM stator had. If you purchased this stator from MotoSport please give us a call at 888-676-8853 and we can verify the part numbers are correct on the stator you received.
byjefsm
Q: How many amps does your stator for a 2009 triumph bonneville generate?
MotoSportExpert
Over 4 years ago
Location: Portland, OR, USA
A: Here is the information provided by Electrosport regarding the stator for your 2009 Triumph Bonneville : "That is a tricky question. The amperage at the stator can be deceptive. You have multiple phases and at this point, the voltage is very high, and it has not been yet been converted into dc by the reg/rect. The short answer would be 5 amps. A better answer would be the stator produces 350watts, or about 10% greater than the OEM stator."
albertp1988
Q: I have 82 gs1100L was wondering if this would be the right stator?
would this one be the right one for my bike?
MotoSportExpert
Over 4 years ago
Location: Portland, OR, USA
A: Unfortunately this stator will not fit your bike. We do have stators available for your model though. If you can give us a call we can let you know the details of pricing and availability for your 1982 GS1100GL.
MrsYisrael
Q: Parts Compatibility?
Can a 2001 honda cbr929rr stator be replaced with one that fits a 2004 honda cbr1000rr??
MotoSportExpert
Over 4 years ago
Location: Portland, OR, USA
A: These stators are different and unfortunately cannot be interchanged. You would need to purchase the correct stator for your 2001 CBR929rr as the stator from the 2004 CBR1000RR is different.
See all bikes that this part fits...
| Product Variant | Manufacturer Part # |
| --- | --- |
| Electrosport Stator | ESG010 |
| Electrosport Stator | ESG020 |
| Electrosport Stator | ESG035 |
| Electrosport Stator | ESG040 |
| Electrosport Stator | ESG050 |
| Electrosport Stator | ESG060 |
| Electrosport Stator | ESG070 |
| Electrosport Stator | ESG080 |
| Electrosport Stator | ESG090 |
| Electrosport Stator | ESG110 |
| Electrosport Stator | ESG130 |
| Electrosport Stator | ESG140 |
| Electrosport Stator | ESG165 |
| Electrosport Stator | ESG210 |
| Electrosport Stator | ESG520 |
| Electrosport Stator | ESG542 |
| Electrosport Stator | ESG562 |
| Electrosport Stator | ESG610 |
| Electrosport Stator | ESG636 |
| Electrosport Stator | ESG650 |
| Electrosport Stator | ESG652 |
| Electrosport Stator | ESG730 |
| Electrosport Stator | ESG742 |
| Electrosport Stator | ESG744 |
| Electrosport Stator | ESG746 |
| Electrosport Stator | ESG770 |
| Electrosport Stator | ESG780 |
| Electrosport Stator | ESG785 |
| Electrosport Stator | ESG790 |
| Electrosport Stator | ESG792 |
| Electrosport Stator | ESG842 |
| Electrosport Stator | ESG951 |
| Electrosport Stator | ESG954 |
| Electrosport Stator | ESG957 |
| Electrosport Stator | ESG078 |
| Electrosport Stator | ESG015 |
| Electrosport Stator | ESG748 |
| Electrosport Stator | ESG030 |
| Electrosport Stator | ESG071 |
| Electrosport Stator | ESC230 |
| Electrosport Stator | ESC1631 |
| Electrosport Stator | ESC950 |
| Electrosport Stator | ESG707 |
| Electrosport Stator | ESG702 |
| Electrosport Stator | ESG775 |
| Electrosport Stator | ESG741 |
| Electrosport Stator | ESG525 |
| Electrosport Stator | ESG083 |
| Electrosport Stator | ESG081 |
| Electrosport Stator | ESG528 |
| Electrosport Stator | ESG754 |
| Electrosport Stator | ESG085 |
| Electrosport Stator | ESG092 |
| Electrosport Stator | ESG087 |
| Electrosport Stator | ESG084 |
| Electrosport Stator | ESC1060 |
| Electrosport Stator | ESC1054 |
| Electrosport Stator | ESG033 |
| Electrosport Stator | ESG013 |
| Electrosport Stator | ESG098 |
| Electrosport Stator | ESG618 |
| Electrosport Stator | ESG747 |
| Electrosport Stator | ESG732 |
| Electrosport Stator | ESG094 |
| Electrosport Stator | ESG638 |
| Electrosport Stator | ESG903 |
| Electrosport Stator | ESC1151 |
| Electrosport Stator | ESG716 |
| Electrosport Stator | ESG711 |
| Electrosport Stator | ESG718 |
| Electrosport Stator | ESG146 |
| Electrosport Stator | ESG682 |
| Electrosport Stator | ESG715 |
| Electrosport Stator | ESC1361 |
| Electrosport Stator | ESC1366 |
| Electrosport Stator | ESG181 |
| Electrosport Stator | ESG158 |
| Electrosport Stator | ESC462 |
| Electrosport Stator | ESG309 |
| Electrosport Stator | ESG021 |
| Electrosport Stator | ESG011 |
| Electrosport Stator | ESG221 |
| Electrosport Stator | ESG031 |
| Electrosport Stator | ESG097 |
| Electrosport Stator | ESG739 |
| Electrosport Stator | ESG076 |
| Electrosport Stator | ESG731 |
| Electrosport Stator | ESG959 |
| Electrosport Stator | ESG126 |
| Electrosport Stator | ESG120 |
| Electrosport Stator | ESG086 |
| Electrosport Stator | ESG122 |
| Electrosport Stator | ESG121 |
| Electrosport Stator | ESG089 |
| Electrosport Stator | ESG752 |
| Electrosport Stator | ESG118 |
| Electrosport Stator | ESG733 |
| Electrosport Stator | ESG091 |
| Electrosport Stator | ESG079 |
| Electrosport Stator | ESG479 |
| Electrosport Stator | ESG431 |
| Electrosport Stator | ESG432 |
| Electrosport Stator | ESG434 |
| Electrosport Stator | ESG435 |
| Electrosport Stator | ESG437 |
| Electrosport Stator | ESC140 |
| Electrosport Stator | ESG308 |
| Electrosport Stator | ESG347 |
| Electrosport Stator | ESG701 |
| Electrosport Stator | ESG709 |
| Electrosport Stator | ESG913 |
| Electrosport Stator | ESG366 |
| Electrosport Stator | ESG443 |
| Electrosport Stator | ESG111 |
| Electrosport Stator | ESK433 |
| Electrosport Stator | ESG014 |
| Electrosport Stator | ESG847 |
| Electrosport Stator | ESG927 |
| Electrosport Stator | ESG794 |
| Electrosport Stator | ESG960 |
| Electrosport Stator | ESK697 |
| Electrosport Stator | ESG467 |
| Electrosport Stator | ESG310 |
| Electrosport Stator | ESL172 |
| Electrosport Stator | ESG787 |
| Electrosport Stator | ESG852 |
| Electrosport Stator | ESG941 |
| Electrosport Stator | ESG950 |
| Electrosport Stator | N/A |
| Electrosport Stator | N/A |
| Electrosport Stator | N/A |
| Electrosport Stator | N/A |
| Electrosport Stator | N/A |
| Electrosport Stator | N/A |
| Electrosport Stator | N/A |
| Electrosport Stator | N/A |
| Electrosport Stator | N/A |
| Electrosport Stator | N/A |
| Electrosport Stator | N/A |
| Electrosport Stator | N/A |
| Electrosport Stator | N/A |