EBC
EBC Standard Brake Pads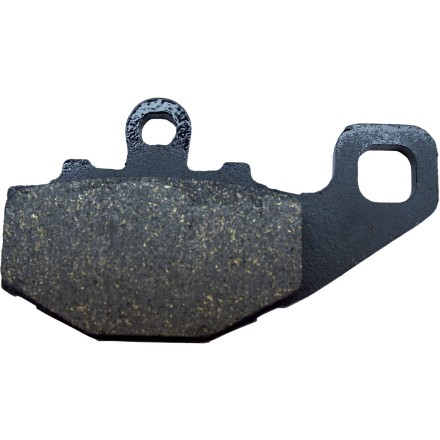 ---
5% Off - Save up to $2.12
---
5 Star
12
4 Star
3
3 Star
2
2 Star
0
1 Star
0
09 GSXR 1000
Happy with them. Quiet, and work as well as stock if not a little better.
Over 3 years ago
Long Island, New York, USA
Front brake
Great for front brake won't lock up on my bike.
Over 3 years ago
Vermont, USA
Organic EBC brake pads
EBC offers a full line of brake pads and shoes for motorcycles and atvs. They also offer choices of brake pad types for different riding styles. For general street use I prefer the organic pads. The organic material is much easier on rotors and are much less likely to develop the annoying squeal.
Mike P
Over 5 years ago
Anaheim, CA, USA
SAFETY
GREAT PADS FOR MY BIKE..
THEY FEEL BETTER THAN THE MANUFACTOR.
Over 5 years ago
New York, NY, USA
Looks good
I purchased these brake pads to replace my old pads. I did not use the pads yet because after inspecting my old pads I found them to be serviceable. the new pads appear to be well made and they are a perfect match to the OME. I will use these when my original pads wear down.
Over 6 years ago
Lake Charles, LA, USA
Stock pads
stopping force is same or less than stock pads with considerable brake dust and these are on rear. can't imagine how bad the dust would b if I had used them on the front
Over 6 years ago
Boonville, IN
The "standard" for my brakes
I've purchased this brand of brakepads for my bike for years. They never fail, always deliver, and what more could you want?
Over 6 years ago
Tennessee
Great brake pads
These pads stop great and are a big improvement over the OEM pads
Over 6 years ago
Christiansburg, VA
Brake pads.....what more can I say?
They do the job, and they do it well!
Vile
Q: KTM DUKE Available?
Fits on KTM Duke 200 2016?
robert
2 years 8 months ago
A: Yes these will fit a 2016 KTM 690 Duke.
pojohn
Q: Do you have rear and front brake pads for a CBR 250 ABS?? How much they cost?
MotoSportExpert
Over 4 years ago
A: Yes we do have front and rear pads for the Honda CBR250. Just be sure to correctly select the Year/Make/Model of your bike before ordering so we can be sure to send you the correct pads for your bike. Also, feel free to give us a call at 888-676-8853 and we would be happy to help you out with your order.

http://www.motosport.com/search?textsearch=brake%20pads

Or OEM

http://www.motosport.com/motorcycle/oem-parts/honda/2012/cbr250r/front-brake-caliper-%28cbr250r%29
Chris
Q: Is there a part number to order for my cycle
I have a 1999 Honda Shadow ACE 1100 - VT1100C2 but not sure of what the part number would look like i want to order rear brake pads thanks
MotoSportExpert
Over 5 years ago
A: Our online ordering system does not utilize part numbers. These are available for your 1999 Honda VT1100C2. You will just need to profile your bike on the product screen and you will receive the correct pads specific to your bike.
heyyeh
Q: Breake pad
Hi, is it fit perfectly for my Suzuki SV650 year 2000, and how will cost shipping to Bulgaria? Thank you
MotoSportExpert
Over 6 years ago
A: We do have these available for your 2000 SV650. Make sure to profile your bike correctly and you will receive the correct pads specific to your bike.
thor
Q: Are these designed to install with the oem Abutment Shims?
MotoSportExpert
Over 6 years ago
A: Yes, these will require the use of the stock shims.
See all bikes that this part fits...
| Product Variant | Manufacturer Part # |
| --- | --- |
| Front | FA103 |
| Rear | FA103 |
| Front | FA106 |
| Front | FA123 |
| Rear | FA123 |
| Front | FA124/2 |
| Front | FA129 |
| Rear | FA129 |
| Rear | FA140 |
| Rear | FA141 |
| Front | FA142 |
| Front | FA145 |
| Front | FA146 |
| Front | FA158 |
| Front | FA160 |
| Rear | FA161 |
| Rear | FA174 |
| Front | FA179 |
| Front | FA187 |
| Front | FA188 |
| Front | FA190 |
| Rear | FA192 |
| Front | FA196 |
| Rear | FA196 |
| Front | FA197 |
| Rear | FA197 |
| Front | FA199 |
| Rear | FA200 |
| Rear | FA201 |
| Front | FA226 |
| Front | FA228 |
| Front | FA229 |
| Front Left | FA229 |
| Front | FA231 |
| Front Right | FA231 |
| Rear | FA231 |
| Front | FA252 |
| Rear | FA254 |
| Rear | FA267 |
| Rear | FA275 |
| Rear | FA319/2 |
| Rear | FA348 |
| Rear | FA366 |
| Front | FA381 |
| Rear | FA387 |
| Front | FA409 |
| Rear | FA409 |
| Rear | FA419 |
| Rear | FA434 |
| Rear | FA63 |
| Rear | FA67/3 |
| Front | FA69/3 |
| Rear | FA69/3 |
| Rear | FA78 |
| Rear | FA79 |
| Front | FA85 |
| Rear | FA85 |
| Front | FA88 |
| Rear | FA88 |
| Front | FA94 |
| Front | FA209/2 |
| Rear | FA209/2 |
| Front | FA244 |
| Front | FA375 |
| Front | FA388 |
| Rear | FA256 |
| Rear | FA298 |
| Rear | FA266 |
| Rear | FA213 |
| Rear | FA363 |
| Rear | FA304 |
| Rear | FA18 |
| Rear | FA47 |
| Rear | FA496 |
| Rear | FA214/2 |
| Rear | FA215/2 |
| Rear | FA173 |
| Front | FA606 |
| Front | FA640 |
| Rear | FA436 |
| Rear | FA662 |
| Front | FA691 |
| Front | FA663 |
| Front | FA236 |
| Front | FA407 |
| Front | FA424 |
| Front | FA432 |
| Front | FA442/4 |