EBC
EBC Stainless Steel Brake Rotor - Rear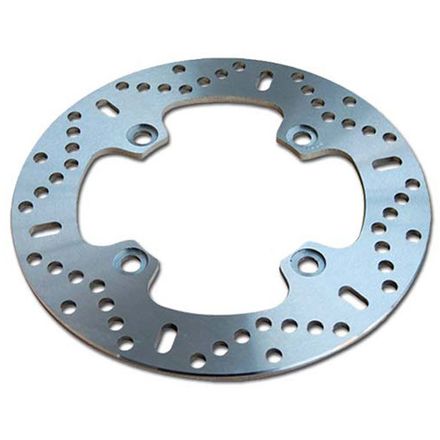 EBC Stainless Steel Brake Rotor - Rear
---
5% Off - Save up to $11.25
---
5 Star
9
4 Star
0
3 Star
0
2 Star
0
1 Star
1
4 months 1 day ago
South Jordan, Utah
Great fit
The install was fairly easy and it was very flat. Very happy!
Over 5 months ago
South Texas
Great fit no problems
After hunting around for a rotor for my 2006 susuki m50. I finally found it on this site. Finally when I got it. It fit perfrvy6eith np complications
They stop you, very well.
So all jokes aside, these rotors were clean and solid. Nothing fancy with the design but, they work as intended and fit perfectly.
Over 10 months ago
Phoeni
Incorrect size
Motor sports was very helpful to try to correct the problem. However, EBC DOES NOT have the correct dimensions for the front rotor for the Honda vtx series. It is to small. Make sure that you check the product before you purchase it. They have been selling them. I seem to be the first one to catch the problem. There is no way I would take the chance of installing this on my bike with it not being up to factory specks for my bike.
1 year 4 months ago
Phoenix, Az
Perfect! Exact fit
They have been on the bike for 800 miles. They are perfect! Exact fit and better price than what I could get from Kawasaki.
1 year 5 months ago
San Antonio, Tex
Brake rotor
Fast delivery and perfect fit
EBC rear brake rotor
I was looking for an oem replacement rear brake rotor for my v star 1100. The bike has 44000 miles on it so the breaks are worn out. Motosport had the best price on the EBC rear brake rotor so I purchased one.This rotor fits perfectly and has the same look as the Yamaha part minus the black paint. My brakes work great now. Don't forget to get new brake pads with your new rotor,l like to use OEM pads they work the best.
See all bikes that this part fits...
| Product Variant | Manufacturer Part # |
| --- | --- |
| Rear | MD802 |
| Rear | MD1184 |
| Rear | MD832 |
| Rear | MD854 |
| Rear | MD2002 |
| Rear | MD1068 |
| Rear | MD1004 |
| Rear | MD1001 |
| Rear | MD1006 |
| Rear | MD1173 |
| Rear | MD1002 |
| Rear | MD1064 |
| Rear | MD1071 |
| Rear | MD1082 |
| Rear | MD1127 |
| Rear | MD1077 |
| Rear | MD1148 |
| Rear | MD1022 |
| Rear | MD1078 |
| Rear | MD1079 |
| Rear | MD1007 |
| Rear | MD1164 |
| Rear | MD1016 |
| Rear | MD1159 |
| Rear | MD4077 |
| Rear | MD4054 |
| Rear | MD4148 |
| Rear | MD4147 |
| Rear | MD4146 |
| Rear | MD4085 |
| Rear | MD4138 |
| Rear | MD4082 |
| Rear | MD4088 |
| Rear | MD4017 |
| Rear | MD4007 |
| Rear | MD4015 |
| Rear | MD4014 |
| Rear | MD4023 |
| Rear | MD4013 |
| Rear | MD3014RS |
| Rear | MD3027 |
| Rear | MD3002 |
| Rear | MD3019RS |
| Rear | MD3008 |
| Rear | MD3093 |
| Rear | MD3036 |
| Rear | MD3038 |
| Rear | MD3060 |
| Rear | MD3009 |
| Rear | MD3043 |
| Rear | MD3079 |
| Rear | MD3086 |
| Rear | MD3097 |
| Rear | MD3044 |
| Rear | MD3061 |
| Rear | MD851 |
| Rear | MD820 |
| Rear | MD2068 |
| Rear | MD2011 |
| Rear | MD2120 |
| Rear | MD2117 |
| Rear | MD2088 |
| Rear | MD2092 |
| Rear | MD2099 |
| Rear | MD2114 |
| Rear | MD2103 |
| Rear | MD2081 |
| Rear | MD2078 |
| Rear | MD2049 |
| Rear | MD2091 |
| Rear | MD2086 |
| Rear | MD627 |
| Rear | MD678 |
| Rear | MD663 |
| Rear | MD1181 |
| Rear | MD1177 |
| Rear | MD2125 |
| Rear | MD1190 |