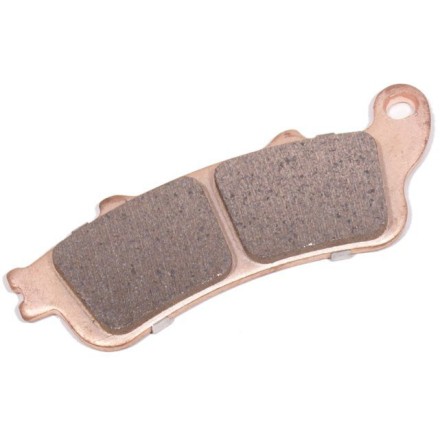 ---
5% Off - Save up to $3.72
---
5 Star
38
4 Star
7
3 Star
0
2 Star
0
1 Star
0
Write a Review
Write your review and you'll automatically be entered in our monthly drawing. Include an image or video to DOUBLE your chances to win!
Write Your Review
EBC HH Brake Pads
Excellent brake pads, very easy install, good feel and quiet
4 months 5 days ago
portland,or
Quality pad
High quality pad with great performance. Easy install and precise fitment
Over 5 months ago
Sahuarita AZ
Amazing
Little to no brake dust, performs great, no brake fade
Great versatility!
Love these pads! As the title states, great versatility. I wanted something that I could use for commuting as well as an occasional track day and these pads did not fail to impress. On the street, they have a similar application to OEM as far as braking on demand but on the track, they're progressive and predictable which is what I personally prefer. Once heated, they bite quite impressively.

I have them paired with Driven floating front rotors and one piece rear on a K5 GSXR 1K

Can't speak on longevity as I've not had them long enough but rule of thumb applies as it always does; riding/braking style will dictate and the more bite, the less life, just as with s tire.

Highly recommend these for all around riding styles and novice level racing.
Over 9 months ago
Pittsburgh
Very nice and easy to install!!!!
THE BEST!!!!! 100% difference!!
Over 10 months ago
Wisconsin
Worth the money!
Had these pads for a month now on a 2002 Sv650s. Much better than the stock pads. Installed goodridge braided lines, eBay shorty levers and motul 5.1 fluid at the same time. Love all of these! Highly recommend spending the money!
1 year 1 month ago
Elgin, IL, USA
Rune a Custom Golg Wing, by Honda
There are cheaper brakes out there. But the quality and consistency of these brakes are worth the price. The Honda Rune, that I installed these HH's on has a challenging linked brake system, so this is a job that you don't want to have to do over and over again meaning that cheap brakes wear out quickly.
Your standard brakes
All in all they are the most widely used brakepads. I use my rear brake a LOT for most stopping so a lot rides on the tiny little pads. The OEM BMW rear pads seemed to be a bit softer and more grabby than these once these are broken in. They work, but I may opt for something else next time.
1 year 1 month ago
West Bend, WI, USA
So far so good.
So far so good, 5K at this point.
1 year 3 months ago
Portland, Oregon
Great Brakes!
Wow! These really stop the bike!
JamesIsMe
Q: Will they fit front and/or rear on 2013 Honda CBR250R ABS?
Paul
2 months 11 days ago
A: Yes, the EBC HH Brake Pads are available to fit both the front and rear on the 2013 Honda CBR250R ABS.
Please disregard our photo of the Brake Pads. The photo shown may or may not be the unit specific to your motorcycle or ATV.
If you correctly profile your bike, including the model year, we will send you the specific unit to precisely fit your '13 CBR250R ABS.
Michael
Q: Will they fit my street rod r
Dan Gearhead
3 months ago
A: The EBC HH Brake Pads are available for 2006-2007 HD Street Rod VRSCR
saldvadordali
Q: Is there a rear set for 2015 harley forty eight?
Michael
4 months ago
A: Sportster?
Paul
4 months ago
A: We are temporarily sold out of the EBC Rear HH Brake Pads to fit your 2015 H-D XL1200X Fortyeight. We have other rear brake pads from EBC Standard and V-Series, Ferodo, and Galfer, at this link:
https://www.motosport.com/cruiser/rear-brake-pads?mmy=harley;xl1200x;2015
Darrell
Q: Do they make for rear ? s1000xr
TylerGearhead
Over 9 months ago
A: We would need to know the year of your machine to confidently answer this question.
Jehad
Q: My Bike is yamaha YZF R1 2001, how many brake pad do i need?
matthews13
1 year 3 months ago
A: Two sets for the front, 0ne set for the rear.
JonH
Q: Are these pads FA265, or EPFA265HH pads?
MotoSportExpert
2 years 9 months ago
A: For your 2002 Honda CBR954 the EBC part numbers would be:
FA265HH Front
FA174HH Rear
tunedoctor
Q: How many sets of brake pads do I need to order for the front brakes on my 2006 Yamaha FJR1300?
My 2006 Yamaha FJR1300 has 4 brake pads per caliper on both front calipers. Do I need to order 2 sets of brake pads per caliper or do you include all 4 pads to do 1 caliper in 1 package?
MotoSportExpert
Over 3 years ago
A: Your FJR1300 would require two sets.
Mosin
Q: Stupid Question
So for Suzuki M90 if I am looking to replace both my front and back ones, I need to order all three correct (left, right and rear)
MotoSportExpert
Over 4 years ago
A: Yes that is correct. Feel free to give us a call at 888-676-8853 and we would be happy to help you out with your order.
nate1700
Q: If I have 2 front rotors I need 2 sets right?
JoeJoe
Over 4 years ago
A: yes if you have 2 calipers on the front you need to get 2 sets.
MotoSportGrantK
Over 4 years ago
A: Yes, they are sold per caliper.
Gene
Over 4 years ago
A: Correct
krish
Q: Do this fit a honda cbr 600rr 2005 bike
MotoSportGrantK
Over 4 years ago
A: Yes, just be sure to correctly select the Year/Make/Model of your bike before ordering so we can be sure to send you the correct EBC HH Brake Pads for your bike. Also, feel free to give us a call at 888-676-8853 and we would be happy to help you out with your order.
See all bikes that this part fits...
| Product Variant | Manufacturer Part # |
| --- | --- |
| Front | N/A |
| Front | FA679HH |
| Front | FA691HH |
| Front | FA103HH |
| Rear | FA103HH |
| Front | FA123HH |
| Rear | FA123HH |
| Front | FA124/2HH |
| Front | FA129HH |
| Front | FA142HH |
| Front | FA145HH |
| Front | FA158HH |
| Front | FA160HH |
| Rear | FA174HH |
| Front | FA179HH |
| Front | FA187HH |
| Front | FA188HH |
| Front | FA190HH |
| Front | FA196HH |
| Rear | FA196HH |
| Front | FA197HH |
| Front | FA199HH |
| Rear | FA200HH |
| Rear | FA201HH |
| Front | FA226HH |
| Front | FA228HH |
| Front | FA229HH |
| Front Left | FA229HH |
| Front | FA231HH |
| Front Right | FA231HH |
| Rear | FA231HH |
| Front | FA249HH |
| Front | FA252HH |
| Rear | FA261/2HH |
| Front | FA261HH |
| Rear | FA261HH |
| Front | FA265HH |
| Front | FA296HH |
| Rear | FA319/2HH |
| Front | FA347HH |
| Front | FA369/4HH |
| Front | FA379HH |
| Front | FA380HH |
| Front | FA381HH |
| Rear | FA387HH |
| Front | FA388HH |
| Front | FA390HH |
| Front | FA400HH |
| Rear | FA400HH |
| Front | FA409HH |
| Rear | FA409HH |
| Front | FA417/4HH |
| Front | FA423/4HH |
| Rear | FA434HH |
| Front | FA442/4HH |
| Front | FA457HH |
| Rear | FA458HH |
| Rear | FA605/4HH |
| Front | FA69/3HH |
| Rear | FA69/3HH |
| Front | FA85HH |
| Rear | FA85HH |
| Front | FA88HH |
| Rear | FA88HH |
| Front | FA94HH |
| Front | FA432HH |
| Front | FA244HH |
| Front | FA322/4HH |
| Front | FA630HH |
| Front | FA209/2HH |
| Rear | FA209/2HH |
| Front | FA447HH |
| Front | FA335HH |
| Front | FA613HH |
| Front Right | FA441HH |
| Front | FA294HH |
| Front | FA375HH |
| Front | SFA388HH |
| Front | FA424HH |
| Front | FA491HH |
| Front | FA181HH |
| Rear | FA181HH |
| Rear | FA266HH |
| Rear | FA213HH |
| Rear | SFA213HH |
| Rear | FA363HH |
| Rear | FA438HH |
| Rear | FA304HH |
| Rear | FA18HH |
| Rear | FA631HH |
| Rear | FA47HH |
| Rear | FA140HH |
| Rear | FA629HH |
| Rear | FA197HH |
| Rear | FA436HH |
| Rear | FA320HH |
| Rear | FA496HH |
| Rear | FA214/2HH |
| Rear | FA215/2HH |
| Rear | FA192HH |
| Rear | FA254HH |
| Rear | FA419HH |
| Rear | FA488HH |
| Rear | FA636HH |
| Rear | FA54HH |
| Rear | FA671HH |
| Rear | FA662HH |
| Front | FA604/4HH |
| Front | FA499/4HH |
| Front | FA606HH |
| Front | FA663HH |
| Front | FA672HH |
| Front | FA640HH |
| Front | FA236HH |
| Front | FA281HH |