EBC
EBC Dirt Racer Clutch Kit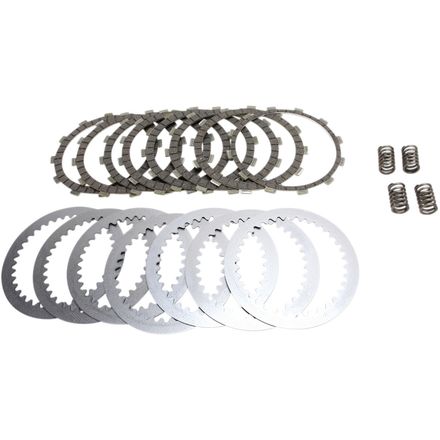 EBC Dirt Racer Clutch Kit
5 Star
47
4 Star
21
3 Star
7
2 Star
4
1 Star
10
Write a Review
Write your review and you'll automatically be entered in our monthly drawing. Include an image or video to DOUBLE your chances to win!
Write Your Review
Super low price!
Great product for the price, holding together great after a few mud rides!
3 months 13 days ago
Oklahoma
Works great
I bought this hoping for the best and its preformed well for me so far about 3 hrs on clutch pack and no problems. I'd recommend it
4 months 11 days ago
Florida
Really grabs!
Installed this kit about a month ago, and so far we're pretty impressed. No slipping at all!
4 months 12 days ago
Austin tx
Clutch
Very good , works wonderful recommend
Over 5 months ago
Cleveland, NC
Great product
Put this baby in my 05 and noticed a huge difference right away. Feels brand new
Over 6 months ago
New York
Awesome Products
By far one of the best clutch kits on the market. Lever pull is a little harder but I've installed one in every machine I've owned with great success.
Over 8 months ago
Athens,AL
A little better than stock
I bought this when on sale because it was a little cheaper and did t want to go stock,
Has a bit more bite than stock and lasts 1 and a half times longer than stock so all and all a good product in my opinion.
Over 8 months ago
Fairfield ca
Works Great
Works great would not say easy to install had issues getting the old Clutch out but in with the new my grandson is very happy we can now go out and have some ridding FUN
Over 11 months ago
Washington
EBC Dirt Racer Clutch Kits are a very dependable clutch for all aspects off Motocross and Offroad Racing. We use EBC Clutches in all our race bikes with great results at the starting line and throughout the race.
1 year 7 months ago
Morton, MN 56270, USA
Springs were too stiff. Clutch wouldn't disengage when clutch lever was pulled. Had to use old springs for the install.
See all bikes that this part fits...
| Product Variant | Manufacturer Part # |
| --- | --- |
| EBC Dirt Racer Clutch Kit | N/A |
| EBC Dirt Racer Clutch Kit | DRC145 |
| EBC Dirt Racer Clutch Kit | DRC5 |
| EBC Dirt Racer Clutch Kit | DRC44 |
| EBC Dirt Racer Clutch Kit | DRC100 |
| EBC Dirt Racer Clutch Kit | DRC93 |
| EBC Dirt Racer Clutch Kit | DRC42 |
| EBC Dirt Racer Clutch Kit | DRC101 |
| EBC Dirt Racer Clutch Kit | DRC2 |
| EBC Dirt Racer Clutch Kit | DRC75 |
| EBC Dirt Racer Clutch Kit | DRC79 |
| EBC Dirt Racer Clutch Kit | DRC1 |
| EBC Dirt Racer Clutch Kit | DRC129 |
| EBC Dirt Racer Clutch Kit | DRC112 |
| EBC Dirt Racer Clutch Kit | DRC148 |
| EBC Dirt Racer Clutch Kit | DRC62 |
| EBC Dirt Racer Clutch Kit | DRC105 |
| EBC Dirt Racer Clutch Kit | DRC137 |
| EBC Dirt Racer Clutch Kit | DRC185 |
| EBC Dirt Racer Clutch Kit | DRC120 |
| EBC Dirt Racer Clutch Kit | DRC98 |
| EBC Dirt Racer Clutch Kit | DRC122 |
| EBC Dirt Racer Clutch Kit | DRC73 |
| EBC Dirt Racer Clutch Kit | DRC46 |
| EBC Dirt Racer Clutch Kit | DRC15 |
| EBC Dirt Racer Clutch Kit | DRC7 |
| EBC Dirt Racer Clutch Kit | DRC45 |
| EBC Dirt Racer Clutch Kit | DRC123 |
| EBC Dirt Racer Clutch Kit | DRC158 |
| EBC Dirt Racer Clutch Kit | DRC89 |
| EBC Dirt Racer Clutch Kit | DRC164 |
| EBC Dirt Racer Clutch Kit | DRC222 |
| EBC Dirt Racer Clutch Kit | DRC221 |
| EBC Dirt Racer Clutch Kit | DRC200 |
| EBC Dirt Racer Clutch Kit | DRC33 |
| EBC Dirt Racer Clutch Kit | DRC128 |
| EBC Dirt Racer Clutch Kit | DRC130 |
| EBC Dirt Racer Clutch Kit | DRC76S |
| EBC Dirt Racer Clutch Kit | DRC115 |
| EBC Dirt Racer Clutch Kit | DRC161 |
| EBC Dirt Racer Clutch Kit | DRC160 |
| EBC Dirt Racer Clutch Kit | DRC95 |
| EBC Dirt Racer Clutch Kit | DRC25 |
| EBC Dirt Racer Clutch Kit | DRC155 |
| EBC Dirt Racer Clutch Kit | DRC4 |
| EBC Dirt Racer Clutch Kit | DRC6 |
| EBC Dirt Racer Clutch Kit | DRC239 |
| EBC Dirt Racer Clutch Kit | DRC238 |
| EBC Dirt Racer Clutch Kit | DRC131 |
| EBC Dirt Racer Clutch Kit | DRC237 |
| EBC Dirt Racer Clutch Kit | DRC236 |
| EBC Dirt Racer Clutch Kit | DRC240 |
| EBC Dirt Racer Clutch Kit | DRC82 |
| EBC Dirt Racer Clutch Kit | DRC110 |
| EBC Dirt Racer Clutch Kit | DRC194 |
| EBC Dirt Racer Clutch Kit | DRC70 |
| EBC Dirt Racer Clutch Kit | DRC85 |
| EBC Dirt Racer Clutch Kit | DRC97 |
| EBC Dirt Racer Clutch Kit | DRC113 |
| EBC Dirt Racer Clutch Kit | DRC71 |
| EBC Dirt Racer Clutch Kit | DRC78 |
| EBC Dirt Racer Clutch Kit | DRC111 |
| EBC Dirt Racer Clutch Kit | DRC109 |
| EBC Dirt Racer Clutch Kit | DRC102 |
| EBC Dirt Racer Clutch Kit | DRC116 |
| EBC Dirt Racer Clutch Kit | DRC121 |
| EBC Dirt Racer Clutch Kit | DRC159 |
| EBC Dirt Racer Clutch Kit | DRC162 |
| EBC Dirt Racer Clutch Kit | DRC195 |