EBC
EBC

Dirt Racer Clutch Kit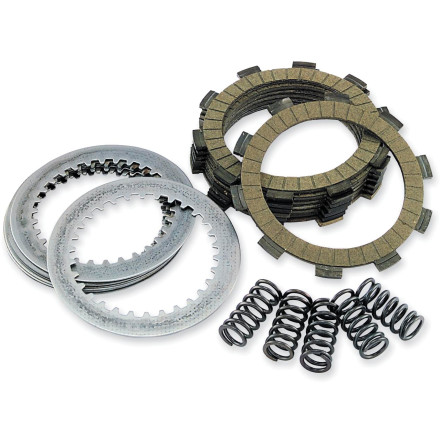 EBC Dirt Racer Clutch Kit
---
5% Off - Save up to $8.75
---
5 Star
41
4 Star
18
3 Star
7
2 Star
4
1 Star
10
Write a Review
Write your review and you'll automatically be entered in our monthly drawing. Include an image or video to DOUBLE your chances to win!
Write Your Review
Over 8 months ago
Morton, MN 56270, USA
Springs were too stiff. Clutch wouldn't disengage when clutch lever was pulled. Had to use old springs for the install.
Worth the money
Don't waste your money on other pad
They bite like no other.
Over 10 months ago
Brazil, IN
EBC DIRT RACER CLUTCH KIT
I have only rode my Raptor 350 3 times since the installation, but I could not be more pleased with the performance. Installation was not too difficult.
Does what it needs to do
Installed this on my cr250 has a ton of grab with the stiffer springs.
1 year 3 months ago
Tennessee, USA
Don't waste your money on this kit
Bought this clutch kit for my YZ125 to save a few bucks. I change clutches often and have used OEM and another brand with no issues. Constantly having to adjust with this brand every few laps. These are not a real bargain, and I will never buy them again.
1 year 6 months ago
Port Jefferson , NY, USA
Ltz 250 clutch
pretty straight forward install---do yourself a favor and have a nice impact gun--then its just put on what you took off---pre soak your pads before install
Mixed feelings
I race xc and it seems like I'm always adjusting the clutch now on my Trx. I have the same clutch in my kx and it does fine but for some reason the Trx doesn't like it
1 year 7 months ago
Ballston Spa, NY
On My KX Works Fine
Item came very quickly and had no problems putting it on, lasted so far. Can't really given accurate account of the durability because I only have about 10 hours on the new clutch
1 year 8 months ago
Willow Park, TX, USA
Raptor 250 clutch
Great clutch pack. Simple installation. Springs included are a little to stiff for my wife to pull, recommend reusing the stock springs.
1 year 11 months ago
Denver, CO, USA
You get what you pay for
Ordered this since they don't make an oem kit for my bike, figured I'd try this since its cheaper than buying all the plates and springs separately. Installed it, seemed ok, but a handful of rides later, it was already shot. Couldn't do a decent start to save my life. Finally broke down an bought the oem parts and haven't had a problem since.
1 year 12 months ago
Florida, USA
Clutch fitment off
I have used clutches from EBC many times but this is the first time I had a sizing issue on customers '07 KX250. The actual stack height was off by 1.75mm so I was using up all the adjustments and still not getting full release.Have had several conversations with EBC and after exhausting every posibility, that stack was the problem. They have issued a replacement and all is good.
Clutches great came with wrong springs
product came with completely wrong springs out of 6 three different sizes. EBC sent me correct ones within 3 days ..
2 years 4 months ago
Montville, NJ, USA
EBC clutch kit for Kawasaki KX85
I am a so called "motodad" and this clutch kit comes with the springs, steels, and fiber plates. We run it in my son's 2014 Kawasaki KX85. These kids racing the 2-strokers are hard on the clutches and this product works well for the money, especially when you change the oil after each ride day or race day. Great product for the money.
2 years 8 months ago
Minneapolis, MN, USA
Horrible product. Stick to making brake pads
Lasted 1 ride on a mx track. Installed on Yamaha YZ 250, soaked the fiber plates overnight before installing in a brand new Hinson clutch basket. I lost the clutch after about 4 hours total on the 1st day after installation. Worse yet, is that these plates scored my brand new clutch basket. I promptly replaced with OEM Yamaha clutch plates and have not had a single problem in 1.5 seasons of hard riding. Don't be tempted to save money here. In the end it cost me much me much more $$$
EBC Dirt Racer Clutch Kit (2004 RM125)
Great clutch , easy to install great hook up and last
Over 3 years ago
Modesto, CA, USA
Clutchin it
all the performance you would expect from EBC i run them in all my bikes after the stock products wareout .
Over 3 years ago
Atlant Ga
Good product, good price
works as good as ones at 2x the price
Works awsome
works and fit like it should stiffer spring also were sweet not too stiff
Over 4 years ago
Iuka, MS 38852, USA
Clutch review
Great clutch kit. Only reason giving a four on performance was because of a lot more clutch adjustment was needed on th
tbrous
Q: Does it add more torque for bigger tires? I have a 07 Honda 4x4 rancher. running 28 mud zillos?
MotoSportExpert
Over 3 years ago
A: No. The EBC DRC Dirt Racer Clutch Kit was designed as a direct OEM replacement.
farmerfranklin
Q: Why is there five springs?
my bike at the moment has only 4 springs but six holes for bolts and springs and it has never been changed
MotoSportExpert
Over 3 years ago
A: The image is a generic image supplied by the manufacturer for reference only. It may not be displaying the exact part for your bike. Just be sure to correctly select the Year/Make/Model of your bike before ordering so we can be sure to send you the correct clutch kit for your bike. Also, feel free to give us a call at 888-676-8853 and we would be happy to help you out with your order.
Iceman
Q: Can Full Synthetic Oil be used with this clutch kit?
MotoSportExpert
Over 3 years ago
A: Synthetic oil designed for a WET CLUTCH application will work fine with the EBC Dirt Racer Clutch Kit
G17XJBS
Q: Fibers&steels?
MotoSportExpert
Over 4 years ago
Location: Portland, OR, USA
A: The EBC Dirt Racer kits include fibers, metals and springs.
mx707
Q: Will it fit in my stock basket?
james718
Over 8 years ago
A: This will fit the stock basket.
KawaRacer3
Top 500 Contributor
Top 250 Contributor
Over 7 years ago
Location: Arlington, WA
A: i have never heard of them not fitting. except with aftermarket clutch baskets
RIDEInRED
Over 3 years ago
Location: Modesto, CA, USA
A: yes same as a factory clutch
Ftsamec
1 year 8 months ago
Location: Willow Park, TX, USA
A: Yes
o2thedblt
Q: Does it come with the clutch cover gasket?
Drewski
Over 8 years ago
Location: Por+land
A: No, it does not come with a gasket
KawaRacer3
Top 500 Contributor
Top 250 Contributor
Over 7 years ago
Location: Arlington, WA
A: no the gasket you have to buy separate, i just re-used my original gasket. no leaks
burnzy
Top 100 Contributor
Top 50 Contributor
Over 7 years ago
Location: salina ks
A: no. just order one out of the OEM section of motosport.com. thats what i did and it worked out great.
SVDave
Over 4 years ago
A: No, just the plates and springs
Ftsamec
1 year 8 months ago
Location: Willow Park, TX, USA
A: No
See all bikes that this part fits...
| Product Variant | Manufacturer Part # |
| --- | --- |
| EBC Dirt Racer Clutch Kit | DRC5 |
| EBC Dirt Racer Clutch Kit | DRC44 |
| EBC Dirt Racer Clutch Kit | DRC100 |
| EBC Dirt Racer Clutch Kit | DRC93 |
| EBC Dirt Racer Clutch Kit | DRC42 |
| EBC Dirt Racer Clutch Kit | DRC101 |
| EBC Dirt Racer Clutch Kit | DRC2 |
| EBC Dirt Racer Clutch Kit | DRC75 |
| EBC Dirt Racer Clutch Kit | DRC79 |
| EBC Dirt Racer Clutch Kit | DRC1 |
| EBC Dirt Racer Clutch Kit | DRC129 |
| EBC Dirt Racer Clutch Kit | DRC112 |
| EBC Dirt Racer Clutch Kit | DRC148 |
| EBC Dirt Racer Clutch Kit | DRC62 |
| EBC Dirt Racer Clutch Kit | DRC105 |
| EBC Dirt Racer Clutch Kit | DRC137 |
| EBC Dirt Racer Clutch Kit | DRC185 |
| EBC Dirt Racer Clutch Kit | DRC120 |
| EBC Dirt Racer Clutch Kit | DRC98 |
| EBC Dirt Racer Clutch Kit | DRC122 |
| EBC Dirt Racer Clutch Kit | DRC73 |
| EBC Dirt Racer Clutch Kit | DRC46 |
| EBC Dirt Racer Clutch Kit | DRC15 |
| EBC Dirt Racer Clutch Kit | DRC7 |
| EBC Dirt Racer Clutch Kit | DRC45 |
| EBC Dirt Racer Clutch Kit | DRC123 |
| EBC Dirt Racer Clutch Kit | DRC158 |
| EBC Dirt Racer Clutch Kit | DRC89 |
| EBC Dirt Racer Clutch Kit | DRC164 |
| EBC Dirt Racer Clutch Kit | DRC222 |
| EBC Dirt Racer Clutch Kit | DRC221 |
| EBC Dirt Racer Clutch Kit | DRC200 |
| EBC Dirt Racer Clutch Kit | DRC33 |
| EBC Dirt Racer Clutch Kit | DRC128 |
| EBC Dirt Racer Clutch Kit | DRC130 |
| EBC Dirt Racer Clutch Kit | DRC76S |
| EBC Dirt Racer Clutch Kit | DRC115 |
| EBC Dirt Racer Clutch Kit | DRC161 |
| EBC Dirt Racer Clutch Kit | DRC160 |
| EBC Dirt Racer Clutch Kit | DRC95 |
| EBC Dirt Racer Clutch Kit | DRC25 |
| EBC Dirt Racer Clutch Kit | DRC155 |
| EBC Dirt Racer Clutch Kit | DRC4 |
| EBC Dirt Racer Clutch Kit | DRC6 |
| EBC Dirt Racer Clutch Kit | DRC239 |
| EBC Dirt Racer Clutch Kit | DRC238 |
| EBC Dirt Racer Clutch Kit | DRC131 |
| EBC Dirt Racer Clutch Kit | DRC237 |
| EBC Dirt Racer Clutch Kit | DRC236 |
| EBC Dirt Racer Clutch Kit | DRC240 |
| EBC Dirt Racer Clutch Kit | DRC82 |
| EBC Dirt Racer Clutch Kit | DRC110 |
| EBC Dirt Racer Clutch Kit | DRC194 |
| EBC Dirt Racer Clutch Kit | DRC70 |
| EBC Dirt Racer Clutch Kit | DRC85 |
| EBC Dirt Racer Clutch Kit | DRC97 |
| EBC Dirt Racer Clutch Kit | DRC113 |
| EBC Dirt Racer Clutch Kit | DRC71 |
| EBC Dirt Racer Clutch Kit | DRC78 |
| EBC Dirt Racer Clutch Kit | DRC111 |
| EBC Dirt Racer Clutch Kit | DRC109 |
| EBC Dirt Racer Clutch Kit | DRC102 |
| EBC Dirt Racer Clutch Kit | DRC116 |
| EBC Dirt Racer Clutch Kit | DRC121 |
| EBC Dirt Racer Clutch Kit | DRC159 |
| EBC Dirt Racer Clutch Kit | DRC162 |
| EBC Dirt Racer Clutch Kit | DRC195 |