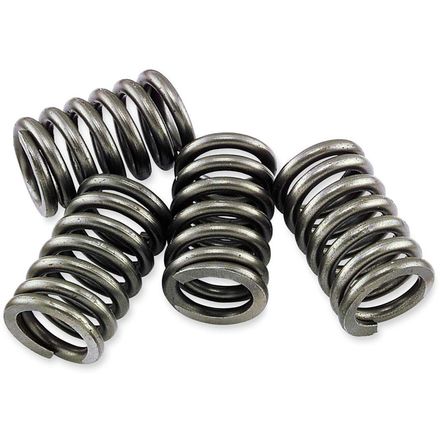 ---
5% Off - Save up to $2.75
---
5 Star
5
4 Star
0
3 Star
1
2 Star
0
1 Star
0
1 year 5 months ago
Monroe Michigan
Heavy duty
These are good clutch springs. No issues.
Over 3 years ago
Cedar Rapids, IA, USA
Good replacement springs
When rebuilding the clutch in my 2007 Honda Rebel, I replaced the stock springs with these. They have worked great, and fit perfectly. Great value for price. I don't think they feel much stiffer than the stock springs, but you can tell they are quality springs.
Over 3 years ago
Gilbert, AZ, USA
Just right
I used these springs with a different clutch kit but they fit perfect and the new clutch feels smooth as silk now
Not bad, but cant tell a difference
I was doing some clutch seal work last season and I figured I would toss these in because I saw they got great review. I really can't tell any difference from my stock springs, but that dosent mean they are not helping. I gave them a 3/5 for noticable difference, but they are probably a 5/5. Do some research, but these are some of the better springs I read to put in.
Over 7 years ago
Colorado
Well worth the money! Made the clutch work so much better
See all bikes that this part fits...
| Product Variant | Manufacturer Part # |
| --- | --- |
| EBC Clutch Springs | CSK10 |
| EBC Clutch Springs | CSK101 |
| EBC Clutch Springs | CSK102 |
| EBC Clutch Springs | CSK109 |
| EBC Clutch Springs | CSK11 |
| EBC Clutch Springs | CSK110 |
| EBC Clutch Springs | CSK111 |
| EBC Clutch Springs | CSK112 |
| EBC Clutch Springs | CSK114 |
| EBC Clutch Springs | CSK115 |
| EBC Clutch Springs | CSK117 |
| EBC Clutch Springs | CSK119 |
| EBC Clutch Springs | CSK12 |
| EBC Clutch Springs | CSK120 |
| EBC Clutch Springs | CSK122 |
| EBC Clutch Springs | CSK124 |
| EBC Clutch Springs | CSK126 |
| EBC Clutch Springs | CSK128 |
| EBC Clutch Springs | CSK133 |
| EBC Clutch Springs | CSK139 |
| EBC Clutch Springs | CSK14 |
| EBC Clutch Springs | CSK142 |
| EBC Clutch Springs | CSK15 |
| EBC Clutch Springs | CSK156 |
| EBC Clutch Springs | CSK16 |
| EBC Clutch Springs | CSK162 |
| EBC Clutch Springs | CSK17 |
| EBC Clutch Springs | CSK2 |
| EBC Clutch Springs | CSK23 |
| EBC Clutch Springs | CSK24 |
| EBC Clutch Springs | CSK26 |
| EBC Clutch Springs | CSK28 |
| EBC Clutch Springs | CSK29 |
| EBC Clutch Springs | CSK3 |
| EBC Clutch Springs | CSK33 |
| EBC Clutch Springs | CSK34 |
| EBC Clutch Springs | CSK36 |
| EBC Clutch Springs | CSK37 |
| EBC Clutch Springs | CSK4 |
| EBC Clutch Springs | CSK41 |
| EBC Clutch Springs | CSK42 |
| EBC Clutch Springs | CSK43 |
| EBC Clutch Springs | CSK45 |
| EBC Clutch Springs | CSK46 |
| EBC Clutch Springs | CSK48 |
| EBC Clutch Springs | CSK49 |
| EBC Clutch Springs | CSK56 |
| EBC Clutch Springs | CSK6 |
| EBC Clutch Springs | CSK61 |
| EBC Clutch Springs | CSK66 |
| EBC Clutch Springs | CSK67 |
| EBC Clutch Springs | CSK69 |
| EBC Clutch Springs | CSK7 |
| EBC Clutch Springs | CSK70 |
| EBC Clutch Springs | CSK71 |
| EBC Clutch Springs | CSK72 |
| EBC Clutch Springs | CSK75 |
| EBC Clutch Springs | CSK78 |
| EBC Clutch Springs | CSK81 |
| EBC Clutch Springs | CSK88 |
| EBC Clutch Springs | CSK9 |
| EBC Clutch Springs | CSK902 |
| Diaphragm Type | CSK903 |
| EBC Clutch Springs | CSK905 |
| EBC Clutch Springs | CSK92 |
| EBC Clutch Springs | CSK96 |
| EBC Clutch Springs | CSK31 |
| EBC Clutch Springs | CSK68 |
| EBC Clutch Springs | CSK90 |
| EBC Clutch Springs | CSK906 |
| EBC Clutch Springs | CSK91 |
| EBC Clutch Springs | CSK183 |
| EBC Clutch Springs | CSK196 |
| EBC Clutch Springs | CSK202 |
| EBC Clutch Springs | CSK203 |
| EBC Clutch Springs | CSK204 |
| EBC Clutch Springs | CSK158 |
| EBC Clutch Springs | CSK161 |
| EBC Clutch Springs | CSK218 |
| EBC Clutch Springs | CSK219 |
| EBC Clutch Springs | CSK223 |
| EBC Clutch Springs | CSK184 |
| EBC Clutch Springs | CSK211 |
| EBC Clutch Springs | CSK130 |
| EBC Clutch Springs | CSK170 |
| EBC Clutch Springs | CSK242 |
| EBC Clutch Springs | CSK197 |
| EBC Clutch Springs | CSK145 |
| EBC Clutch Springs | CSK38 |
| EBC Clutch Springs | CSK83 |
| EBC Clutch Springs | CSK171 |
| EBC Clutch Springs | CSK104 |
| EBC Clutch Springs | CSK200 |
| EBC Clutch Springs | CSK118 |
| EBC Clutch Springs | CSK205 |
| EBC Clutch Springs | CSK135 |
| EBC Clutch Springs | CSK165 |
| EBC Clutch Springs | CSK169 |
| EBC Clutch Springs | CSK907 |
| EBC Clutch Springs | CSK198 |