Dynojet
Dynojet Stage 1, 2 & 3 Jet Kit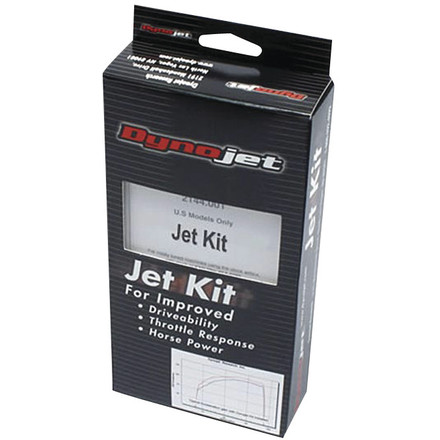 Dynojet Stage 1, 2 & 3 Jet Kit
---
10% Off - Save up to $15.00
---
Pick60
Q: I have a 1978 kz650 with individual pods and 4 into 2 straight pipes. Will your kit work for that? What stage kit?
Michael
Over 6 months ago
A: You will need to stick to your OEM jets and needles, these will not work for your bike.
Bill
Q: Vulcan-jet kit
I want get rid of the air box on a 1995 vulcan 1500. Do you sell any kit for this bike?
MotoSportExpert
Over 5 years ago
A: No, unfortunately Dyno jet offers only the stage 1 kit for your bike which requires the use of the stock air filter and airbox.
Rick
Q: I have a 1983 gl 1100 i with a kn filter system what can a stage two jet kit do for me
it had valve burnt last mouth and had all re done is it too lean with the bad gas we get now
MotoSportExpert
Over 5 years ago
A: Unfortunately there is not a jet kit produced by any of our vendors for the 1983 GL1100 I. For jetting you will need to see what jets you currently have installed, and purchase the jets individually in the correct sizes to richen your carburetor settings.
colin
Q: Will this fit my 1997 Suzuki GSF 1200? it says american models only, now im confused.
MotoSportExpert
Over 6 years ago
A: The products we sell are for US specific models. What you will need to do is verify if your bike is the same spec as a US model. Unfortunately we do not have the specifications for models from other countries. The easiest way to do this would be to compare the OEM part numbers for the carburetors from your local dealer, and what we show on our site. If the numbers are the same then this jet kit will work just fine. If they are different then something about the carburetors will be different and will require more research to find out exactly what the differences are. Here is the breakdown with part numbers for the US model :

http://www.motosport.com/motorcycle/oem-parts/SUZUKI/1997/BANDIT-_-GSF1200S/CARBURETOR
See all bikes that this part fits...
| Product Variant | Manufacturer Part # |
| --- | --- |
| Dynojet Stage 1, 2 & 3 Jet Kit | 2111 |
| Dynojet Stage 1, 2 & 3 Jet Kit | 2122 |