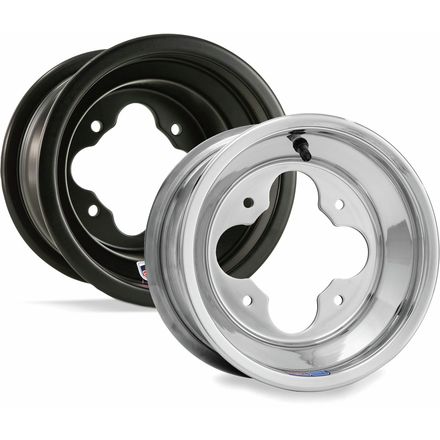 ---
20% Off - Save up to $17.96
---
5 Star
11
4 Star
1
3 Star
0
2 Star
0
1 Star
0
5 days 18 hours ago
Glamis CA. San Diego
Overall great rim and very light weight
Bought this a year ago so far very happy
4 months 1 day ago
Shreveport, LA, USA
Dwt
Great selection. Great look great fit great performance.
4 months 7 days ago
Michigan
Perfect fit
very nice, perfect fit for my 2005 yfz 450 stock tires.
1 year 3 months ago
Show Low, Az.
Good value
The wheels came packed well and in a timely manor. Very satisfied.
Good for the price
Ran over 8 GP's and 3 motos on these rims. They held up but on my last Gran prix I saw a slight bend on the front rim. The bend did not cause air loss. Very light and easy to mount.
very fast service fast shipping . motosport is awesome
Over 5 years ago
Greenville, MI 48838, USA
Do what they are supposed to do
I have used these for about 2 months now and they seem to hold up great. I ride a lot in the woods, making my own trails, and a bit of mudding and so far they still look new. Good buy for the price and they are made in AMERICA.
Over 5 years ago
Walden, NY, USA
Buy these rims made in the usa
first they are made here usa/second they are stong light and the best replacement for motocross.
Tkallday1
Q: What rim would be needed for an 05 Polaris predator? 20x11-9 rear tires and 21x7-10 front tire.
Paul
4 months 25 days ago
A: To help us to find the correct wheels and tires to fit, we will need to know whether your 2005 Polaris Predator is the 50cc, 90cc, or 500cc.
Joel
Q: How can i tell if it is a 4b 1n or a 3b 2n. because it could be either depending on how you measure. could you post a pic?
Trevor Gearhead
Over 5 months ago
A: Enter the year, make and model of your machine into our website to ensure proper fitment. From drop down menu, you'll be able to see the offset options. The first # indicates the distance from the inner edge of the wheel to where the hub bolts up. The second is hub to outside edge. I don't have the ability to post pictures here but feel free to call if you have more questions.
Busto44
Q: What rim size would I need for a 2007 Honda Trx450er with a 20-11-9 rear tire? And the bolt pattern is 4/110, correct me if I'm wrong.
Tyler Gearhead
Over 5 months ago
A: If you wanted to re-use 20-11-9 tire you would need a 9" rim no thinner than 8" wide. I have included a link to our buyer's guide and size explanation is below.

https://www.motosport.com/blog/a-guide-to-choosing-atv-tires-wheels
llarsfrederick
Q: What size do i need for a 300ex? front and rear
Isaac
Over 5 months ago
A: The front rim would be 10x5 3B+2N and the rear would be a 9x8 3B+5N for your model.
Quik
Q: What size rim do I need for my 07 LTr 450? I'm confused on y there is 2 sizes for the front rim 
Trevor Gearhead
Over 6 months ago
A: 10X5 comes stock with a 4/144 botl pattern. The other measurement is your offset.
Kyle K
Q: Do the rims come with the valve stem already installed or do you have to install one?
JerryGearhead
Over 7 months ago
A: They do come with the wheel, but you need to install them.
BeezyB
Q: I have a 2006 Suzuki ltz 400. I'm looking for black rims that would fit my current tire size at 21x7R10 (front) and 20x10R9 (rear) I need some help locating the right rims for my quad: 
JerryGearhead
Over 7 months ago
A: For the rear you will 10x8 and for the front you will want a 9x8.
Egan
Q: Have an 09 yfz 450 r...tires are 21x7x10 front and 20x10x9. What rim would I need, +4 or +3
Paul
Over 7 months ago
A: The DWT A5 Wheel 10x5 front, and 9x8 rear, are correct for your 2009 YFZ450R.
The front with 4+1 offset will provide a wider stance than the front with 3+2 offset, but either option will fit.
kate
Q: My tire size is 22x7R10 Im confused what the 3B+2N means there is 2 different options on the 10x5 rim
Isaac
Over 8 months ago
A: This is referring to the offset of the wheel. So 3B is 3 inches and the B is called Bell as it referring to the inside offset and the 2N is 2 inches and the N is called the nose as it is referring to the outside offset.
Devon
Q: What size rims would I need for both front and rear of a 2017 yfz 450 I have stock tire sizes?
Paul
Over 8 months ago
A: The original tire sizes on the 2017 Yamaha YFZ50 are:
Front Tire: 16x6.5-7
Rear Tire: 16x7-7

The DWT A5 Wheel are not available in 7" diameters. The only wheels we have available to fit correctly are the originals from Yamaha.
See all bikes that this part fits...
| Product Variant | Manufacturer Part # |
| --- | --- |
| Polished / Front / 10x5 3B+2N 4/144 | A511-03 |
| Polished / Front / 10x5 4B+1N 4/144 | A511-23 |
| Polished / Front / 10x5 3B+2N 4/156 | A514-03 |
| Polished / Front / 10x5 4B+1N 4/156 | A514-42 |
| Polished / Rear / 10x8 3N+5N 4/110 | A506-15 |
| Polished / Rear / 10x8 3N+5N 4/115 | A507-07 |
| Polished / Rear / 8x8 3N+5N 4/110 | A506-03 |
| Polished / Rear / 8x8 3N+5N 4/115 | A507-16 |
| Polished / Rear / 9x8 3N+5N 4/110 | A506-07 |
| Polished / Rear / 9x8 3N+5N 4/115 | A507-04 |
| Black / Rear / 8x8 3B+5N 4/110 | A506-039M |
| Black / Rear / 9x8 3B+5N 4/110 | A506-079M |
| Black / Rear / 10x8 3B+5N 4/110 | A506-159M |
| Black / Rear / 10x10 5B+5N 4/110 | A506-559M |
| Black / Rear / 9x8 3B+5N 4/115 | A507-049M |
| Black / Rear / 8x8 3B+5N 4/115 | A507-169M |
| Black / Front / 10x5 3B+2N 4/144 | A511-039M |
| Black / Front / 10x5 4B+1N 4/144 | A511-239M |
| Black / Front / 10x5 3B+2N 4/156 | A514-039M |
| Black / Front / 10x5 4B+1N 4/156 | A514-429M |