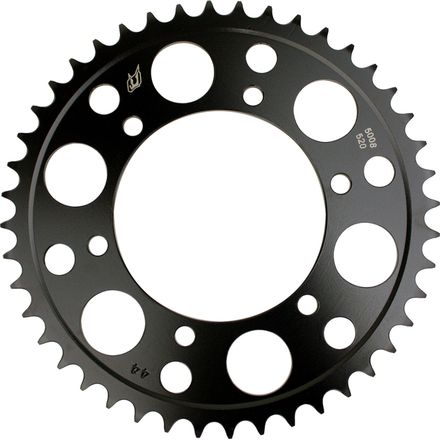 Driven Racing Rear Sprocket
5 Star
11
4 Star
0
3 Star
0
2 Star
0
1 Star
0
1 year 3 months ago
Dothan, Alabama
Great product fast service!
I bought about a month ago and do glad I did! Thanks motosport!
Driven - Excellent
Second driven sprocket I've purchased. I will continue buying them as they look great and work well.
1 year 11 months ago
Connecticut, USA
Awesome!
I recommend this product 100% easy to install good price
2 years 8 months ago
Los Angeles, CA, USA
Looks great!
Love how this sprocket looks on my bike. This with the new gold/black chain make it look beast! Fits perfectly onto wheel
2 years 10 months ago
Charlotte,nc,usa
Driven 520 rear sprocket
The best, most durable sprocket on the market. Why buy aluminum.
Over 5 years ago
Fort Benning, GA 31905, USA
Basic sprocket
nothing really to write until I have some miles on it, basic sprocket
Over 5 years ago
Texas, USA
Great Sprocket
This was my first time using any Driven products, and I must say this Driven sprocket is nice and worth every penny. If I had to complain about anything it would be, that I wish they came in different colors. I mounted it on my Candy Blue 2004 CBR 600RR, so I wish I could have gotten this sprocket in a blue color, but that wasn't a big deal. Great sprocket and I will for sure purchase this one again when the time comes.
Over 5 years ago
California, USA
DRIVEN PERFORMANCE
Exact performance, easy installation and durable products, for demanding sport bike riders.
See all bikes that this part fits...
| Product Variant | Manufacturer Part # |
| --- | --- |
| 520 / 50 Tooth | 5008-520-50T |
| 520 / 45 Tooth | 5032-520-45T |
| 520 / 47 Tooth | 5177-520-47T |
| 520 / 46 Tooth | 5014-520-46T |
| 520 / 47 Tooth | 5030-520-47T |
| 520 / 42 Tooth | 5018-520-42T |
| 520 / 47 Tooth | 8820-520-47T |
| 520 / 45 Tooth | 8891-520-45T |
| 520 / 41 Tooth | 5014-520-41T |
| 520 / 41 Tooth | 5008-520-41T |
| 520 / 44 Tooth | 5008-520-44T |
| 520 / 44 Tooth | 5063-520-44T |
| 520 / 47 Tooth | 5178-520-47T |
| 520 / 50 Tooth | 5014-520-50T |
| 520 / 46 Tooth | 5009-520-46T |
| 520 / 43 Tooth | 5018-520-43T |
| 520 / 47 Tooth | 5018-520-47T |
| 520 / 44 Tooth | 5000-520-44T |
| 520 / 48 Tooth | 5008-520-48T |
| 520 / 46 Tooth | 5063-520-46T |
| 520 / 42 Tooth | 5000-520-42T |
| 520 / 39 Tooth | 5001-520-39T |
| 520 / 45 Tooth | 5009-520-45T |
| 520 / 46 Tooth | 5068-520-46T |
| 520 / 40 Tooth | 5018-520-40T |
| 520 / 46 Tooth | 5018-520-46T |
| 520 / 48 Tooth | 8820-520-48T |
| 520 / 44 Tooth | 8891-520-44T |
| 520 / 42 Tooth | 5014-520-42T |
| 520 / 46 Tooth | 5008-520-46T |
| 520 / 45 Tooth | 5017-520-45T |
| 520 / 46 Tooth | 5017-520-46T |
| 520 / 47 Tooth | 5017-520-47T |
| 520 / 42 Tooth | 5032-520-42T |
| 520 / 39 Tooth | 5063-520-39T |
| 520 / 40 Tooth | 5063-520-40T |
| 520 / 42 Tooth | 5063-520-42T |
| 520 / 43 Tooth | 5063-520-43T |
| 520 / 45 Tooth | 5178-520-45T |
| 520 / 46 Tooth | 5178-520-46T |
| 520 / 42 Tooth | 5001-520-42T |
| 520 / 43 Tooth | 5009-520-43T |
| 520 / 44 Tooth | 5009-520-44T |
| 520 / 46 Tooth | 5030-520-46T |
| 520 / 46 Tooth | 8891-520-46T |
| 520 / 43 Tooth | 5014-520-43T |
| 520 / 41 Tooth | 5032-520-41T |
| 520 / 44 Tooth | 5032-520-44T |
| 520 / 41 Tooth | 5063-520-41T |
| 520 / 45 Tooth | 5063-520-45T |
| 520 / 43 Tooth | 5000-520-43T |
| 520 / 46 Tooth | 5177-520-46T |
| 520 / 45 Tooth | 5014-520-45T |
| 520 / 40 Tooth | 5009-520-40T |
| 520 / 48 Tooth | 5030-520-48T |
| 520 / 45 Tooth | 5068-520-45T |
| 520 / 45 Tooth | 5018-520-45T |
| 520 / 46 Tooth | 5001-520-46T |
| 520 / 43 Tooth | 5008-520-43T |
| 520 / 45 Tooth | 5008-520-45T |
| 520 / 49 Tooth | 5008-520-49T |
| 520 / 48 Tooth | 5017-520-48T |
| 520 / 44 Tooth | 5178-520-44T |
| 520 / 47 Tooth | 5014-520-47T |
| 520 / 41 Tooth | 5001-520-41T |
| 520 / 41 Tooth | 5009-520-41T |
| 520 / 47 Tooth | 5009-520-47T |
| 520 / 41 Tooth | 5018-520-41T |
| 520 / 44 Tooth | 5018-520-44T |
| 520 / 46 Tooth | 8820-520-46T |
| 520 / 49 Tooth | 8820-520-49T |
| 520 / 43 Tooth | 5001-520-43T |
| 520 / 42 Tooth | 5008-520-42T |
| 520 / 43 Tooth | 5017-520-43T |
| 520 / 44 Tooth | 5017-520-44T |
| 520 / 46 Tooth | 5032-520-46T |
| 520 / 40 Tooth | 5000-520-40T |
| 520 / 41 Tooth | 5000-520-41T |
| 520 / 48 Tooth | 5014-520-48T |
| 520 / 39 Tooth | 5009-520-39T |
| 520 / 42 Tooth | 5009-520-42T |
| 520 / 47 Tooth | 5068-520-47T |
| 520 / 47 Tooth | 5008-520-47T |
| 520 / 42 Tooth | 5017-520-42T |
| 520 / 40 Tooth | 5032-520-40T |
| 520 / 43 Tooth | 5032-520-43T |
| 520 / 47 Tooth | 5063-520-47T |
| 520 / 45 Tooth | 5177-520-45T |
| 520 / 43 Tooth | 5178-520-43T |
| 520 / 49 Tooth | 5014-520-49T |
| 520 / 48 Tooth | 5009-520-48T |
| 520 / 44 Tooth | 5068-520-44T |
| 520 / 44 Tooth | 5014-520-44T |