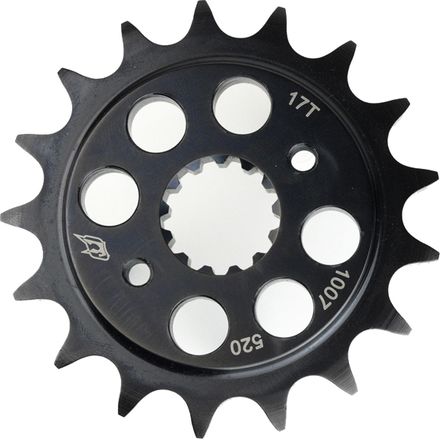 Driven Racing Front Sprocket
---
10% Off - Save up to $3.90
---
5 Star
5
4 Star
1
3 Star
0
2 Star
0
1 Star
0
Write a Review
Write your review and you'll automatically be entered in our monthly drawing. Include an image or video to DOUBLE your chances to win!
Write Your Review
1 year 1 month ago
Los Angeles, CA, USA
Fit perfectly and slipped right in
1 year 1 month ago
Denver, Co
Great upgrade
Went down one tooth. Fits perfect, works perfect! I only gave 3 stars for style because the nice side faces in. And unless your running it open, there is a guard over it, so you don't see it. Worth it.
Works great, lighter than oem.
Over 3 years ago
California, USA
DRIVEN QUALITY
Great product delivers performance and also a good track day response. Easy installation smooth power band with for canyon sport bikes.
Great sprocket
I had some trouble installing this but it was over all worth it. I went with a -1/+2 set up and I love it. The acceleration my bike has now is unbelievable. I would definitely recommend this to everyone.
Zach
Q: Do you have the weight of the product?
Thumbs
Top 25 Contributor
Top 50 Contributor
Top 10 Contributor
4 months 18 days ago
Location: Portland, OR, USA
A: Depending on the size you need it will range from .30 Ibs to 1.95 Ibs
See all bikes that this part fits...
| Product Variant | Manufacturer Part # |
| --- | --- |
| 520 / 14 Tooth | 100752014T |
| 520 / 15 Tooth | 100752015T |
| 520 / 16 Tooth | 100752016T |
| 520 / 17 Tooth | 100752017T |
| 520 / 14 Tooth | 101352014T |
| 520 / 15 Tooth | 101352015T |
| 520 / 16 Tooth | 101352016T |
| 520 / 17 Tooth | 101352017T |
| 520 / 14 Tooth | 103652014T |
| 520 / 15 Tooth | 103652015T |
| 520 / 16 Tooth | 103652016T |
| 520 / 17 Tooth | 103652017T |
| 520 / 14 Tooth | 104152014T |
| 520 / 15 Tooth | 104152015T |
| 520 / 16 Tooth | 104152016T |
| 520 / 17 Tooth | 104152017T |
| 520 / 14 Tooth | 104652014T |
| 520 / 15 Tooth | 104652015T |
| 520 / 16 Tooth | 104652016T |
| 520 / 15 Tooth | 1068-520-15T |
| 520 / 16 Tooth | 1068-520-16T |
| 520 / 17 Tooth | 1068-520-17T |
| 520 / 15 Tooth | 1185-520-15T |
| 520 / 16 Tooth | 1185-520-16T |
| 520 / 15 Tooth | 1190-520-15T |
| 520 / 16 Tooth | 1190-520-16T |
| 520 / 17 Tooth | 1190-520-17T |
| 520 / 14 Tooth | 1014-520-14T |
| 520 / 14 Tooth | 1040-520-14T |
| 520 / 15 Tooth | 1040-520-15T |
| 520 / 16 Tooth | 1040-520-16T |
| 520 / 14 Tooth | 1067-520-14T |
| 520 / 15 Tooth | 1067-520-15T |
| 520 / 16 Tooth | 1067-520-16T |
| 520 / 13 Tooth | 1098-520-13T |
| 520 / 14 Tooth | 1098-520-14T |
| 520 / 16 Tooth | 1098-520-16T |
| 520 / 13 Tooth | 1044-520-13T |
| 520 / 14 Tooth | 1044-520-14T |
| 520 / 15 Tooth | 1044-520-15T |
| 520 / 16 Tooth | 1044-520-16T |
| 520 / 14 Tooth | 2058-520-14T |
| 520 / 15 Tooth | 2058-520-15T |
| 520 / 16 Tooth | 2058-520-16T |
| 520 / 14 Tooth | 1225-520-14T |
| 520 / 15 Tooth | 1225-520-15T |
| 520 / 16 Tooth | 1225-520-16T |
| 520 / 17 Tooth | 1225-520-17T |
| 520 / 14 Tooth | 1066-520-14T |
| 520 / 15 Tooth | 1066-520-15T |
| 520 / 16 Tooth | 1066-520-16T |
| 520 / 13 Tooth | 1014-520-13T |
| 520 / 13 Tooth | 2058-520-13 |
| 520 / 14 Tooth | 2290-520-14 |
| 520 / 15 Tooth | 2290-520-15 |
| 520 / 16 Tooth | 2290-520-16 |
| 520 / 17 Tooth | 1066-520-17T |
| 520 / 15 Tooth | 1037-520-15 |
| 520 / 16 Tooth | 1037-520-16 |
| 520 / 17 Tooth | 1037-520-17 |