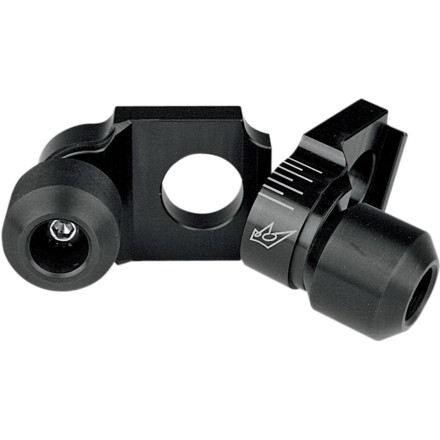 Driven Racing Axle Block Sliders
---
10% Off - Save up to $14.10
---
5 Star
2
4 Star
0
3 Star
1
2 Star
0
1 Star
0
Over 3 years ago
Fernley, NV, USA
Great product looks solid and added protection
Over 5 years ago
Texas, USA
Inspect before installing
Poor quality control?
One of the spools was scratched.
Not an issue, since I turned it down and can't be seen.
Over 5 years ago
Wisconsin
Easy to install & looks great
Extremely easy to install & they make my bike look a lot better in the rear end! Hopefully won't have to use them but they definitely look nice.
George
Q: Can this replace the swing arm fender bracket of mt09? Because I want to remove it.
Paul
1 year 5 months ago
A: The Driven Racing Axle Block Sliders would replace your chain adjusters.
Alex
Q: Will these fit a 2014 ninja 650?
MotoSportExpert
Over 5 years ago
A: Yes they will fit the 2014 Ninja 650.
chuckles
Q: I'm wondering if these come with the adjusting bolts . trying to get rid of a stretch kit that came on my bike
MotoSportRyanT
Over 5 years ago
A: The adjustment Bolts/Nuts would not be included. You would still need the OEM adustment bolts and nuts with the Driven Racing Axle Block Sliders.
See all bikes that this part fits...
| Product Variant | Manufacturer Part # |
| --- | --- |
| Red | DRAX-101-RD |
| Red | DRAX-102-RD |
| Red | DRAX-103-RD |
| Red | DRAX-104-RD |
| Red | DRAX-106-RD |
| Red | DRAX-107-RD |
| Red | DRAX-108-RD |
| Red | DRAX-111-RD |
| Red | DRAX-112-RD |
| Red | DRAX-113-RD |
| Red | DRAX-114-RD |
| Red | DRAX-116-RD |
| Red | DRAX-117-RD |
| Red | DRAX-118-RD |
| Red | DRAX-119-RD |
| Red | DRAX-120-RD |
| Red | DRAX-121-RD |
| Blue | DRAX-102-BL |
| Blue | DRAX-103-BL |
| Blue | DRAX-104-BL |
| Blue | DRAX-105-BL |
| Blue | DRAX-106-BL |
| Blue | DRAX-108-BL |
| Blue | DRAX-111-BL |
| Blue | DRAX-112-BL |
| Blue | DRAX-113-BL |
| Blue | DRAX-116-BL |
| Blue | DRAX-118-BL |
| Blue | DRAX-119-BL |
| Blue | DRAX-120-BL |
| Blue | DRAX-121-BL |
| Gold | DRAX-101-GD |
| Gold | DRAX-102-GD |
| Gold | DRAX-103-GD |
| Gold | DRAX-104-GD |
| Gold | DRAX-105-GD |
| Gold | DRAX-106-GD |
| Gold | DRAX-107-GD |
| Gold | DRAX-108-GD |
| Gold | DRAX-113-GD |
| Gold | DRAX-116-GD |
| Gold | DRAX-118-GD |
| Gold | DRAX-119-GD |
| Gold | DRAX-120-GD |
| Gold | DRAX-121-GD |
| Black | DRAX-101-BK |
| Black | DRAX-102-BK |
| Black | DRAX-103-BK |
| Black | DRAX-104-BK |
| Black | DRAX-105-BK |
| Black | DRAX-106-BK |
| Black | DRAX-107-BK |
| Black | DRAX-108-BK |
| Black | DRAX-109-BK |
| Black | DRAX-110-BK |
| Black | DRAX-111-BK |
| Black | DRAX-112-BK |
| Black | DRAX-113-BK |
| Black | DRAX-115-BK |
| Black | DRAX-116-BK |
| Black | DRAX-117-BK |
| Black | DRAX-118-BK |
| Black | DRAX-119-BK |
| Black | DRAX-120-BK |
| Black | DRAX-121-BK |
| Black | DRAX-122-BK |