Driven
Driven Front Brake Line Kit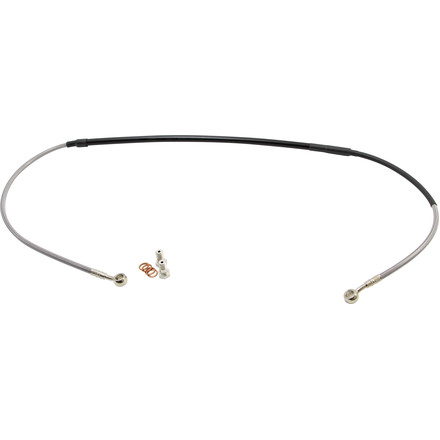 Driven Front Brake Line Kit
5 Star
11
4 Star
5
3 Star
0
2 Star
0
1 Star
2
1 month 22 days ago
Wailuku
Too long
line was way too long now i need to reorder id like a refund
To Short
I bought these as a set front/rear, and the rear brake line fit great. The Front line is way to short and is tight against the middle of the number plate. The top banjo fitting needs to be rotated 90 degrees to fit correctly, thus putting the line in a weird twist. Would not recommend the front CR style for the YZ250.
Over 5 months ago
Southeast Louisiana
Awesome! Better than stock!
Always better than rubber OEM. Galfer never fails to put out amazing products. I buy one for every motorcycle!
Great brake lines
I don't understand but every time I buy driven brake lines when I get them there are galfer brake lines in the driven packages. not that I'm complaining galfer is a great product I put there over size rotors and steel braided brake lines on all my bikes. Easy to install comes with new banjo bolts and copper washers and of course always on time when you buy from motosport.
Over 10 months ago
Missouri
A must do mod
On Japanese bikes replacing the stock brake line is must. The stock brake line will balloon making the brakes feel spongey or worse yet I've had them collapse making the caliper drag and even lock up. The steel braided brake line solves these problems. Now I don't wait for the stock line to fail I just replace it as soon as I buy a new bike.
1 year 7 months ago
Michigan
Little short, but just long enough
This brake line required I wrap the line above the intended clamp location with a section of inner tube. The line pulled the fork guard sideways when I clamped the brake line in the marked location, but it works well clamped an inch higher up on the line.
1 year 11 months ago
Maricopa AZ
Driven steel braided brake line
Great product the only thing bad about this item is the inner line slides in the black outer tube. Make sure you secure it at the top and bottom of the rubber grommets with zip ties. As the forks work up and down the inner line slides inside the outer black tube and ends up rubbing on the rotor and the rotor will cut the line. Zip tie it so it won't slide in the outer tube
2 years 6 months ago
Gresham, OR
Driven Front Brake Line Kit
This brake line surpasses the OEM line that it replaced on my bike. I am very pleased with the solid feel that it delivers when using my front brake.
2 years 8 months ago
Littleton, NH 03561, USA
Driven Brake Line
Great answer to the more expensive braided lines , good product
Randomtask
Q: What is the total length of this line?
What will be the total length of this line when fitted to a 2011 crf250r. I have higher bars than stock ,and want to make sure it is long enough.
Gdizzle
Over 3 years ago
A: I bought this hose for my 2004 crf450r, it was about the same length as my stock hose, maybe a little longer, but within an inch.
lrrs38
Over 3 years ago
A: I don't know the total length but in my experience there will not be a problem with taller bars
MotoSportExpert
Over 3 years ago
A: Unfortunately the manufacture does not provide measurements and we do not currently have the line for your bike instock to measure.
smokeyjay
Over 3 years ago
A: Didnt measure mine but if you route the line correctly you wont have an issue.
See all bikes that this part fits...
California Proposition 65
WARNING: This product contains chemicals, including (Di(2-ethylhexyl)phthalate (DEHP)), known to the State of California to cause cancer, and birth defects or other reproductive harm. Wash hands after handling. For more information, go to www.P65Warnings.ca.gov.