Dr. D
Dr. D Complete Exhaust With Spark Arrestor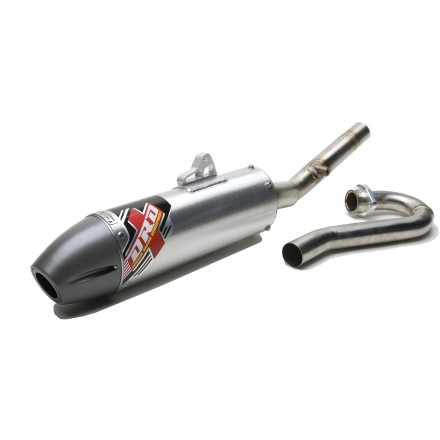 Dr. D Complete Exhaust With Spark Arrestor
5 Star
18
4 Star
3
3 Star
2
2 Star
0
1 Star
0
1 year 4 months ago
Plymouth,Ca
Great exhaust
Bought the Dr. D for my son and he loves how his bike now performs for him. Great product
DR.D Exhaust with spark arrestor
Great exhaust system for trails or track riding. And it looks really good in person too. Great horsepower!
Over 6 years ago
Florida, USA
EXHAUST
Pipe fit perfect and sounds great.
Over 7 years ago
milford, nj
Nice exhaust
i have this on my 07 kx250f with an athena big bore kit. definitely give it an awesome sound and has great throttle response too
Over 7 years ago
Escalon, CA
The best bang for your buck!!!
I put this exhaust system on my 09 YZ450F, and it felt like my bike woke up from the dead. Not only does this system look cool and sound good, but it also made the throttle response more snappy. I will highly recomend this system to all of my friends!
Over 7 years ago
Yuma, AZ
Great Exhaust
After running another brand complete exhaust for a couple years i decided to make the switch to the Dr.D I couldnt pass up the 50% off at motosport. I noticed gaines from bottom mid and top. Very noticeable compared to the other brand. It seemed snappier and had more rev on top. Definitely recommend Dr.D!!
Over 8 years ago
Hudson Falls,NY
Great Buy
i purchased this exhaust last year for my '09 crf 250r and it def woke up the ole girl! this pipe hits hard low and carries through the top! plus sounds amazing! the only thing is the head pipe is kinda weak mine was dimpled a quarter inch from a little rock kicked up from my friends bike, other than that i would def but this system again!
Over 9 years ago
jackson, ca
Pro circuit
i bought this pipe about 2 weeks ago, i put 10 hours on it, and it was already blowing packing like it was confetti. before this pipe i had a pro circuit slip on t4 and that slip on made more power then this full exhaust. looks wise i like this pipe but to change the oil filter on 06-09 yamaha yz450's you have to loosen the header bolts because is has such a low bend, i would recommend pro circuit over this pipe any day, but for a full exhaust 500 bucks is not to bad
hondaboy
Q: Dose this fit a crf100cc
MotoSportExpert
Over 3 years ago
A: Yes. Just be sure to correctly select the Year/Make/Model of your bike before ordering so we can be sure to send you the correct exhaust for your bike. Also, feel free to give us a call at 888-676-8853 and we would be happy to help you out with your order.
Vince
Q: I lost my tips on my drd pipe for wr450f 2012 Can i have only the tips?
MotoSportExpert
Over 3 years ago
A: If the part is available through one of our suppliers, we would be happy to order it for you. Please contact one of our sales professionals to inquire about special orders and availability.
Dirt Bike / ATV: 1-888-676-8853
Hoggie
Q: Will the DR.D just bolt on and run on my sons xr100, or will I need to do extra mechanical works?
Can I run the BBR120 bore kit with this exhaust without to much hassle.
MotoSportGrantK
Over 5 years ago
A: Yes, the Dr. D Complete Exhaust With Spark Arrestor would work great with the BBR120 big bore kit and will bolt on with no modification to your 2002 Honda XR100.
Pedro
Q: Jetting
I have fitted to WR250F, 2010 and it is bogging down when I snap the throttle back. Please could you advise. Is jetting a solution and if so, could you advise the settings. Thanks Pete
MotoSportRyanT
Over 5 years ago
A: It sounds like you do need to re-jet your bike to correct that low end bog. More than likely you will need to change the pilot jet and possibly the main as well. I can't really recommend specific settings as it would depend on how your bike is jetted now as well as your location (altitude/temperature). I would recommend looking at the JD Jet Kit for your bike as it would come with instructions and recommendations to help you tune your carburetor perfectly.
REATOR
Q: Will DRD mate with megabomb header (wr250r)?
Will DRD pipe mate with megabomb header (wr250r)?
MotoSportRyanT
Over 5 years ago
A: This DR. D muffler will really only work with the DR. D headpipe that it comes with. If you already have the FMF megabomb Head pipe on your bike I would recommend looking at the FMF slip on exhaust systems as they would fit up perfectly with that head pipe.
dantinne
Q: Jetting
should i go bigger or smaller in jetting from my stock pipe on a 2008 yz450f? if so what size and which jets
DrewKlann
Over 9 years ago
A: Unfortunately I can not recommend any jetting specs since there are too many variables that come into play. The best thing to do is install pipe and then check your plug. That will let you know what you should do with your jetting. Worst case scenario, contact a local shop for recommendations.
ESPOSITO
Q: I dont know witch is better for my 2008 yz250f DRD or FMF
hondarob
Over 9 years ago
A: we really cant reccomend what is best for you. just do a little research on the two and make your choice. we all like something differnet. so it makes it very hard to reccomend
suitter
Over 9 years ago
A: drd is one of the best pipes you can get for your yzf it helps alot with your low to mid range, fmf isn't bad either but if you get fmf you just about have to get the powerbomb header plus it just about only helps with your mid range to top end, hope this helped
TxMotoMan
Q: How many do I need...
I have a 2008 Honda CRF250R (which has dual pipes) so do I need to buy 2 kits or do I just buy one and plug the other one? I assume I need two but I read one of the other reviews where a guy went from 2 to 1 but I think it was on a yamaha. I'm new to the sport so I know this probably sounds like a silly question.
james718
Over 9 years ago
A: Unfortunately DR.D only offer single exhaust systems for your Honda. Basically you will convert your duals into a single pipe with this system.

If you're looking for dual exhaust, take a look a the Pro Circuit Exhaust Systems, they offer them in duals.
alpha
Q: Hp
which pipe would have more power gains the DR.D system or the FMF 4.1 with the megabomb?
james718
Over 10 years ago
A: That would be determined by the type of bike.
blmx160
Q: Will this require me to re-map my '08 RMZ450
yamaha518
Over 10 years ago
A: if your bike is efi it should do it on its own, thats the advantage on efi, not having to mess with jets, although u have a suzuki so u probably will!!!!
james718
Over 10 years ago
A: You might want to reference your service manual to see what is required switching out the exhaust.
See all bikes that this part fits...
| Product Variant | Manufacturer Part # |
| --- | --- |
| Aluminum | 2540 |
| Aluminum | 2523 |
| Aluminum | 2521 |
| Aluminum | 7614 |
| Aluminum | 7324 |