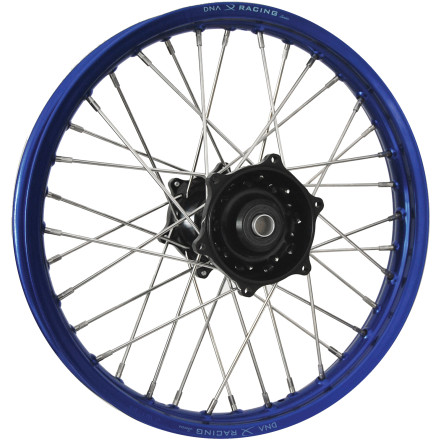 5 Star
2
4 Star
0
3 Star
0
2 Star
0
1 Star
0
Write a Review
Write your review and you'll automatically be entered in our monthly drawing. Include an image or video to DOUBLE your chances to win!
Write Your Review
6 days 5 hours ago
Montrose, Colorado
DNA Blacked out Wheels
So far really great set of rims.
1 year 6 months ago
Santa Rosa, CA, USA
The best
I think this is one of the best stores where you can buy motorcycle parts and you can trust the quality. thanks
See all bikes that this part fits...
| Product Variant | Manufacturer Part # |
| --- | --- |
| Black Hub/Black Rim / 1.85X19 | MX-198H20BKBK |
| Black Hub/Black Rim / 2.15X19 | MX-19H20BKBK |
| Black Hub/Black Rim / 2.15X18 | MX-18H20BKBK |
| Black Hub/Black Rim / 2.15X19 | MX-19H23BKBK |
| Black Hub/Black Rim / 1.85X19 | MX-198K60BKBK |
| Black Hub/Black Rim / 2.15X19 | MX-19K60BKBK |
| Black Hub/Black Rim / 2.15X18 | MX-18K80BKBK |
| Black Hub/Black Rim / 2.15X19 | MX-19K80BKBK |
| Black Hub/Black Rim / 1.85X19 | MX-198S40BBK |
| Black Hub/Black Rim / 2.15X19 | MX-19S40BBK |
| Black Hub/Black Rim / 2.15X18 | MX-18Y02BKBK |
| Black Hub/Black Rim / 1.85X19 | MX-198Y02BKBK |
| Black Hub/Black Rim / 1.85X19 | MX-198Y09BKBK |
| Black Hub/Black Rim / 2.15X19 | MX-19Y02BKBK |
| Black Hub/Black Rim / 2.15X19 | MX-19Y09BKBK |
| Black Hub/Black Rim / 1.85x19 | MX-198H23BKBK |
| Black Hub/Red Rim / 1.85X19 | MX-198H20RDBK |
| Black Hub/Red Rim / 2.15X19 | MX-19H20RDBK |
| Black Hub/Red Rim / 2.15X18 | MX-18H20RDBK |
| Black Hub/Red Rim / 2.15X19 | MX-19H23RDBK |
| Black Hub/Red Rim / 1.85x19 | MX-198H23RDBK |
| Red Hub/Black Rim / 1.85X19 | MX-198H20BKRD |
| Red Hub/Black Rim / 2.15X19 | MX-19H20BKRD |
| Red Hub/Black Rim / 2.15X18 | MX-18H20BKRD |
| Red Hub/Black Rim / 2.15X19 | MX-19H23BKRD |
| Red Hub/Black Rim / 1.85x19 | MX-198H23BKRD |
| Black Hub/Green Rim / 1.85X19 | MX-198K60GRBK |
| Black Hub/Green Rim / 2.15X19 | MX-19K60GRBK |
| Green Hub/Black Rim / 1.85X19 | MX-198K60BKGR |
| Green Hub/Black Rim / 2.15X19 | MX-19K60BKGR |
| Black Hub/Orange Rim / 2.15X18 | MX-18K80ORBK |
| Black Hub/Orange Rim / 2.15X19 | MX-19K80ORBK |
| Orange Hub/Black Rim / 2.15X18 | MX-18K80BKOR |
| Orange Hub/Black Rim / 2.15X19 | MX-19K80BKOR |
| Blue Hub/Black Rim / 1.85X19 | MX-198S40BBL |
| Blue Hub/Black Rim / 2.15X19 | MX-19S40BBL |
| Blue Hub/Black Rim / 2.15X18 | MX-18Y02BKBL |
| Blue Hub/Black Rim / 1.85X19 | MX-198Y02BKBL |
| Blue Hub/Black Rim / 1.85X19 | MX-198Y09BKBL |
| Blue Hub/Black Rim / 2.15X19 | MX-19Y02BKBL |
| Blue Hub/Black Rim / 2.15X19 | MX-19Y09BKBL |
| Yellow Hub/Black Rim / 1.85X19 | MX-198S40BKY |
| Yellow Hub/Black Rim / 2.15X19 | MX-19S40BKY |
| Black Hub/Blue Rim / 2.15X18 | MX-18Y02BLBK |
| Black Hub/Blue Rim / 1.85X19 | MX-198Y02BLBK |
| Black Hub/Blue Rim / 1.85X19 | MX-198Y09BLBK |
| Black Hub/Blue Rim / 2.15X19 | MX-19Y02BLBK |
| Black Hub/Blue Rim / 2.15X19 | MX-19Y09BLBK |