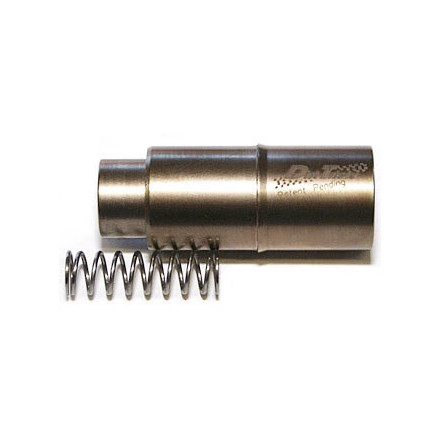 Dirt Tricks Timing Chain Tensioner
5 Star
5
4 Star
1
3 Star
0
2 Star
0
1 Star
0
4 months 7 days ago
Example: New York, NY
This Adjuster is a Must Have !!
Takes away a lot of the Valve/Cam Chain noise in the KTM's, it's a Must Have!!!
Over 10 months ago
Norcal
So much better than stock
I had brand new OEM tensioner installed along with and total rebuild. Had a lot of cam chain noise, installed dirt tricks tensioner and the noise is gone
1 year 10 months ago
Michigan
Finally fixed the chatter!
2008 KTM 505 SXF. I've been worried about a chattering/rattling noise coming from my bike at while idling for quite a while. It sounded like something had broken off and was banging around in my top end. My bike had about 100 hours on it so I thought I'd bring it in for a professional top end rebuild and mentioned the noise, but they found nothing out of the ordinary. After the new top end the chattering remained, until I put in the Dirt Tricks tensioner. It fixed the noise instantly, and the noise has not returned after 8 hours of riding time and my mind is now at ease. Very easy install too, took maybe 30mins taking my time.
After market timing chain tensiomer
After first piston change and valve adjustment on my14 KTM 350xcf I decided to add this product. I noticed a quieter/smoother runnning bike immediately. OEM parts require oil to be running at normal pressure prior to giving adjustment. You won't notice the knocking of the timing chain with OEM parts until you install this product (you will notice a quieter idol especially with cold engine temps). The spring mechanism allows immediate adjustment and consistent tension on the timing chain. Great product. Highly recommended even on 250 models (my friend did the same). Worth the price.
2 years 10 months ago
Nwpa
Better design than OEM KTM
Dirt Tricks Timing Chain Tensioner
The Cam chain tensioner reduced the at idle clicking noise which is something that concerned me about my relatively new KTM. Stock, at idle the bike sounded off . . to many clinks . . obviously sounded slightly like metal on metal . . then at RPM the sound goes away.

While the Dirty Tricks cam chain tensioner did reduce the clinking noise at idle, ultimately by way of their design, their tenioner is only as good as the quality of the little spring provided as a part of the design.. If there was more information about the quality spring , I would have zero concern.

The product works, and I am happy. My assumption is that Dirty Tricks provided a super high quality spring and it will provide superior performance.
Bretto
Q: Dirt Tricks Cam Chain Tensioner to suit 2010 Husaberg FE450
Hi, When I type in the make and model of my bike for a Dirt Tricks Cam Chain Tensioner to suit a 2010 Husaberg FE450 it comes up saying there is none to suit my make and model but in the product description, it says that it does fit 2009-2010 Husaberg 390 / 450 / 570. Is this simply because you have none in stock or there is none made for this bike. Regards, Brette.B........
MotoSportExpert
Over 3 years ago
A: Yes it would be the same tensioner for the KTM and Husaberg.

KTM Timing Chain Tensioner Fitment:

KTM: '05-'10 SX-F/XCR 250 4-stroke models
'07-'11 SX-F/SXS-F 450
'08-'12 400/450/505/530 4-stroke models
Husaberg: '09-'10 390/450/570 models

Will NOT fit the following:

KTM: '12 SX-F 450 Factory Replica Edition
'13-'15 SX-F 250/450
'12-'15 EXC 500, XC-W 450/500

http://www.dirttricks.com/downloads/ktm_timing_chain_tensioner_instructions.pdf
Mxmatte
Q: Does this fit the ktm 250sxf 2012?
MotoSportExpert
Over 4 years ago
A: No unfortunately it is not available for your 2012 KTM 250SXF.
See all bikes that this part fits...
| Product Variant | Manufacturer Part # |
| --- | --- |
| Dirt Tricks Timing Chain Tensioner | KTM-TCT |
| Dirt Tricks Timing Chain Tensioner | TC2 |