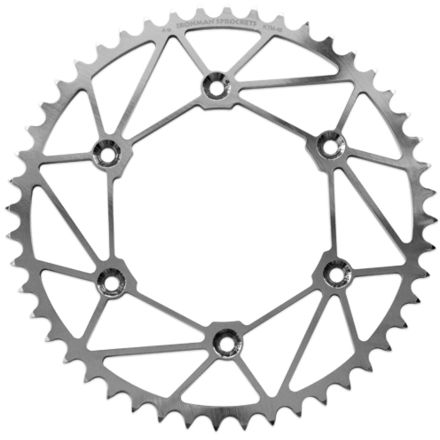 Dirt Tricks Rear Sprocket
---
9% Off - Save up to $11.01
---
5 Star
4
4 Star
0
3 Star
0
2 Star
0
1 Star
0
12 days ago
Hidden Valley Lake
Excellent Product!
Excellent made, steel, but lightweight! I think it will be a very good addition to my dirtbike!
Over 7 months ago
Fort Worth, TX
Excellent product
I've been running these dirt trucks sprockets since around 2005 on multiple different bikes, both 250 and 450, and I couldn't be happier with the longevity. They'll last so long you'll replace a chain and countershaft and just keep riding. They look pretty awesome as well. would recommend to anyone that has sorted their gearing out and does not want to mess with replacing anytime soon.
1 year 6 months ago
Menifee ca
Best sprocket you can buy
I got 96 hours of practice and racing on my last dirt tricks sprocket. There great
Lance G
Q: What bolt kit fits this sprocket for 2017 Husky FC450 ?
Thumbs
1 year 5 months ago
A: The OE sprocket bolts or an after market sprocket bolt kit that is an exact fitment for your 17 FC450 will fit this sprocket no problem.
See all bikes that this part fits...
| Product Variant | Manufacturer Part # |
| --- | --- |
| Chrome / 48T | BT-48 |
| Chrome / 49T | BT-49 |
| Chrome / 50T | BT-50 |
| Chrome / 51T | BT-51 |
| Chrome / 52T | BT-52 |
| Chrome / 42T | CR-42 |
| Chrome / 43T | CR-43 |
| Chrome / 45T | CR-45 |
| Chrome / 46T | CR-46 |
| Chrome / 47T | CR-47 |
| Chrome / 48T | CR-48 |
| Chrome / 49T | CR-49 |
| Chrome / 50T | CR-50 |
| Chrome / 51T | CR-51 |
| Chrome / 52T | CR-52 |
| Chrome / 53T | CR-53 |
| Chrome / 51T/428 Pitch | CR85-51 |
| Chrome / 51T/420 Pitch | CR85-51(420) |
| Chrome / 53T/428 Pitch | CR85-53 |
| Chrome / 53T/420 Pitch | CR85-53(420) |
| Chrome / 55T/428 Pitch | CR85-55 |
| Chrome / 55T/420 Pitch | CR85-55(420) |
| Chrome / 41T | HV-41 |
| Chrome / 43T | HV-43 |
| Chrome / 45T | HV-45 |
| Chrome / 46T | HV-46 |
| Chrome / 47T | HV-47 |
| Chrome / 48T | HV-48 |
| Chrome / 49T | HV-49 |
| Chrome / 50T | HV-50 |
| Chrome / 51T | HV-51 |
| Chrome / 52T | HV-52 |
| Chrome / 42T | KTM-42 |
| Chrome / 45T | KTM-45 |
| Chrome / 46T | KTM-46 |
| Chrome / 47T | KTM-47 |
| Chrome / 48T | KTM-48 |
| Chrome / 49T | KTM-49 |
| Chrome / 50T | KTM-50 |
| Chrome / 51T | KTM-51 |
| Chrome / 52T | KTM-52 |
| Chrome / 53T | KTM-53 |
| Chrome / 46T/428 Pitch | KTM85-46 |
| Chrome / 48T/428 Pitch | KTM85-48 |
| Chrome / 49T/428 Pitch | KTM85-49 |
| Chrome / 50T/428 Pitch | KTM85-50 |
| Chrome / 42T | KTMA-42 |
| Chrome / 45T | KTMA-45 |
| Chrome / 47T | KTMA-47 |
| Chrome / 43T | KX-43 |
| Chrome / 45T | KX-45 |
| Chrome / 46T | KX-46 |
| Chrome / 47T | KX-47 |
| Chrome / 48T | KX-48 |
| Chrome / 49T | KX-49 |
| Chrome / 50T | KX-50 |
| Chrome / 51T | KX-51 |
| Chrome / 52T | KX-52 |
| Chrome / 53T | KX-53 |
| Chrome / 45T | RM-45 |
| Chrome / 46T | RM-46 |
| Chrome / 47T | RM-47 |
| Chrome / 48T | RM-48 |
| Chrome / 49T | RM-49 |
| Chrome / 50T | RM-50 |
| Chrome / 51T | RM-51 |
| Chrome / 52T | RM-52 |
| Chrome / 43T | YZ-43 |
| Chrome / 45T | YZ-45 |
| Chrome / 46T | YZ-46 |
| Chrome / 47T | YZ-47 |
| Chrome / 48T | YZ-48 |
| Chrome / 49T | YZ-49 |
| Chrome / 50T | YZ-50 |
| Chrome / 51T | YZ-51 |
| Chrome / 52T | YZ-52 |
| Chrome / 53T | YZ-53 |
| Chrome / 47T/428 Pitch | YZ85-47 |
| Chrome / 48T/428 Pitch | YZ85-48 |
| Chrome / 49T/428 Pitch | YZ85-49 |