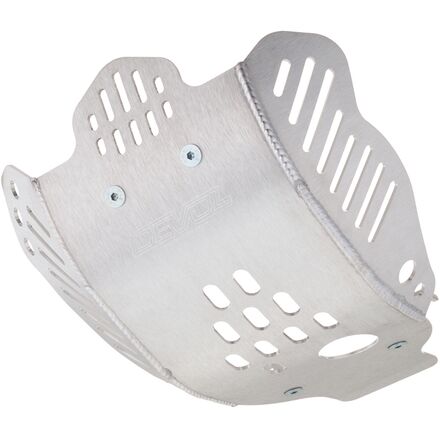 5 Star
138
4 Star
28
3 Star
3
2 Star
6
1 Star
3
Write a Review
Write your review and you'll automatically be entered in our monthly drawing. Include an image or video to DOUBLE your chances to win!
Write Your Review
10 days 10 hours ago
Texas
Undersized and not as pictured
Barely covers and protect's anything, expensive, will end on the shop shelf when I buy a Moose plate.
2002 YZ125
Was hesitant to buy this skid plate for a steel framed bike, as i wasn't sure based on other reviews if it would protect my powder coated frame, and if the actual look would vary from the skid plates they make for more popular models..... But it looks great! Its just enough coverage without ruining the look of my build. Very high quality mounts, had not trouble installing in less than 5 minutes.
Awesome skid plate
Fit great. Doesn't make any noise, I was worried at first it was going to rattle. Super happy with it.
Tight fit, heavy duty bash plate.
The fit is excellent and the material is thick enough to protect the the motorcycle. Installation was easy.Great product.
1 month 25 days ago
Antioch, CA
Great quality and fit!
My bike only had the corner case protectors, and I wanted something that would protect the engine between the frame. This plate is a perfect fit and lightweight. It also looks great. I had to bend one of the side plates a little because it was touching the engine, but that was easy to do. I also had a little bit of trouble attaching it, but it is worth it once it is in place.
2 months 15 days ago
Maryland
Fits great
Great protection at a great price.
3 months 19 days ago
western montana
Beautiful!
Product fit and finish is spot on!
Fit perfect on my 14 KTM 500 EXC
Cutouts and welding fantastic

Rated a 4 star because it doesn't offer any more side protection than the KTM plastic one I replaced
The only advantage is it has more air flow
3 months 21 days ago
Minnesota
Great look, easy install.
All around awesome plate, Easy and quick install.
4 months 12 days ago
Fairbanks Alaska
Buy it you will like it
I got this and put this on my bike and fit with no problem and looks good and it does it's job so if I was you I get one
Phighlow
Q: My 2013 RMZ has two oil drain plugs, does the one for my model have access to both drain plugs?
Michael
22 days ago
A: this skid plate does have access points for most mx bikes out there.
bpiolunek
Q: Does this cover or protect the water pump and or gooseneck on a 2006 kx250f
robert
1 month 6 days ago
A: It does have Extended wrap-around wings to help cover the sides of the case.
Brian
Q: I just received the skid plate for my 2000 KDX220. It does not have the side cover plates, just the bottom. Also there is some sort of round cover included. No mounting instructions. What gives?
DaveGearhead
2 months 9 days ago
A: Something sounds amiss. Please give us a call so that we can cross reference the part numbers to determine what you received. Please have your order # and the box for the part you received at the time you call.
Travdagger
Q: Just bought this for my 2005 kdx 220. What is the small cover for? I don't see where it goes or fits
Kyler
Q: Will this fit a 2018 yz450f? I haven't found one that will yet
Jakeext3453
Over 5 months ago
A: Yes, the Devol skid plate should fit just fine on the 18 YZ450F
STAF
Q: How thick is this skid plate and does it mount to existing bolt holes for 2002 DRZ 400E?
Josh
Q: Does it come with the mounting bolts or bracket?
Clifford
1 year 11 months ago
A: Comes with hardware to mount on your bike.
Andrew
1 year 11 months ago
A: Yes, Each skid plate comes with their own mounting brackets and bolts specific to your model.
foobar
Q: Does this fit to XR650R?
MotoSportExpert
2 years 11 months ago
A: Yes, Just be sure to correctly select the Year/Make/Model of your bike before ordering so we can be sure to send you the correct skid plate for your bike. Also, feel free to give us a call at 888-676-8853 and we would be happy to help you out with your order.
Josh
Q: Do you have to remove the skid plate to change the oil filter?
Just curious, some of the reviews read that the wings on the side of the skid plate protect the oil filter cover pretty well. Does this mean you have to remove the skid plate overtime that you want to change the oil filter? Thanks!
NateB
Over 3 years ago
A: On my 07 KX250F it doesn't block anything. You have access to drain plug and oil filter.
MotoSportExpert
Over 3 years ago
A: No you would not need to remove the skid plate to replace the oil filter on your 2008 Yamaha YZ250F.
doug
Q: How does the skid plate mount to a '11 kx250fi?
Does it use the original mounting bolt holes or some type of brackets?
MotoSportExpert
Over 3 years ago
A: The Devol Skid Plate uses a mounting bracket to attach to the frame.
See all bikes that this part fits...
| Product Variant | Manufacturer Part # |
| --- | --- |
| Devol Skid Plate | 0102-2507 |
| Devol Skid Plate | 0102-5510 |
| Devol Skid Plate | 0102-7302 |
| Devol Skid Plate | N/A |
| Devol Skid Plate | HC-5101SP |
| Devol Skid Plate | HC-6102SP |
| Devol Skid Plate | HC-7102SP |
| Devol Skid Plate | HC-2102SP |
| Devol Skid Plate | HCF-0102SP |
| Devol Skid Plate | HCF1102SP |
| Devol Skid Plate | HCF-0104SP |
| Devol Skid Plate | HCF-1104SP |
| Devol Skid Plate | HCF2104SP |
| Devol Skid Plate | HCX-0104SP |
| Devol Skid Plate | DR-0104SP |
| Devol Skid Plate | KD-2102SP |
| Devol Skid Plate | KT-1101SP |
| Devol Skid Plate | KT-4102SP |
| Devol Skid Plate | 0102-3305 |
| Devol Skid Plate | KT-2102SP |
| Devol Skid Plate | KTF-2102SP |
| Devol Skid Plate | N/A |
| Devol Skid Plate | KT1104SP |
| Devol Skid Plate | KTF-2104SP |
| Devol Skid Plate | KTF-3104SP |
| Devol Skid Plate | KX-4102SP |
| Devol Skid Plate | KX-3102SP |
| Devol Skid Plate | KX-0105SP |
| Devol Skid Plate | KXF0102SP |
| Devol Skid Plate | KXF-1102SP |
| Devol Skid Plate | KXF-0104SP |
| Devol Skid Plate | KXF-1104SP |
| Devol Skid Plate | SR-2101SP |
| Devol Skid Plate | SR-7102SP |
| Devol Skid Plate | N/A |
| Devol Skid Plate | RMZ-0102SP |
| Devol Skid Plate | RMZ-1102Sp |
| Devol Skid Plate | SKF-0104SP |
| Devol Skid Plate | RMZ-1104SP |
| Devol Skid Plate | N/A |
| Devol Skid Plate | N/A |
| Devol Skid Plate | N/A |
| Devol Skid Plate | WRF-1104SP |
| Devol Skid Plate | N/A |
| Devol Skid Plate | HX0104SP |
| Devol Skid Plate | 0102-1403 |
| Devol Skid Plate | YZ-4101SP |
| Devol Skid Plate | N/A |
| Devol Skid Plate | YZ-5102SP |
| Devol Skid Plate | YZ-4102SP |
| Devol Skid Plate | YZ-0104SP |
| Devol Skid Plate | YZF-0102SP |
| Devol Skid Plate | YZF-1102SP |
| Devol Skid Plate | YZF-2102SP |
| Devol Skid Plate | YZF-3102Sp |
| Devol Skid Plate | YZF-1104SP |
| Devol Skid Plate | YZF-2104SP |
| Devol Skid Plate | YZF-3104Sp |
| Devol Skid Plate | 0102-1206 |
| Devol Skid Plate | 0102-5509 |
| Devol Skid Plate | 0102-1207 |
| Devol Skid Plate | 0102-4707 |
| Devol Skid Plate | 0102-1601 |
| Devol Skid Plate | 0102-2401 |
| Devol Skid Plate | 0102-2506 |
| Devol Skid Plate | 0102-3407 |
| Devol Skid Plate | 0102-3408 |