Devol
Devol Radiator Guards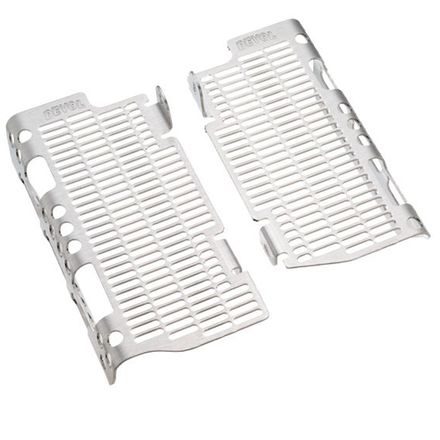 5 Star
80
4 Star
30
3 Star
10
2 Star
0
1 Star
3
Write a Review
Write your review and you'll automatically be entered in our monthly drawing. Include an image or video to DOUBLE your chances to win!
Write Your Review
1 month 3 days ago
Olympia Washington
Worth their weight in gold
If you ride enduro, hard enduro or whatever style of single track then these are a must for protecting your radiators. I've seen enough folks stranded on the trails with punctured radiators because they didn't have these. Sucks to be them.
Talk
I liked the way it fit the bike and the way it looks. Good protuct.
3 months 19 days ago
Leavittsburg, Ohio
Would buy again !
Happy with my purchase and they do their job. My radiators are still in tip top shape. Would buy again.
Great product
Great product to save your radiators.
Over 7 months ago
Roseburg, OR
Look good
I like the look and full guard in front of the radiator. I just wish there was more support in the rear of it to bolt onto
1 year 1 month ago
Pacific Northwest
New drz400 and new to duel sport bikes ... all i can speak to at this point is the quality and easy of installation which recieve highest marks.
1 year 2 months ago
Denver, CO, USA
Must buy for any bike!!
These guards are awesome they look great and function amazing I have layed down my bike multiple times with no worry of my radiators needing to be to be replaced. The only problem I had during installing on my RM250 was the right side rubbed a little on my fatty pipe a side grinder took care of that pretty quick. Great product will defiantly buy for all my bikes.
1 year 3 months ago
Calaveras
Great product
Love them and would buy them for any future bike
Q: Will they fit a 06 yz450 W/ FPS radiators ?
DaveGearhead
17 days ago
A: These are not likely to fit *any bike with aftermarket radiators. They were manufactured for use with OEM radiators.
Q: Is any hardware included ?
David
Over 5 months ago
A: Yes.
Q: Does this kit come with the side braces as well?
David
Over 5 months ago
A: Yes.
Q: Will this fit the mishimoto radiator I bought for my 07 cr85?
Thumbs
Over 6 months ago
A: These will not fit your aftermarket radiators, these are only designed to fit the O.E radiators.
Q: I have a 2013 crf450r if I get the devol radiator guards can I fit the acerbic 2.7 gallon gas tank
Thumbs
Over 7 months ago
A: A little modification on the braces might be needed since the bigger tank comes really close to the back of the radiators you may have to take dome some of the corners on the braces.
Q: Will these fit the mylers radiators
MotoSportExpert1
1 year 3 months ago
A: Yes this will fit your Mylers Radiators. Mylers uses stock mounting and so does this kit. Just be sure to correctly select the Year/Make/Model of your bike before ordering so we can be sure to send you the correct guards for your bike
Q: Which is better?
I have a 2004 yz250 and i'm looking for some radiator guards so I found the Devol radiator guards for $142.72 but I also found the Flatland racing radiator guards for $95.00 does anyone know which is better?
Q: Mylers
will these fit a kx250f 2007 with mylers supercool radiaters
Q: Will the stock plastic radiator grille fit over these guards?
My main concern is packing my radiator full of mud from roost, and small rocks denting my radiator though this guard.
FarmRider
1 year 9 months ago
A: I have these gaurds on a 2005 yz250 and a 2008 yz450f, they have worked flawlessly. They keep the bike cool and. The slots are small enough so that mud and small rocks are not a problem.
Q: Will these guards fit a 1993 Kawasaki KDX 250?
MotoSportExpert
2 years 3 months ago
A: No sorry, Devol does not offer the Radiator Guards to fit your 1993 Kawasaki KDX250.
See all bikes that this part fits...
| Product Variant | Manufacturer Part # |
| --- | --- |
| Devol Radiator Guards | N/A |
| Devol Radiator Guards | HC-0492 |
| Devol Radiator Guards | HC-0592 |
| Devol Radiator Guards | HC-0692 |
| Devol Radiator Guards | HC-0195 |
| Devol Radiator Guards | N/A |
| Devol Radiator Guards | N/A |
| Devol Radiator Guards | HCF-0092 |
| Devol Radiator Guards | HCF-0192 |
| Devol Radiator Guards | HCF-0094 |
| Devol Radiator Guards | HCF-0194 |
| Devol Radiator Guards | HCF-0294 |
| Devol Radiator Guards | HCF-0394 |
| Devol Radiator Guards | 0101-1208 |
| Devol Radiator Guards | HCX-0094 |
| Devol Radiator Guards | HCX-0194 |
| Devol Radiator Guards | N/A |
| Devol Radiator Guards | SR-0492 |
| Devol Radiator Guards | N/A |
| Devol Radiator Guards | KD-0292 |
| Devol Radiator Guards | KT-0692 |
| Devol Radiator Guards | KTF-0292 |
| Devol Radiator Guards | KT-0592 |
| Devol Radiator Guards | KT-0395 |
| Devol Radiator Guards | KX-0692 |
| Devol Radiator Guards | N/A |
| Devol Radiator Guards | N/A |
| Devol Radiator Guards | KXF-0192 |
| Devol Radiator Guards | KXF-0292 |
| Devol Radiator Guards | KXF-0392 |
| Devol Radiator Guards | KXF-0094 |
| Devol Radiator Guards | KXF-0194 |
| Devol Radiator Guards | KXF-0294 |
| Devol Radiator Guards | SR-0692 |
| Devol Radiator Guards | N/A |
| Devol Radiator Guards | RMZ-0092 |
| Devol Radiator Guards | RMZ-0192 |
| Devol Radiator Guards | SKF-0094 |
| Devol Radiator Guards | RMX-0094 |
| Devol Radiator Guards | WRF-0194 |
| Devol Radiator Guards | N/A |
| Devol Radiator Guards | YZ-0492 |
| Devol Radiator Guards | YZF-0092 |
| Devol Radiator Guards | YZF-0192 |
| Devol Radiator Guards | YZF-0292 |
| Devol Radiator Guards | YZ-0194 |
| Devol Radiator Guards | N/A |
| Devol Radiator Guards | YZF-0294 |
| Devol Radiator Guards | YZF-0394 |
| Devol Radiator Guards | 0101-5507 |
| Devol Radiator Guards | 0101-1210 |
| Devol Radiator Guards | 0101-2510 |
| Devol Radiator Guards | 0101-5601 |
| Devol Radiator Guards | 0101-1304 |
| Devol Radiator Guards | 0101-1303 |
| Devol Radiator Guards | 0101-2403 |
| Devol Radiator Guards | 0101-2511 |
| Devol Radiator Guards | 0101-2406 |
| Devol Radiator Guards | 0101-3103 |
| Devol Radiator Guards | 0101-3104 |
| Devol Radiator Guards | 0101-3401 |
| Devol Radiator Guards | 0101-3402 |
| Devol Radiator Guards | 0101-3108 |
| Devol Radiator Guards | 0101-4504 |
| Devol Radiator Guards | 0101-5402 |
| Devol Radiator Guards | 0101-5404 |