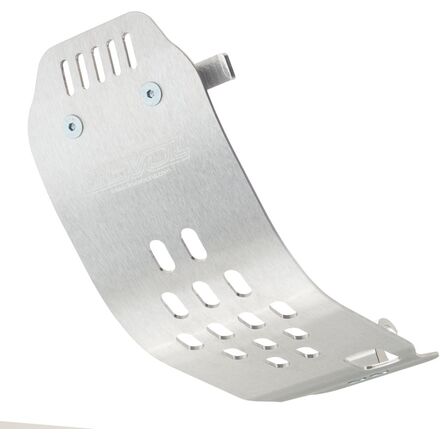 5 Star
5
4 Star
2
3 Star
0
2 Star
0
1 Star
0
1 month 12 days ago
Michigan
Good plate for price
Bought for my KTM 250 SXF. Nice fit. Does not cover water pump
3 months 21 days ago
Shippenville pa
Protect your bottom
The bottom of your bike needs lots of protection against rocks,ruts,wood and other hazards. This glide plate is perfect for the job. It won't let you down on the high spots
4 months 28 days ago
OFALLON,ILLINOIS
Built like a tank
This skid plate allows you to go over anything w out a worry.Great protection.
Over 8 months ago
Ofallon,Illinois
Tuff as a tank
I ride a lot of woods & no doubt I find big rocks & guarantee i would have cracked my engine had I not had this tuff plate.Plastic is great for a track but has no place in the woods.
Good Purchase
By installing the Glide Plate I was able to dispose of the OEM guard along with 5 pounds of mud.
Over 11 years ago
Centralia, WA
Very Durable
This glide plate does a great job of protecting your motor. It installs easy. As a bonus you can drain the oil without having to remove the plate.
Over 11 years ago
pheonix az
Very strong
its a little hard to put in but once its in you dont have to worry about it and very easy to change oil i think it make it easier because i dont have to feel around for the bolt.
Biebs
Q: Do I have to remove the pipe to install on a KX 100?
Alex
1 year 10 months ago
A: You will not need to remove the pipe to install this skid plate on your KX 100.
eNVy
Q: Can I access the oil screen plug on the bottom of 2010 KTM sxf 450?
There's an oil screen plug, dead center of the engine case on my 2010 KTM sxf 450. I'm looking for an aluminum glide/skid plate that will allow me to drain the oil from the oil plug bolt as well as access the oil screen. As I do both every oil change etc. thank you
gofast
Q: Is it made of Aluminum
MotoSportExpert
2 years 6 months ago
A: Yes, it is made of aluminum.
See all bikes that this part fits...
| Product Variant | Manufacturer Part # |
| --- | --- |
| Devol GLIDE PLATE | 0103-1103 |
| Devol GLIDE PLATE | 0103-1201 |
| Devol GLIDE PLATE | 0103-1207 |
| Devol GLIDE PLATE | 0103-1208 |
| Devol GLIDE PLATE | 0103-2401 |
| Devol GLIDE PLATE | 0103-2402 |
| Devol GLIDE PLATE | 0103-2404 |
| Devol GLIDE PLATE | 0103-2506 |
| Devol GLIDE PLATE | 0103-3101 |
| Devol GLIDE PLATE | 0103-3301 |
| Devol GLIDE PLATE | 0103-3302 |
| Devol GLIDE PLATE | 0103-3401 |
| Devol GLIDE PLATE | 0103-3404 |
| Devol GLIDE PLATE | 0103-3406 |
| Devol GLIDE PLATE | 0103-3407 |
| Devol GLIDE PLATE | 0103-3408 |
| Devol GLIDE PLATE | 0103-3901 |
| Devol GLIDE PLATE | 0103-3903 |
| Devol GLIDE PLATE | 0103-3904 |
| Devol GLIDE PLATE | 0103-3905 |
| Devol GLIDE PLATE | 0103-4501 |
| Devol GLIDE PLATE | 0103-4502 |
| Devol GLIDE PLATE | 0103-4503 |
| Devol GLIDE PLATE | 0103-4703 |
| Devol GLIDE PLATE | 0103-4706 |
| Devol GLIDE PLATE | 0103-4707 |
| Devol GLIDE PLATE | 0103-5202 |
| Devol GLIDE PLATE | 0103-5401 |
| Devol GLIDE PLATE | 0103-5402 |
| Devol GLIDE PLATE | 0103-5506 |
| Devol GLIDE PLATE | 0103-5507 |
| Devol GLIDE PLATE | 0103-5510 |
| Devol GLIDE PLATE | 0103-5511 |
| Devol GLIDE PLATE | 0103-7302 |