Cylinder Works
Cylinder Works Standard Bore High Compression Cylinder Kit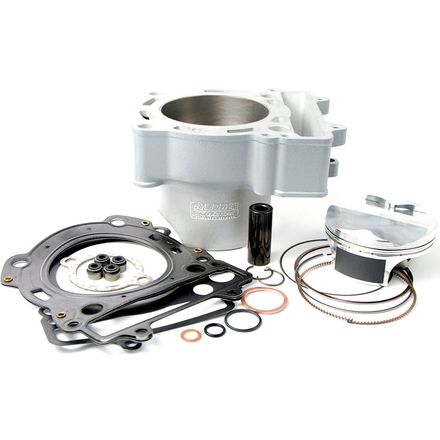 Cylinder Works Standard Bore High Compression Cylinder Kit
---
10% Off - Save up to $93.48
---
5 Star
1
4 Star
0
3 Star
0
2 Star
0
1 Star
0
Write a Review
Write your review and you'll automatically be entered in our monthly drawing. Include an image or video to DOUBLE your chances to win!
Write Your Review
Awesome
Love it. Can tell so much more compression
Norm
Q: What are the fuel requirements once the compression ratio has been increased?
DaveGearhead
2 months 8 days ago
A: Once a high compression piston kit is installed, it is common that a minimum of pump/race gas or straight race gas is used for combustion. Please check with the manufacturer for specific MAKE/MODEL/YEAR you are inquiring about.
See all bikes that this part fits...
| Product Variant | Manufacturer Part # |
| --- | --- |
| Cylinder Works Standard Bore High Compression Cylinder Kit | 10001-K01HC |
| Cylinder Works Standard Bore High Compression Cylinder Kit | 10001-K02HC |
| Cylinder Works Standard Bore High Compression Cylinder Kit | 10002-K01HC |
| Cylinder Works Standard Bore High Compression Cylinder Kit | 10002-K02HC |
| Cylinder Works Standard Bore High Compression Cylinder Kit | 10003-K01HC |
| Cylinder Works Standard Bore High Compression Cylinder Kit | 10004-K01HC |
| Cylinder Works Standard Bore High Compression Cylinder Kit | 10004-K02HC |
| Cylinder Works Standard Bore High Compression Cylinder Kit | 10005-K01HC |
| Cylinder Works Standard Bore High Compression Cylinder Kit | 10006-K01HC |
| Cylinder Works Standard Bore High Compression Cylinder Kit | 10006-K02HC |
| Cylinder Works Standard Bore High Compression Cylinder Kit | 10007-K01HC |
| Cylinder Works Standard Bore High Compression Cylinder Kit | 10007-K02HC |
| Cylinder Works Standard Bore High Compression Cylinder Kit | 10007-K03HC |
| Cylinder Works Standard Bore High Compression Cylinder Kit | 10008-K01HC |
| Cylinder Works Standard Bore High Compression Cylinder Kit | 10009-K01HC |
| Cylinder Works Standard Bore High Compression Cylinder Kit | 10010-K01HC |
| Cylinder Works Standard Bore High Compression Cylinder Kit | 20001-K01HC |
| Cylinder Works Standard Bore High Compression Cylinder Kit | 20001-K02HC |
| Cylinder Works Standard Bore High Compression Cylinder Kit | 20002-K01HC |
| Cylinder Works Standard Bore High Compression Cylinder Kit | 20002-K03HC |
| Cylinder Works Standard Bore High Compression Cylinder Kit | 20003-K01HC |
| Cylinder Works Standard Bore High Compression Cylinder Kit | 20003-K02HC |
| Cylinder Works Standard Bore High Compression Cylinder Kit | 20004-K01HC |
| Cylinder Works Standard Bore High Compression Cylinder Kit | 20004-K02HC |
| Cylinder Works Standard Bore High Compression Cylinder Kit | 20005-K01HC |
| Cylinder Works Standard Bore High Compression Cylinder Kit | 20005-K02HC |
| Cylinder Works Standard Bore High Compression Cylinder Kit | 20010-K01HC |
| Cylinder Works Standard Bore High Compression Cylinder Kit | 20010-K02HC |
| Cylinder Works Standard Bore High Compression Cylinder Kit | 20104-K02HC |
| Cylinder Works Standard Bore High Compression Cylinder Kit | 30001-K01HC |
| Cylinder Works Standard Bore High Compression Cylinder Kit | 30004-K01HC |
| Cylinder Works Standard Bore High Compression Cylinder Kit | 30005-K01HC |
| Cylinder Works Standard Bore High Compression Cylinder Kit | 30006-K01HC |
| Cylinder Works Standard Bore High Compression Cylinder Kit | 30006-K02HC |
| Cylinder Works Standard Bore High Compression Cylinder Kit | 30007-K01HC |
| Cylinder Works Standard Bore High Compression Cylinder Kit | 30007-K02HC |
| Cylinder Works Standard Bore High Compression Cylinder Kit | 30008-K01HC |
| Cylinder Works Standard Bore High Compression Cylinder Kit | 30008-K02HC |
| Cylinder Works Standard Bore High Compression Cylinder Kit | 30011-K01HC |
| Cylinder Works Standard Bore High Compression Cylinder Kit | 30011-K02HC |
| Cylinder Works Standard Bore High Compression Cylinder Kit | 30011-K03HC |
| Cylinder Works Standard Bore High Compression Cylinder Kit | 30012-K01HC |
| Cylinder Works Standard Bore High Compression Cylinder Kit | 30012-K02HC |
| Cylinder Works Standard Bore High Compression Cylinder Kit | 40001-K01HC |
| Cylinder Works Standard Bore High Compression Cylinder Kit | 40002-K01HC |
| Cylinder Works Standard Bore High Compression Cylinder Kit | 40003-K01HC |
| Cylinder Works Standard Bore High Compression Cylinder Kit | 40004-K01HC |
| Cylinder Works Standard Bore High Compression Cylinder Kit | 40004-K02HC |
| Cylinder Works Standard Bore High Compression Cylinder Kit | 40004-K03HC |
| Cylinder Works Standard Bore High Compression Cylinder Kit | 50001-K01HC |
| Cylinder Works Standard Bore High Compression Cylinder Kit | 50002-K01HC |
| Cylinder Works Standard Bore High Compression Cylinder Kit | 50003-K01HC |
| Cylinder Works Standard Bore High Compression Cylinder Kit | 50004-K01HC |
| Cylinder Works Standard Bore High Compression Cylinder Kit | 50006-K01HC |
| Cylinder Works Standard Bore High Compression Cylinder Kit | 50007-K01HC |
| Cylinder Works Standard Bore High Compression Cylinder Kit | 60001-K01HC |
| Cylinder Works Standard Bore High Compression Cylinder Kit | 60002-K01HC |
| Cylinder Works Standard Bore High Compression Cylinder Kit | 60002-K02HC |
| Cylinder Works Standard Bore High Compression Cylinder Kit | 60003-K01HC |
| Cylinder Works Standard Bore High Compression Cylinder Kit | 60004-K01HC |
| Cylinder Works Standard Bore High Compression Cylinder Kit | 60006-K01HC |