Cycra
Cycra Speedarmor Skid Plate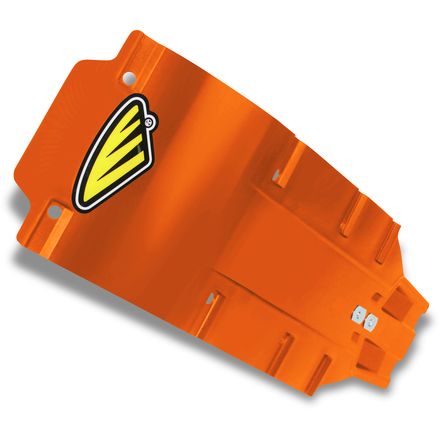 Cycra Speedarmor Skid Plate
---
16% Off - Save up to $7.00
---
5 Star
6
4 Star
7
3 Star
4
2 Star
0
1 Star
4
4 months 19 days ago
Williamsport Pennsylvania
It's ok
Honestly it does the job but it's a piece of garbage.
Over 6 months ago
Arizona
Not too shabby
I got this for my cr250 and was an easy instal, looks good and does it's job. The only downfall would be the people that laugh at the fact your skid plate is held on by zip ties
Terrible
Every zip tie broke before I could even tighten them down. Save your money and buy a decent skid plate.
Over 7 months ago
Denver Nc
Worth the buy
Needed a skid plate for my yz and this was the cheapest but most controversial option. It was well worth it rather than spending $100. It fits excellent to the frame but it is a little difficult to bend to shape and put it on the first time. Would highly recommend if you don't want to break the bank. Only downside is that my pipe melted a small section where they meet and disformed the plastic on skid plate
1 year 1 month ago
Long Island NY
Ski Plate
Bought this for my husband who is rebuilding his bike- gives it an extra pop of color and a new clean look. So far its been durable.
2 years 4 months ago
Belle Plaine, Mn
Nice fit.
Fit was right on. Price was good too.
2 years 4 months ago
Pekin
Lasted one moto
I knew as soon as I recieved this product I messed up. It's cheap and uses zip ties to hold it on. Looks awful. Had several people as me why I had zip ties along my frame. Went out for first moto of the day and over shot a big triple. Wouldn't say I completely framed out because it didn't feel that way, but when I got back to the van it was hanging off and all but one zip tie busted off. I'm not even going to bother putting it back on. Like I said before, it's cheap. Definitely wouldn't recommend. That said,cycra does have great products. I should have spent a little more money and bought the nicer one that all my friends have and love. You get what you pay for in this sport and by now I should have known.
Hydra Speedarmor Skid Plate
Easy and quick to put on, does the job well don't have any problems except for the zip ties the product comes with. Two broke instantly while installing the product and one broke on the first ride.
Scotty
Q: Will this fit a 2016 yz450f? It says no but every other website I look at for 2016 yz450f it shows the same part number..
Trevor Gearhead
4 months 25 days ago
A: Every once in a while we miss fitment on a bike. Please give us a call to cross reference part #s and confirm that it does for you!
Caleb
Q: Will it fit my 2018 yz125?
It says it will fit a 2012 yz125 but not a 16,17, or 18. The frames should all be the same.
David
1 year 8 months ago
A: Cycra is only showing fitment for 05-16 YZ125
Chris
Q: Will drilling a hole for oil changeing weaken the stringth of the skid plate?
RO37
Q: Have to remove for oil changes - 14-17 yz450?
Anyone know if this thing is in the way and needs to be removed, when changing oil on 2014-17 yz450?
MotoSportExpert
Over 3 years ago
A: Yes. The included Ultra High Strength Tie Straps allow for Easy installation and removal that takes just seconds.
See all bikes that this part fits...
| Product Variant | Manufacturer Part # |
| --- | --- |
| Black | 1CYC-6000-12 |
| Black | 1CYC-6001-12 |
| Black | 1CYC-6002-12 |
| Black | 1CYC-6003-12 |
| Black | 1CYC-6004-12 |
| Black | 1CYC-6005-12 |
| Black | 1CYC-6006-12 |
| Black | 1CYC-6007-12 |
| Black | 1CYC-6008-12 |
| Black | 1CYC-6009-12 |
| Black | 1CYC-6011-12 |
| Black | 1CYC-6012-12 |
| Black | 1CYC-6013-12 |
| Black | 1CYC-6014-12 |
| Black | 1CYC-6016-12 |
| Black | 1CYC-6017-12 |
| Black | 1CYC-6018-12 |
| Black | 1CYC-6019-12 |
| Black | 1CYC-6020-12 |
| Black | 1CYC-6021-12 |
| Black | 1CYC-6015-12 |
| Red | 1CYC-6000-33 |
| Red | 1CYC-6001-33 |
| Red | 1CYC-6002-33 |
| Red | 1CYC-6003-33 |
| Red | 1CYC-6004-33 |
| Grey | 1CYC-6000-80 |
| Grey | 1CYC-6001-80 |
| Grey | 1CYC-6002-80 |
| Grey | 1CYC-6003-80 |
| Grey | 1CYC-6004-80 |
| Grey | 1CYC-6005-80 |
| Grey | 1CYC-6006-80 |
| Grey | 1CYC-6007-80 |
| Grey | 1CYC-6008-80 |
| Grey | 1CYC-6009-80 |
| Grey | 1CYC-6011-80 |
| Grey | 1CYC-6012-80 |
| Grey | 1CYC-6014-80 |
| Grey | 1CYC-6016-80 |
| Grey | 1CYC-6017-80 |
| Grey | 1CYC-6018-80 |
| Grey | 1CYC-6019-80 |
| Grey | 1CYC-6020-80 |
| Grey | 1CYC-6021-80 |
| Blue | 1CYC-6005-62 |
| Blue | 1CYC-6006-62 |
| Blue | 1CYC-6007-62 |
| Blue | 1CYC-6008-62 |
| Blue | 1CYC-6009-62 |
| Green | 1CYC-6016-72 |
| Green | 1CYC-6017-72 |
| Green | 1CYC-6018-72 |
| Green | 1CYC-6019-72 |
| Orange | 1CYC-6020-22 |