Cycra
Cycra Speedarmor Skid Plate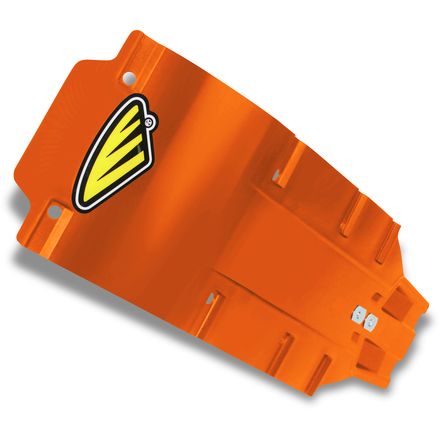 Cycra Speedarmor Skid Plate
---
16% Off - Save up to $7.00
---
5 Star
5
4 Star
5
3 Star
3
2 Star
0
1 Star
3
Write a Review
Write your review and you'll automatically be entered in our monthly drawing. Include an image or video to DOUBLE your chances to win!
Write Your Review
2 months 8 days ago
Long Island NY
Ski Plate
Bought this for my husband who is rebuilding his bike- gives it an extra pop of color and a new clean look. So far its been durable.
1 year 4 months ago
Belle Plaine, Mn
Nice fit.
Fit was right on. Price was good too.
1 year 5 months ago
Pekin
Lasted one moto
I knew as soon as I recieved this product I messed up. It's cheap and uses zip ties to hold it on. Looks awful. Had several people as me why I had zip ties along my frame. Went out for first moto of the day and over shot a big triple. Wouldn't say I completely framed out because it didn't feel that way, but when I got back to the van it was hanging off and all but one zip tie busted off. I'm not even going to bother putting it back on. Like I said before, it's cheap. Definitely wouldn't recommend. That said,cycra does have great products. I should have spent a little more money and bought the nicer one that all my friends have and love. You get what you pay for in this sport and by now I should have known.
Hydra Speedarmor Skid Plate
Easy and quick to put on, does the job well don't have any problems except for the zip ties the product comes with. Two broke instantly while installing the product and one broke on the first ride.
Zip ties all broke
The plate does what it's supposed to do but every single zip tie that came with it broke. I had to use my own zip ties. Seems to work great other than that though.
1 year 9 months ago
Atlanta, GA
Not What I'd Expect....
The skid plate is fine, but could use the open holes for bolting it to the front of the frame in the factory skid plate mounting locations. It instead uses cheap zip-ties (that more than half of broke while zipping) and leaves the threaded holes unused and open to dirt/debris to get into the threads. It also blocks the case oil drain plug and the resivoir drain plug so you have to cut the ties and remove it after every 1-2 rides. Looked cheesy to me and not as good as the factory aluminum plate, in my honest opinion. Save your cash for something else.
Not bullet proof
This is ok but I will upgrade to an aluminum one later. the plastic is thick but it is held on by zip ties.
2 years 3 months ago
Parsons, TN 38363, USA
Great Product for price!
Installed on my 300xc and fit was great! Not a full coverage skid plate, but works extremely well protecting the bottom of your frame and engine...held on only by zip ties which are provided, so not good to take on and off, but I never take it off, so it's not a big deal to me... the zip ties hold it very securely so far after a month of riding
2 years 4 months ago
San Jose, CA, USA
Not what I thought it was
Thought I was buying an aluminum skid plate but it's plastic and is held on by zip ties???

Oh well. Next.
Caleb
Q: Will it fit my 2018 yz125?
It says it will fit a 2012 yz125 but not a 16,17, or 18. The frames should all be the same.
David
Over 9 months ago
A: Cycra is only showing fitment for 05-16 YZ125
Chris
Q: Will drilling a hole for oil changeing weaken the stringth of the skid plate?
RO37
Q: Have to remove for oil changes - 14-17 yz450?
Anyone know if this thing is in the way and needs to be removed, when changing oil on 2014-17 yz450?
MotoSportExpert
2 years 2 months ago
A: Yes. The included Ultra High Strength Tie Straps allow for Easy installation and removal that takes just seconds.
See all bikes that this part fits...
| Product Variant | Manufacturer Part # |
| --- | --- |
| Black | 1CYC-6000-12 |
| Black | 1CYC-6001-12 |
| Black | 1CYC-6002-12 |
| Black | 1CYC-6003-12 |
| Black | 1CYC-6004-12 |
| Black | 1CYC-6005-12 |
| Black | 1CYC-6006-12 |
| Black | 1CYC-6007-12 |
| Black | 1CYC-6008-12 |
| Black | 1CYC-6009-12 |
| Black | 1CYC-6011-12 |
| Black | 1CYC-6012-12 |
| Black | 1CYC-6013-12 |
| Black | 1CYC-6014-12 |
| Black | 1CYC-6016-12 |
| Black | 1CYC-6017-12 |
| Black | 1CYC-6018-12 |
| Black | 1CYC-6019-12 |
| Black | 1CYC-6020-12 |
| Black | 1CYC-6021-12 |
| Black | 1CYC-6015-12 |
| Red | 1CYC-6000-33 |
| Red | 1CYC-6001-33 |
| Red | 1CYC-6002-33 |
| Red | 1CYC-6003-33 |
| Red | 1CYC-6004-33 |
| Grey | 1CYC-6000-80 |
| Grey | 1CYC-6001-80 |
| Grey | 1CYC-6002-80 |
| Grey | 1CYC-6003-80 |
| Grey | 1CYC-6004-80 |
| Grey | 1CYC-6005-80 |
| Grey | 1CYC-6006-80 |
| Grey | 1CYC-6007-80 |
| Grey | 1CYC-6008-80 |
| Grey | 1CYC-6009-80 |
| Grey | 1CYC-6011-80 |
| Grey | 1CYC-6012-80 |
| Grey | 1CYC-6014-80 |
| Grey | 1CYC-6016-80 |
| Grey | 1CYC-6017-80 |
| Grey | 1CYC-6018-80 |
| Grey | 1CYC-6019-80 |
| Grey | 1CYC-6020-80 |
| Grey | 1CYC-6021-80 |
| Blue | 1CYC-6005-62 |
| Blue | 1CYC-6006-62 |
| Blue | 1CYC-6007-62 |
| Blue | 1CYC-6008-62 |
| Blue | 1CYC-6009-62 |
| Green | 1CYC-6016-72 |
| Green | 1CYC-6017-72 |
| Green | 1CYC-6018-72 |
| Green | 1CYC-6019-72 |
| Orange | 1CYC-6020-22 |