Cycra
Cycra Side Panel Set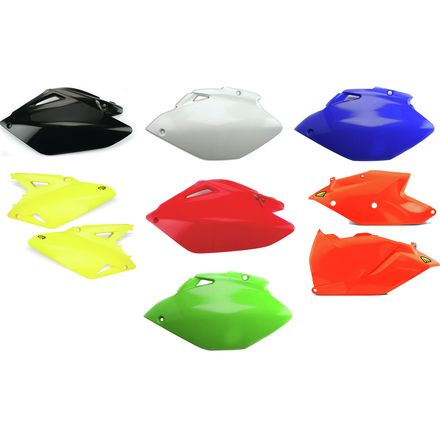 ---
16% Off - Save up to $13.00
---
5 Star
6
4 Star
0
3 Star
0
2 Star
0
1 Star
1
Looks good
Strong plastics and they look good
Over 8 months ago
Montana
Over 8 months ago
California
1 year 2 months ago
Argentina
DOES NOT FIT!!!!!!!!
I bought this a few days ago, I send it to Argentina and when I try to install them, they don't FIT.
2016 yz450f
Fits nice and doesn't have the plastic rivets
Mitchd41
Q: Similar to new style Cycra side panel
Is the picture shown with the product what it actually looks like? Because the new style Cycra side panels would look different than the picture shown. Is the Part # for this product listing 1CYC-2777-62?
MotoSportExpert
Over 3 years ago
A: The image is a generic image supplied by the manufacturer for reference only. It may not be displaying the exact part for your bike. Just be sure to correctly select the Year/Make/Model of your bike before ordering so we can be sure to send you the correct side panels for your bike. 1CYC-2777-62 would be the correct part number for the blue side panels for your 2009 YZ125.
Also, feel free to give us a call at 888-676-8853 and we would be happy to help you out with your order.
See all bikes that this part fits...
| Product Variant | Manufacturer Part # |
| --- | --- |
| Black | 1CYC-2665-12 |
| Black | 1CYC-2875-12 |
| Black | 1CYC-2885-12 |
| Black | 1CYC-2895-12 |
| Black | 1CYC-2775-12 |
| Black | 1CYC-2776-12 |
| Black | 1CYC-2774-12 |
| Black | 1CYC-2778-12 |
| Black | 1CYC-2897-12 |
| Black | 1CYC-2555-12 |
| Black | 1CYC-2667-12 |
| Black | 1CYC-1904-12 |
| Black | 1CYC-2668-12 |
| Black | 1CYC-2898-12 |
| Black | 1CYC-2770-12 |
| Black | 1CYC-2556-12 |
| Green | 1CYC-2665-72 |
| Green | 1CYC-2667-72 |
| Green | 1CYC-2770-72 |
| White | 1CYC-2665-42 |
| White | 1CYC-2875-42 |
| White | 1CYC-2885-42 |
| White | 1CYC-2895-42 |
| White | 1CYC-2775-42 |
| White | 1CYC-2776-42 |
| White | 1CYC-2774-42 |
| White | 1CYC-2778-42 |
| White | 1CYC-2897-42 |
| White | 1CYC-2555-42 |
| White | 1CYC-2667-42 |
| White | 1CYC-1904-42 |
| White | 1CYC-2668-42 |
| White | 1CYC-2898-42 |
| White | 1CYC-2770-42 |
| White | 1CYC-2556-42 |
| Red | 1CYC-2875-33 |
| Red | 1CYC-2885-33 |
| Red | 1CYC-2895-33 |
| Red | 1CYC-2898-32 |
| Blue | 1CYC-2775-62 |
| Blue | 1CYC-2776-62 |
| Blue | 1CYC-2778-62 |
| Flo Green | 1CYC-2665-72F |
| White/Black (OEM) | 1CYC-2774-01 |
| Gold | 1CYC-2776-66 |
| Natural | 1CYC-2776-02 |
| Orange | 1CYC-2555-22 |
| Husqvarna Blue | 1CYC-1904-89 |
| Flo Orange | 1CYC-2556-22F |
| Yellow | 1CYC-2668-55 |
| Battleship Grey | 1CYC-2556-97 |