Cycra
Cycra Powerflow Rear Fender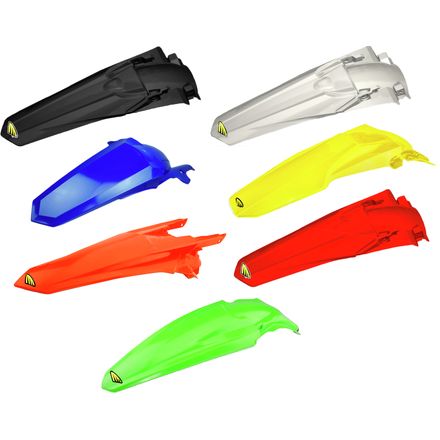 Cycra Powerflow Rear Fender
---
16% Off - Save up to $8.00
Rating: 4.1 out of 5 stars
---
13 Reviews
8

reviews

1

reviews

2

reviews

1

reviews

1

reviews
All Reviews
4 months 26 days ago
Negaunee, MI
Great Fit
Fit just like factory with all metal inserts formed in like the factory does
1 year 2 months ago
Oakdale NY
Great product
Bought this fender with the expectation that I would run into a problem installing cause it wasn't OEM and it was a perfect fit!
Looks awesome for a fraction of the price
1 year 5 months ago
Cleveland,oh
Great fit
Bought this to replace the stock fender and the fit and finish was great. Would recommend this part.
Great fit, high quality.
I like this fender a lot. Even better then the acerbis I had last.
530 EXC
Got this fender for a 2011 530 EXC. Fits good, may be a pain to put graphics on but other than that it does what it should.
Over 3 years ago
Pocatello, ID.
Disappointed
Don't know why, but this fender did not fit at all. And when I finally got it bolted on, it was super crooked????I thought my sub frame was bent. So I ordered a Polisport rear fender, and it fit perfect.couldn't return the Cycra cuz I tossed all the original packaging.
Over 3 years ago
Texas, USA
BEYOND OEM with STYLE!!!
This fender ads style, along with durability over your OEM fender. added style still fits with no issues. lines up perfect to other panels unlike some aftermarket body panels.
Over 5 years ago
Salt Lake City, UT, USA
Fit and finish issues
I would say this is a good option if its your only option. I immediately noticed the less glossy and scuffed appearance of this fender even when pulling it out of the plastic bag it came in. Kind of disappointing to install a scuffed fender fresh out of the plastic bag it came in. I ordered this fender for the "power flow" but I think that's more of a gimmick than anything that will actually give any results. I would suggest another brand if you can find the color you want.
Fitment
See all bikes that this part fits...
# Part Numbers
| Product Variant | Manufacturer Part # |
| --- | --- |
| Battleship Grey | 1CYC-1744-97 |
| Black | 1CYC-1810-12, 1CYC-1821-12, 1CYC-1800-12, 1CYC-1801-12, 1CYC-1811-12, 1CYC-1711-12, 1CYC-1740-12, 1CYC-1741-12, 1CYC-1511-12, 1CYC-1812-12, 1CYC-1513-12, 1CYC-1512-12, 1CYC-1514-12, 1CYC-1742-12, 1CYC-1712-12, 1CYC-1515-12, 1CYC-1713-12, 1CYC-1743-12 |
| Blue | 1CYC-1511-62, 1CYC-1513-62, 1CYC-1512-62, 1CYC-1514-62, 1CYC-1515-62 |
| Flo Green | 1CYC-1711-72F |
| Flo Orange | 1CYC-1744- 22F |
| Gold | 1CYC-1513-66 |
| Green | 1CYC-1711-72, 1CYC-1710-72, 1CYC-1712-72 |
| Husaberg Blue | 1CYC-1740-88 |
| Husqvarna Blue | 1CYC-1743-89 |
| Lightning Gold | 1CYC-1514-66 |
| Orange | 1CYC-1740-22, 1CYC-1741-22, 1CYC-1742-22, 1CYC-1744- 22 |
| Red | 1CYC-1810-32, 1CYC-1821-33, 1CYC-1800-32, 1CYC-1801-33, 1CYC-1811-33, 1CYC-1812-33, 1CYC-1513-32, 1CYC-1813-32 |
| White | 1CYC-1810-42, 1CYC-1821-42, 1CYC-1800-42, 1CYC-1801-42, 1CYC-1811-42, 1CYC-1711-42, 1CYC-1740-42, 1CYC-1741-42, 1CYC-1511-42, 1CYC-1812-42, 1CYC-1513-42, 1CYC-1512-42, 1CYC-1514-42, 1CYC-1742-42, 1CYC-1712-42, 1CYC-1515-42, 1CYC-1743-42, 1CYC-1813-42 |
| Yellow | 1CYC-1631-55, 1CYC-1611-55, 1CYC-1713-55 |