Cycra
Cycra Powerflow Radiator Shrouds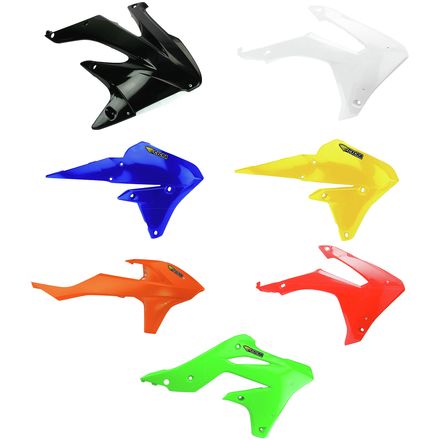 Cycra Powerflow Radiator Shrouds
---
15% Off - Save up to $23.00
---
5 Star
16
4 Star
2
3 Star
2
2 Star
1
1 Star
1
Write a Review
Write your review and you'll automatically be entered in our monthly drawing. Include an image or video to DOUBLE your chances to win!
Write Your Review
1 month 21 days ago
Bedford Indiana
Great feature
Awesome product narrowed the bike up a lot
1 month 23 days ago
Glasgow ya bass
Glasgow is miles better
Slim it down a little bit get rid of that junk your bike comes with
Over 5 months ago
Atlanta, Ga
Must Have!
Just put a set of these on a '17 YZ450f, Looks Way Better than stock, makes the bike feel Thinner at your knees and makes servicing air filter much easier.
Over 8 months ago
Box Elder, South Dakota
Great items!
I bought the radiator shrouds and front and rear fender in Yamaha Blue for a birthday present. They came super quick there was also free shipping which was a plus because from the Cycra website it was going to be almost 30 dollars to ship it. The rider loves how the bike feels now. He says it feels way thinner and a better fit. Also he says with the shrouds the bike feel like it has becomes faster
Worth the money in so many ways 2016 yz250f
are the best upgrade I've done yet. So much more narrow, air filter change is a lot easier and the vent hose being hidden no longer gets in the way for corners. These shrouds allowed me to corner much better being a smooth plane all the way up to the bars and so much more narrow. This should be a mandatory purchase for all Yamaha owners
2015 YZ450F MUST HAVE
Don't even bother riding your bike until you put these on, I went a year on the stock plastic before switching to Cycra shrouds. Makes the front noticeable narrower. I can finally get far enough up on the bike to make it turn!! Also can lift my leg up much easier. I put this on at the same time as a gripper seat cover and it was instantly way better. Cons, graphics kits for stock plastic don't fit quite right so you'll have to use a razor blade to cut them down a little bit here and there.- Midpack B rider
Fitment on '15 YZ450F
I spilled a bit of gas on it and the plastic warped and now it looks bent. Not only that but the holes were not drilled in the correct places. I had to force it on and even use zip ties.
Dillon
Q: Does the shroud only option also come with the red air scoop
zwhite
Q: 3 options are listed BUT only 2 options are shown: Blk ($133), Blk Shrouds only ($75.99), & Blk w/ Airbox cvr ($105). What's the difference?
Motoexpert
Over 10 months ago
A: We now have 12 options available for this product. Shroud only is just shrouds and with air box cover is with air box cover. The Yamaha's air box is located at the top front of the bike which is why air box covers are included or not included with this product option.
Bogdan
Q: Fit on the '16-18 WR450F
Hi, I'm curious if this radiator shrouds work on the 2016-2018 WR450F, i want to hear from someone that used them.
David
Over 11 months ago
A: Yes they work on your bike. Definitely keeps your bike running cooler.
michael
Q: WILL THESE MAKE MY 2005 YZ 125 LOOK LIKE THE 2015+ SHROUDS
robert
Over 11 months ago
A: The powerflow shroud are based off oem fitment for the bike, you would be looking for a restyle shroud kit to have the newer look.
michael
Q: If i order these for my 2005 yz125 with the shape of the shroud be like the newer bikes?
David
Over 11 months ago
A: No. They'll be the same as your stock shape.
Derek
Q: What is the difference between: "Black" , "Black/Shrouds Only" and "Black with Air box cover"?
David
Over 12 months ago
A: You get the air box cover and the one that states it and the other is shrounds only.
Rider
Q: What's the difference in these for the 2015 yz250f and 2015 yz250fx?
Motoexpert
1 year 2 months ago
A: They are completely different part numbers for the seperate models cycra would be able to tell you exactly what the difference would be. They most likely are different molds for machine specific fitment.
Chris
Q: Re-map
If I put these on my 2014 YZ450F will I need to re-map the FI system? I ask because it said that it forces 40% more airflow.
Michael
Q: Do the shrouds come with hardware? To replace the existing on yamahas
KRUSHER
2 years ago
A: They do not, you have to use your old ones or buy new ones
motocrossman
Q: I have a 2000 yz 125 and i was wondering if i could make this fit properly?
MotoSportExpert
2 years 5 months ago
A: No sorry Lycra does not offer the Powerflow Radiator Shrouds for your 2000 YZ125 and the newer years would not link up correctly.
See all bikes that this part fits...
| Product Variant | Manufacturer Part # |
| --- | --- |
| Red / Shrouds Only | 1875-33 |
| Red / Shrouds Only | 1885-33 |
| Red / Shrouds Only | 1886-33 |
| Red / Shrouds Only | N/A |
| Red | 1CYC-1888-32 |
| Red | 1CYC-1889-32 |
| Black / Shrouds Only | 1875-12 |
| Black / Shrouds Only | 1885-12 |
| Black / Shrouds Only | 1886-12 |
| Black / Shrouds Only | N/A |
| Black / Shrouds Only | N/A |
| Black / Shrouds Only | N/A |
| Black / Shrouds Only | N/A |
| Black / Shrouds Only | N/A |
| Black / With Air Box Cover | N/A |
| Black / Shrouds Only | 1775-12 |
| Black / Shrouds Only | 1CYC-1899-12 |
| Black / With Air Box Cover | 1CYC-1778-12 |
| Black / Shrouds Only | 1CYC-1779-12 |
| Black / Shrouds Only | 1CYC-1783-12 |
| Black | 1CYC-1888-12 |
| Black / Shrouds Only | 1CYC-1901-12 |
| Black | 1CYC-1867-12 |
| Black | 1CYC-1782-12 |
| Black | 1CYC-1868-12 |
| Black | 1CYC-1869-12 |
| Black | 1CYC-1889-12 |
| Black | 1CYC-1903-12 |
| White / Shrouds Only | 1875-42 |
| White / Shrouds Only | 1885-42 |
| White / Shrouds Only | 1886-42 |
| White / Shrouds Only | N/A |
| White / Shrouds Only | N/A |
| White / Shrouds Only | N/A |
| White / Shrouds Only | N/A |
| White / Shrouds Only | N/A |
| White / With Air Box Cover | N/A |
| White / Shrouds Only | 1775-42 |
| White / Shrouds Only | 1CYC-1899-42 |
| White / With Air Box Cover | 1CYC-1778-42 |
| White / Shrouds Only | 1CYC-1779-42 |
| White / Shrouds Only | 1CYC-1783-42 |
| White | 1CYC-1888-42 |
| White / Shrouds Only | 1CYC-1901-42 |
| White | 1CYC-1867-42 |
| White | 1CYC-1782-42 |
| White | 1CYC-1868-42 |
| White | 1CYC-1889-42 |
| White | 1CYC-1903-42 |
| Green / Shrouds Only | N/A |
| Green / Shrouds Only | N/A |
| Green | 1CYC-1867-72 |
| Orange / Shrouds Only | 1895-22 |
| Orange / Shrouds Only | N/A |
| Orange / With Air Box Cover | N/A |
| Orange / Shrouds Only | 1CYC-1899-22 |
| Orange / Shrouds Only | 1CYC-1901-22 |
| Blue / Shrouds Only | 1775-62 |
| Blue / With Air Box Cover | 1CYC-1778-62 |
| Blue / Shrouds Only | 1CYC-1779-62 |
| Blue / Shrouds Only | 1CYC-1783-62 |
| Blue | 1CYC-1782-62 |
| Gold / With Air Box Cover | 1CYC-1778-66 |
| Gold / Shrouds Only | 1CYC-1779-66 |
| Gold | 1CYC-1783-66 |
| Flo Green / Shrouds Only | 1CYC-1865-72F |
| Flo Green / Shrouds Only | 1CYC-1866-72F |
| Flo Green | 1CYC-1867-72F |
| Flo Green | 1CYC-1868-72F |
| Lightning Gold | 1CYC-1782-66 |
| OEM Green | 1CYC-1868-72 |
| Yellow | 1CYC-1869-55 |
| Flo Orange | 1CYC-1901-22F |
| Husqvarna Blue | 1CYC-1903-89 |