Cycra
Cycra Powerflow Plastic Kit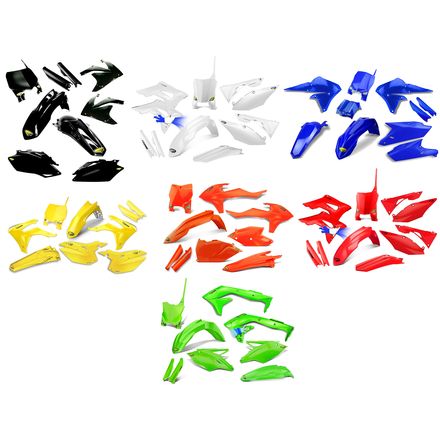 Cycra Powerflow Plastic Kit
---
22% Off - Save up to $65.50
Rating: 4.4 out of 5 stars
---
59 Reviews
38

reviews

13

reviews

3

reviews

4

reviews

1

reviews
All Reviews
8 days 20 hours ago
Central point oregon
Meh
All was good until I got to the left number plate. Has a horrible half inch gap out of the side of the bike
Perfect
Everything looked and fits great
2 months 28 days ago
Charlotte, NC
Overall Pretty Good
This kit fit my 18 yz250f pretty well. It took a little bit of work to get it to line up with the radiators but once everything was bolted together it was fine. I took the shrouds off and the second time they were much easier to install.
The only downside is you cant use the dzus fasteners on the air box. They dont fit, so you have to use the bolts. Its not a big problem but it can be a little bit of a pain to install the bolts.
Also i had to add some zip ties to hold the red powerflow shrouds. They are supposed to hold onto some stock tabs in the radiator shrouds but they werent that tight. But that wasnt a big deal.
3 months 27 days ago
Albuquerque NM
Powerflow plastic
Cheesy tywraps for number plate...... don't like that
Worth it
Installed on a 2018 yz250f. The shrouds might be a bit of a pain to install but it make the bike feel so much better ergonomically(makes the bike feel narrower). I swear the engine runs smoother because of the better air intake. Sure changing air filters is harder, but the performance is worth it in my opinion. The 2019 yzf shrouds are basically a copy of the powerflow.
Looks good but holes didn't line up exact
Radiator shrouds didn't line up exact. Every other plastic lined up good. Looks great I like the glossy finish. DO NOT put goof off on black plastic or any color besides white. It will fade.
Over 9 months ago
Charlotte NC
Great plastic kit, sent me the wrong color
I would rate this higher if not for the fact that motosport unfortunately sent me the wrong color, the plastic kit other wise is very nice and fits great so not a knock on the product at all.
Over 11 months ago
Bakersfield C.A.
Cool Plastic Kit
I use the Powerflow Kit on all Racers look good and helps with Air Flow.
Fitment
See all bikes that this part fits...
# Part Numbers
| Product Variant | Manufacturer Part # |
| --- | --- |
| Battleship Grey | 1CYC-9327-97, 1CYC-9326-97, 1CYC-9325-97 |
| Black | 1CYC-9300-12, 1CYC-9304-12, 1CYC-9301-12, 1CYC-9302-12, 1CYC-9303-12, 1CYC-9306-12, 1CYC-9307-12, 1CYC-9308-12, 1CYC-9309-12, 1CYC-9310-12, 1CYC-9311-12, 1CYC-9312-12, 1CYC-9313-12, 1CYC-9314-12, 1CYC-9316-12, 1CYC-9317-12, 1CYC-9318-12, 1CYC-9319-12, 1CYC-9320-12, 1CYC-9321-12, 1CYC-9327-12, 1CYC-9326-12, 1CYC-9325-12 |
| Blue | 1CYC-9305-62, 1CYC-9312-62, 1CYC-9313-62, 1CYC-9316-62, 1CYC-9327-62 |
| Flo Green | 1CYC-9307-72F, 1CYC-9308-72F, 1CYC-9318-72F, 1CYC-9319-72F |
| Flo Orange | 1CYC-9317-22F, 1CYC-9326-22F |
| Flo Yellow | 1CYC-9327-59, 1CYC-9326-59 |
| Gold | 1CYC-9312-66, 1CYC-9316-66 |
| Gold/Black | 1CYC-9316-66b |
| Gold/White | 1CYC-9316-66W |
| Green | 1CYC-9307-72, 1cyc-9308-72, 1CYC-9318-72, 1CYC-9325-72 |
| Husqvarna Blue | 1CYC-9321-89 |
| OEM | 1CYC-9313-02, 1CYC-9314-02, 1CYC-9318-02, 1CYC-9327-02 |
| OEM Colors | 1CYC-9316-02, 1CYC-9319-02, 1CYC-9320-02, 1CYC-9321-02, 1CYC-9322-02 |
| OEM Colors 2016 | 1CYC-9317-02 |
| OEM Colors 2020 | 1CYC-9326-02, 1CYC-9325-02 |
| OEM Green | 1CYC-9319-72 |
| OEM/Lightning Gold | 1CYC-9312-02LG, 1CYC-9316-02LG |
| OEM/Red | 1CYC-9312-02R, 1CYC-9315-02R, 1CYC-9316-02R |
| Orange | 1CYC-9306-22, 1CYC-9309-22, 1CYC-9310-22, 1CYC-9314-22, 1CYC-9317-22, 1CYC-9326-22 |
| Red | 1CYC-9300-33, 1CYC-9301-33, 1CYC-9303-33, 1CYC-9304-33, 1CYC-9311-33, 1CYC-9312-32, 1CYC-9320-32 |
| Stock | 1CYC-9301-02, 1CYC-9303-02, 1CYC-9307-02, 1CYC-9308-02, 1CYC-9309-02, 1CYC-9310-02, 1CYC-9311-02, 1CYC-9312-02 |
| White | 1CYC-9300-42, 1CYC-9304-42, 1CYC-9302-42, 1CYC-9303-42, 1CYC-9307-42, 1cyc-9308-42, 1CYC-9309-42, 1CYC-9310-42, 1CYC-9311-42, 1CYC-9312-42, 1CYC-9313-42, 1CYC-9314-42, 1CYC-9316-42, 1CYC-9317-42, 1CYC-9318-42, 1CYC-9319-42, 1CYC-9320-42, 1CYC-9321-42, 1CYC-9327-42, 1CYC-9326-42, 1CYC-9325-42 |
| White/Red | 1CYC-9312-42R, 1CYC-9316-42R |
| Yellow | 1CYC-9311-55, 1CYC-9322-55 |