Cycra
Cycra Performance Front Fender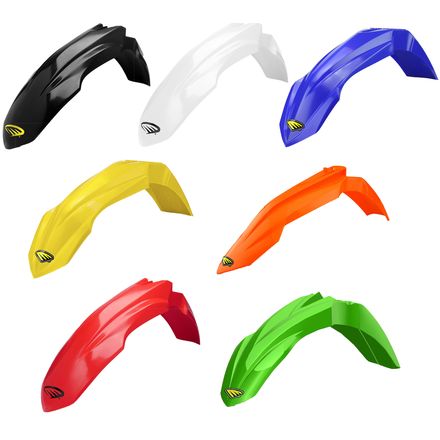 Cycra Performance Front Fender
---
17% Off - Save up to $5.00
3.91
5
11
Rating: 3.9 out of 5 stars
---
11 Reviews
5

reviews

3

reviews

1

reviews

1

reviews

1

reviews
All Reviews
1 year 5 months ago
Princeton IL
YZ Fender on a DR650
Quality fender. Used it for a Suzuki DR650. After a little bit of work, fits and looks awesome!
Blue color on the fender is slightly lighter than the Suzuki blue, but matches well enough (matches Acerbis blue tank). Holes are the correct width, but the distance of the holes front to rear is about 1/2" further apart than the Suzuki mounts. Rear holes have to be drilled out a bit to make it work.
Fender received was different than in picture
Ordered for a 04 yz 450 fender did not match picture
03 Rm 250
Got the fender in the mail and looked great. But it did not fit my bike. Not sure what the reason of why a not fitting fender got sent to me. Motosport was great though and hooked me up with a different brand. I think your supposed to use a cycra number plate then the fender would fit but the number plate I got from them did not fit also forcing me to use the stock one.
Over 4 years ago
Ocala, FL, USA
Great Fender
Good solid construction and its actually functional, best part is its made in America.
Over 5 years ago
Santa Clara, CA
Great looking But....
This fender looks fantastic and is most definitely of high quality. HOWEVER, I can't make it fit right on my 2006 CRF450X. I have tried a few times and finally realized that one of the holes was drilled slightly off. As a result, I can only fit 3 of the 4 bolts in. I will just have to enlarge the hole on the 4th location, but for the price I really feel like I shouldn't have to do that...
Looks great
I put this fender (for a 2008 crf450r) on my 03 crf450r and it fits just fine. makes the bike look a lot newer going from an 03 fender to 08
Fitment
See all bikes that this part fits...
# Part Numbers
| Product Variant | Manufacturer Part # |
| --- | --- |
| Black | 1CYC-1500-12 |
| Black | 1CYC-1501-12 |
| Black | 1CYC-1502-12 |
| Black | 1CYC-1541-12 |
| Black | 1CYC-1542-12 |
| Black | 1CYC-1571-12 |
| Black | 1CYC-1531-12 |
| Black | 1CYC-1510-12 |
| Black | 1CYC-1543-12 |
| Black | 1CYC-1572-12 |
| Black | 1CYC-1503-12 |
| Black | 1CYC-1544-12 |
| Black | 1CYC-1573-12 |
| Black | 1CYC-1563-12 |
| Red | 1CYC-1500-33 |
| Red | 1CYC-1501-33 |
| Red | 1CYC-1502-33 |
| Red | 1CYC-1503-32 |
| White | 1CYC-1500-42 |
| White | 1CYC-1501-42 |
| White | 1CYC-1502-42 |
| White | 1CYC-1541-42 |
| White | 1CYC-1542-42 |
| White | 1CYC-1571-42 |
| White | 1CYC-1531-42 |
| White | 1CYC-1543-42 |
| White | 1CYC-1572-42 |
| White | 1CYC-1503-42 |
| White | 1CYC-1544-42 |
| White | 1CYC-1563-42 |
| Orange | 1CYC-1540-22 |
| Orange | 1CYC-1541-22 |
| Orange | 1CYC-1542-22 |
| Orange | 1CYC-1543-22 |
| Green | 1CYC-1510-72 |
| Green | 1CYC-1571-72 |
| Green | 1CYC-1572-72 |
| Yellow | 1CYC-1520-55 |
| Yellow | 1CYC-1521-55 |
| Yellow | 1CYC-1573-55 |
| Blue | 1CYC-1531-62 |
| Blue | 1CYC-1530-62 |
| Blue | 1CYC-1563-62 |
| Husaberg Blue | 1CYC-1540-88 |
| Flo Green | 1CYC-1571-72F |
| Flo Green | 1CYC-1572-72F |
| Flo Orange | 1CYC-1543-22F |
| Husqvarna Blue | 1CYC-1544-89 |