Cycra
Cycra Front Disc Cover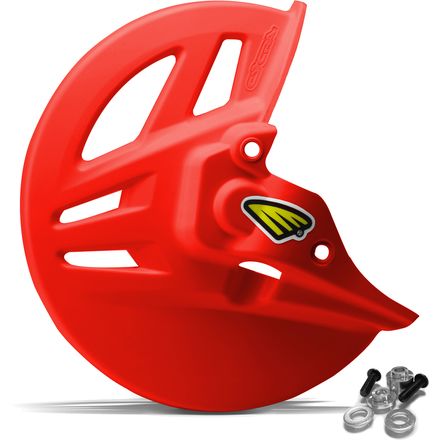 5 Star
14
4 Star
3
3 Star
0
2 Star
0
1 Star
0
Fit perfect
Bolted right on perfect fit no problems so far
Over 7 months ago
The Swamp
Protection Perfection
I bought this Cycra front disc cover to go with the new Polisport Restyle kit I purchased to upgrade my dirtbike. The old "stocker" didn't match and I wanted an upgrade. I saw the Cycra Front Disc Cover and thought it'd fit perfect.. I was surprised on how well it fit out of the package and impressed with the quality...
1 year 5 months ago
Scotts Valley. Ca
Good cover.
Simple inexpensive does it's job
Over 3 years ago
Upstate New york
Disc cover gaurd
Easy to install. Looks great on a bike.reasonable price .quick delivery
Disc cover
Good protection, easy on and off
Over 4 years ago
Martin, TN, USA
How to fit this to a 2014 YZ450F for about $3.00
I looked at the pro riders and wondered how they were able to run the lightspeed and cycra oversized disc covers for the 270mm oversized aftermarket rotors. The only option you had was to buy the Acerbis Oversized Rotor kit that used the front wheel spacer for a mounting bracket. I DID NOT want to mount my rotor cover this way. The problem is that the mid-axle area on the 2014 YZ450F was hollow. There was nothing to screw into. The 2014 models had a 22mm diameter front axles with a hollow center.
I kept watching the pro Yamaha riders and noticed that they were using the front axle (not the wheel spacer) for a mounting point of their lightspeed or cycra rotor covers. So, I'll tell you guys and gals what I finally did.
I went to a hardware store and bought a 3/8 x 6 1/2 inch long bolt along with 2 flat washers. I also bought a locking nut for the bolt along with a small rubber piece that fits on the end of the bolt to protect the threads. You just put the bolt though on the right side and advance it until the threads come out on the left side. Then you put a flat washer on. Now you slide your oversized Cycra or Lightspeed oversized rotor protector on over the exposed bolt. Now you place your 2nd flat washer on over the extended bolt. Lastly, you put on your locking nut and line up the other screw that will be mounted into the lower left fork tube. Once you start to tighten the locking nut you will have to insert a screwdriver into the right side of the inner axle to keep the bolt from turning as you begin to tighten the locking nut. Once you have it snug then you snug up the bolt that holds the rotor protector in place at the left fork tube. Now tighten everything up securely. Lastly, you can put on the rubber piece that protects your threads. (This piece is like the piece of rubber that you put on swing sets so kids don't get hurt on the exposed threads. TaDa...you did it. It fits so PERFECT that you didn't even have to cut any excess bolt off. You mounted a 270mm oversized rotor by running a bolt through the inner axle, not screwing it into the middle of the axle on the left side (which is impossible to do anyways) I got all my parts from Rural King for about $3.00. Any questions or concerns you can email me at yz250f160@hotmail.com. Randy Earls...Mr. Tennessee
works great on my crf450r with a 280mm front rotor. This is the only product that works with that size of rotor. No complaints.
Tim B
Q: Will this work for a oversized front rotor? If no then is there anyone who makes them?
TxMotoMan
Q: Fit stock 2008 crf250r?
Will this fit a stock crf250r (2008) that currently does not have a guard? Does it come with the mounting hardware to make it fit.
JesseC
Over 9 years ago
A: yes this will replace the stock disc cover and no they do not come with any bolts or mounting hardware.
00cr125
Q: Installation
Would I have to take off the front wheel to put this on, or does it just bolt right on without doing anything?
Jeff
Over 10 years ago
A: This just bolted right up to my 02 cr250. no wheel removal needed. I believe it was just 2 or 3 hex screws holding it to the caliper
Moose
Over 10 years ago
A: Remove one existing only in fork guard and other only with spacer screws right into center of axle bolt
Yomamma
Over 10 years ago
A: No, you do not have to take off your whole front wheel, just two allen bolts holding the old disk guard on... remove and replace.
See all bikes that this part fits...
| Product Variant | Manufacturer Part # |
| --- | --- |
| Black | 1CYC-1094-12 |
| Black | 1CYC-1093-12 |
| Black | 1CYC-1095-12 |
| Works Clear | 1CYC-1094-02 |
| Works Clear | 1CYC-1099-02 |
| Works Clear | 1CYC-1093-02 |
| Works Clear | 1CYC-1095-02 |
| White | 1CYC-1094-42 |
| White | 1CYC-1099-42 |
| White | 1CYC-1093-42 |
| White | 1CYC-1095-42 |
| Grey | 1CYC-1093-80 |
| Grey | 1CYC-1095-80 |
| Red | 1CYC-1095-32 |