Cycra
Cycra Fork Guard Set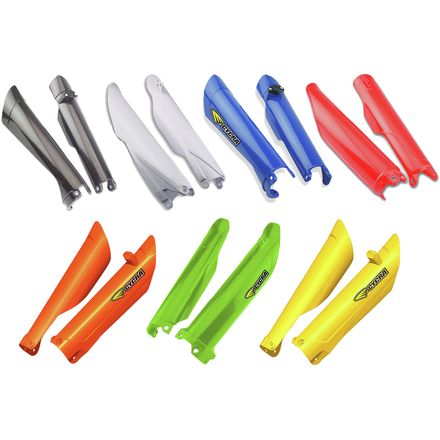 ---
15% Off - Save up to $6.00
Rating: 4.4 out of 5 stars
---
10 Reviews
7

reviews

1

reviews

1

reviews

1

reviews

0

reviews
All Reviews
Great fit, clean look, awsome.
Looks much better than original on '16 Yamie.
1 year 8 months ago
Houston.TX
Not As Advertised
Bought these to replace OEM fork guards. They fit like OEM, but the "mold" is different and the OEM style and cut graphics do NOT fit. These are NOT the same as OEM as advertised.
Nice quality
fits well, good quality plastic.
5 star
Bolted right up, color matched
2 years 11 months ago
Hastings, PA 16646, USA
Put these on my 2011 KTM 450sxf
I didn't like the full wrap around KTM fork guards due to them rubbing the plastic ring on the tube very hard. I ordered the 2008 Honda guards and the brake line clamp pieces. Only thing I wish I got at the time were the guard mounting bolts. The KTM ones have too long of a shoulder, so I used washers to take up the space for now.
Perfect fit and tough
These are very nice. They match oem and feel much stronger. They are slightly thicker for holding a hole shot device.
Over 3 years ago
Las Vegas NV
Needed some drilling
I bought these for my 2012 CRF450R and had to drill out all the bolt holes to make them fit properly. They fit fine now with the little bit of tweaking, but it ended up being a bit more work than expected.
Over 4 years ago
Myerstown, PA 17067, USA
Bummed at the fitment for 2014 KTM 300xcw
had to modify with a dremel to align holes and had to drill cable guard just let cables fit underneath. not a huge deal but really?
Over 5 years ago
New York
Orange Addict
These fit well, they don't wrap all the way around, so you don't have to take off the wheel to remove / replace them like you do with the stock KTM guards, they are plenty stiff, they have a nice finish, and they're Orange.
Thumbs up...?
Yup.
Over 5 years ago
Madison, MS, USA
Best product
adds the right bling to your bike
Ask a Question
There have been no questions asked about the Cycra Fork Guard Set.
Fitment
See all bikes that this part fits...
# Part Numbers
| Product Variant | Manufacturer Part # |
| --- | --- |
| Black | 1CYC-6901-12, 1CYC-6902-12, 1CYC-6903-12, 1CYC-6900-12, 1CYC-6904-12, 1CYC-6905-12, 1CYC-6908-12, 1CYC-6906-12, 1CYC-6907-12, 1CYC-6909-12 |
| Blue | 1CYC-6901-62 |
| White | 1CYC-6900-42, 1CYC-6901-42, 1CYC-6902-42, 1CYC-6903-42, 1CYC-6904-42, 1CYC-6905-42, 1CYC-6908-42, 1CYC-6906-42, 1CYC-6907-42, 1CYC-6909-42 |