CV4
CV4 Radiator Hose Kit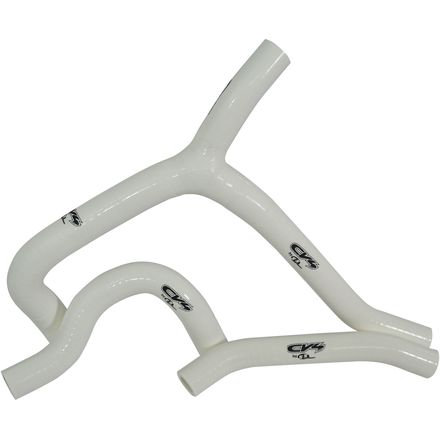 ---
10% Off - Save up to $20.00
---
5 Star
7
4 Star
3
3 Star
0
2 Star
0
1 Star
0
Write a Review
Write your review and you'll automatically be entered in our monthly drawing. Include an image or video to DOUBLE your chances to win!
Write Your Review
Fit like OEM
They fit well but you will have to supply your own hose clamps.
1 month 5 days ago
Corona, CA
Great Appearance
Purchased kit for an 01 RM250 and they are quality material that looks great on the bike. The main lines were formed perfectly and fit the contours needed to route around the exhaust and radiators. My only complaint is that the two lines that go between the radiators were too long. Used a razor to cut about 3/4" off each. No big deal but for the price you would hope it's a direct fitment.
Over 5 months ago
God's Country, KY
Work Great and Fit Great
Had to trim a few of them AND the outside diameter is slightly larger so make sure you purchase some slightly larger SS hose clamps. Make sure you purchase the clamps with the smooth inside OR they will dig into the hose.
Great FIT and QUALITY!!!!
These hoses are easy to put on and they fit perfectly! Would defiantly buy again!!!!
My rider caught a rock to a radiator hose mid moto and lost some coolant before he noticed. Luckily it wasnt enough to harm the bike but i put cv4 hoses on all of my riders, My customers bikes, and on my own bikes. Theyre more durable, thicker, and keep the coolant 2-4 degrees lower. With engine ice, a Boyesen high flow water pump, and CV4 hoses you can drop your bikes average temp an average of about 10-17 degrees. Which is needed with pros and fast pro am guys on hot days, and really good for any woods guys who ride tight stuff and find their bike overheating.
Better than stock
these are a great replacement for stock paired with engine ice and a water pump you will never have over heating problems again .also if you get the Y kit you can get rid of the cheap connector
Over 3 years ago
Utah, USA
CV4 hose kit
Installed on an 03 RM125 along with CV4's 1.4 bar radiator cap. Nice durable silicone hoses. Fitment was good, had to do a little trimming on the hose off the cylinder head but no biggie. 2x as thick as the OE hoses, should hold up better and last longer!
Excellent product
This is an excellent product installed the cv4 hose and ran tests on our shop Dino and there was a noticeable temperature change from the hoses allowing a smoother flow of coolant threw the motor the construction is very durable unlike other hose company's cv4 has two layer of wave to increase durability.
See all bikes that this part fits...
| Product Variant | Manufacturer Part # |
| --- | --- |
| Blue | CV4-43000B |
| Red | CV4-43000R |
| White | CV4-43000W |
| Blue | SFSMBC08B |
| Red | SFSMBC08R |
| Blue | SFSMBC100B |
| Red | SFSMBC100R |
| Yellow | SFSMBC100Y |
| White | SFSMBC12W |
| Blue | SFSMBC132B |
| Red | SFSMBC132R |
| White | SFSMBC138W |
| Yellow | SFSMBC138Y |
| Green | SFSMBC13G |
| White | SFSMBC13W |
| Yellow | SFSMBC13Y |
| Red | SFSMBC141R |
| Red | SFSMBC143R |
| Blue | SFSMBC149B |
| Orange | SFSMBC159O |
| Blue | SFSMBC15B |
| Red | SFSMBC15R |
| Orange | SFSMBC160O |
| Blue | SFSMBC16B |
| Red | SFSMBC16R |
| Yellow | SFSMBC16Y |
| Black | SFSMBC175BL |
| White | SFSMBC175W |
| Yellow | SFSMBC175Y |
| White | SFSMBC176W |
| Blue | SFSMBC177B |
| Orange | SFSMBC177O |
| Red | SFSMBC177R |
| White | SFSMBC177W |
| Blue | SFSMBC178B |
| Orange | SFSMBC178O |
| Red | SFSMBC178R |
| White | SFSMBC180W |
| Blue | SFSMBC19B |
| Red | SFSMBC19R |
| Red | SFSMBC201R |
| Blue | SFSMBC20B |
| Red | SFSMBC20R |
| Blue | SFSMBC210B |
| Orange | SFSMBC210O |
| Red | SFSMBC210R |
| Blue | SFSMBC211B |
| Orange | SFSMBC211O |
| Red | SFSMBC211R |
| White | SFSMBC211W |
| Yellow | SFSMBC211Y |
| Blue | SFSMBC214B |
| Red | SFSMBC214R |
| Yellow | SFSMBC214Y |
| Blue | SFSMBC21B |
| Red | SFSMBC21R |
| Yellow | SFSMBC21Y |
| Blue | SFSMBC239B |
| Orange | SFSMBC239O |
| White | SFSMBC239W |
| Blue | SFSMBC240B |
| Blue | SFSMBC248B |
| Black | SFSMBC248BL |
| Red | SFSMBC248R |
| White | SFSMBC248W |
| Yellow | SFSMBC248Y |
| Blue | SFSMBC249B |
| Green | SFSMBC249G |
| Blue | SFSMBC24B |
| Blue | SFSMBC250B |
| Red | SFSMBC250R |
| White | SFSMBC250W |
| Blue | SFSMBC251B |
| Red | SFSMBC251R |
| White | SFSMBC251W |
| Blue | SFSMBC25B |
| Blue | SFSMBC267B |
| Green | SFSMBC267G |
| Red | SFSMBC267R |
| White | SFSMBC267W |
| Blue | SFSMBC268B |
| Orange | SFSMBC268O |
| White | SFSMBC268W |
| Blue | SFSMBC269B |
| Black | SFSMBC269BL |
| Red | SFSMBC269R |
| White | SFSMBC269W |
| Yellow | SFSMBC269Y |
| Blue | SFSMBC271B |
| Orange | SFSMBC271O |
| White | SFSMBC271W |
| Yellow | SFSMBC271Y |
| Blue | SFSMBC35B |
| Red | SFSMBC35R |
| Orange | SFSMBC36O |
| White | SFSMBC36W |
| Yellow | SFSMBC36Y |
| Blue | SFSMBC37B |
| Blue | SFSMBC38B |
| Red | SFSMBC38R |
| Blue | SFSMBC41B |
| Green | SFSMBC41G |
| Orange | SFSMBC41O |
| Yellow | SFSMBC41Y |
| Blue | SFSMBC47B |
| Orange | SFSMBC47O |
| Red | SFSMBC47R |
| Red | SFSMBC52R |
| Blue | SFSMBC66B |
| Red | SFSMBC66R |
| Orange | SFSMBC72O |
| Yellow | SFSMBC72Y |
| Orange | SFSMBC145O |
| Orange | SFSMBC96O |
| Orange | SFSMBC74O |
| Orange | SFSMBC131O |
| Blue | SFSMBC175B |
| Blue | SFSMBC12B |
| Blue | SFSMBC10B |
| Blue | SFSMBC40B |
| Blue | SFSMBC138B |
| Blue | SFSMBC85B |
| Blue | SFSMBC13B |
| Blue | SFSMBC76B |
| Blue | SFSMBC143B |
| Blue | SFSMBC43B |
| Blue | SFSMBC141B |
| Blue | SFSMBC55B |
| Blue | SFSMBC155B |
| Blue | SFSMBC33B |
| Blue | SFSMBC201B |
| Blue | SFSMBC77B |
| Blue | SFSMBC75B |
| Blue | SFSMBC29B |
| Blue | SFSMBC154B |
| Blue | SFSMBC180B |
| Blue | SFSMBC09B |
| Blue | SFSMBC44B |
| Blue | SFSMBC83B |
| Blue | SFSMBC176B |
| Blue | SFSMBC36B |
| Blue | SFSMBC72B |
| Blue | SFSMBC74B |
| Blue | SFSMBC28B |
| Blue | SFSMBC71AB |
| Blue | SFSMBC103B |
| Blue | SFSMBC179B |
| Red | SFSMBC175R |
| Red | SFSMBC12R |
| Red | SFSMBC10R |
| Red | SFSMBC11R |
| Red | MBC40RED |
| Red | SFSMBC138R |
| Red | SFSMBC85R |
| Red | SFSMBC13R |
| Red | SFSMBC55R |
| Red | SFSMBC14R |
| Red | SFSMBC32R |
| Red | SFSMBC34R |
| Red | MBC33RED |
| Red | SFSMBC77R |
| Red | SFSMBC75R |
| Red | SFSMBC128R |
| Red | SFSMBC29R |
| Red | SFSMBC44R |
| Red | SFSMBC83R |
| Red | SFSMBC176R |
| Red | MBC36RED |
| Red | SFSMBC72R |
| Red | MBC28RED |
| Red | SFSMBC71AR |
| Red | SFSMBC103R |
| Red | SFSMBC179R |
| Green | SFSMBC85G |
| Green | SFSMBC76G |
| Green | SFSMBC143G |
| Green | SFSMBC43G |
| Green | SFSMBC141G |
| Green | SFSMBC14G |
| Yellow | SFSMBC14Y |
| Yellow | SFSMBC155Y |
| Yellow | SFSMBC201Y |
| Yellow | SFSMBC77Y |
| Yellow | SFSMBC128Y |
| Yellow | SFSMBC29Y |
| Yellow | SFSMBC103Y |
| Yellow | SFSMBC179Y |
| White | SFSMBC154W |