CruzTOOLS
CruzTOOLS Outback'r Folding Metric Tool Set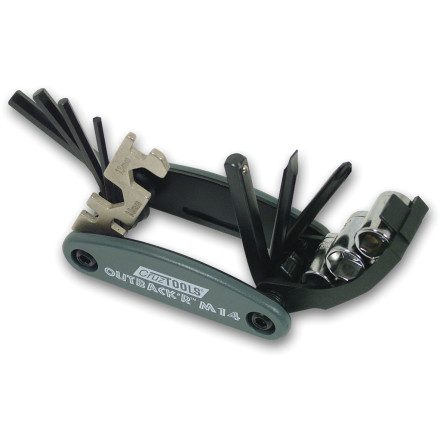 CruzTOOLS Outback'r Folding Metric Tool Set
6 Reviews
6

reviews

0

reviews

0

reviews

0

reviews

0

reviews
All Reviews
Over 3 years ago
Kalihi - Palama, Honolulu, HI, USA
CruzTOOLS Outback'r Folding Metric Tool Set
Great little tool for the emergency repair
This little tool has a lot of what you would need for that trail side repair, even has an 8mm and 10mm socket. Small enough for a backpack or even a pocket and not very expensive. Seems pretty durable as well!
Over 5 years ago
Kalihi - Palama, Honolulu, HI, USA
CruzTOOLS Outback'r Folding Metric Tool Set
minimal tool with maximum effect.
CruzTOOLS Outback'R Folding Metric Tool Set
havent really had the chance to use it but its a good size and fits under the seat of my ninja 250. im sure it will come in handy if something were to happen (knock on wood). hopefully not tho.
Over 6 years ago
Pontotoc, MS 38863, USA
Bailout
Had a chance to use this right after purchasing it. On a long trail ride with a friend when he had problems with his front brake lever and bark busters. Using this tool we were able to get him back on the trail until we could get back to fix it properly. It's obviously not a full tool set, but it's great to be able to throw in a backpack to have in emergencies. Quality is good, you can apply some decent torque without feeling like it's going to come apart.
Over 7 years ago
Tri cities TN
Folding multi tool is great
Easy to fit in any pack. Has 8 10 & 12 socket which is very handy!
Ask a Question
There have been no questions asked about the CruzTOOLS Outback'r Folding Metric Tool Set.
# Part Numbers
| Product Variant | Manufacturer Part # |
| --- | --- |
| CruzTOOLS Outback'r Folding Metric Tool Set | OM14 |