CRG
CRG RC2 Brake / Clutch Lever Combo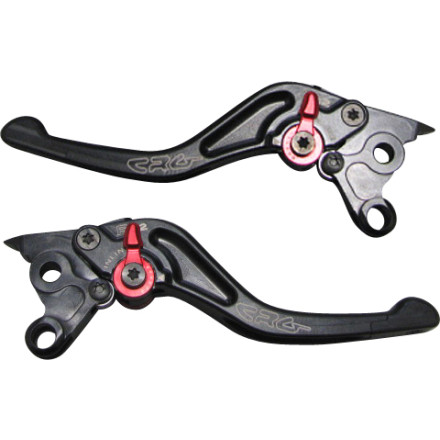 CRG RC2 Brake / Clutch Lever Combo
---
23% Off - Save up to $50.17
---
5 Star
21
4 Star
5
3 Star
2
2 Star
1
1 Star
0
Nicely engineered
Very happy with levers. Much improvement over oem. Great help at the track
2 years 6 months ago
Florida
2 years 6 months ago
South Jersey
Upgrade I needed!
These levers were affordable, easy to install, probably 20 minutes total , and added that style to handlebars required on my 07 R6. I love the functionality and ease of use.
Over 3 years ago
Boynton Beach ,FL, USA
Great levers!
Easy install.....Good looking.....Smooth and comfortable action
Awesome levers
Great levers. Super easy install. Just what I was looking for. Colors go great with my bike. I get compliments on them and I tell them Motowport.com had the best deal on them and it was on time shipping.
Over 5 years ago
new hampshire
New levers
Overall installation was easy straight forward swap. Fitment is good has a nice quality finish on them and adjustment are simple. They are a little more squared off than I thought fingers both roll off on release but not a big deal. Happy with purchase. Motorsport was helpful getting the order out and shipping was fast. Thanks
Great purchase
Bought a set of these for my 2010 zx10r and I absolutely love these levers
See all bikes that this part fits...
Brake Lever
| Product Variant | Manufacturer Part # |
| --- | --- |
| Gold / Shorty | 2AB-541-H-G |
| Gold / Shorty | 2AN-532-H-G |
| Gold / Standard | 2AB-541-T-G |
| Gold / Shorty | 2AB-521B-H-G |
| Gold / Standard | 2AB-521B-T-G |
| Gold / Shorty | 2RN-531-H-G |
| Gold / Standard | 2RN-531-T-G |
| Gold / Shorty | 2RB-516-H-G |
| Gold / Standard | 2RB-516-T-G |
| Gold / Standard | 2AB-531-T-G |
| Gold / Shorty | 2RB-514-H-G |
| Gold / Standard | 2RN-512-T-G |
| Gold / Shorty | 2AB-531-H-G |
| Gold / Standard | 2RN-511-T-G |
| Gold / Shorty | 2RN-512-H-G |
| Gold / Standard | 2AN-521-T-G |
| Gold / Shorty | 2RN-511-H-G |
| Gold / Shorty | 2AN-571-H-G |
| Gold / Shorty | 2AN-521-H-G |
| Gold / Shorty | 2AN-551-H-G |
| Gold / Standard | 2AN-551-T-G |
| Gold / Shorty | 2RN-521-H-G |
| Gold / Standard | 2RN-521-T-G |
| Gold / Shorty | 2AB-511B-H-G |
| Gold / Standard | 2AB-511B-T-G |
| Gold / Shorty | 2AN-531-H-G |
| Gold / Standard | 2AN-531-T-G |
| Gold / Shorty | 2RB-517-H-G |
| Gold / Standard | 2RB-517-T-G |
| Black / Shorty | 2AN-572-H-B |
| Black / Standard | 2AN-572-T-B |
| Black / Shorty | 2AB-541-H-B |
| Black / Standard | 2AB-541-T-B |
| Black / Shorty | 2RN-531-H-B |
| Black / Standard | 2RN-531-T-B |
| Black / Shorty | 2AN-532-H-B |
| Black / Standard | 2AN-532-T-B |
| Black / Shorty | 2RB-516-H-B |
| Black / Standard | 2RB-516-T-B |
| Black / Shorty | 2RB-514-H-B |
| Black / Standard | 2RB-514-T-B |
| Black / Shorty | 2AB-531-H-B |
| Black / Standard | 2AB-531-T-B |
| Black / Shorty | 2AN-523-H-B |
| Black / Standard | 2AN-523-T-B |
| Black / Shorty | 2RN-512-H-B |
| Black / Standard | 2RN-512-T-B |
| Black / Shorty | 2RN-511-H-B |
| Black / Standard | 2RN-511-T-B |
| Black / Standard | 2AN-571-T-B |
| Black / Shorty | 2AN-521-H-B |
| Black / Standard | 2AN-551-T-B |
| Black / Shorty | 2AN-571-H-B |
| Black / Standard | 2AN-541-T-B |
| Black / Shorty | 2AN-551-H-B |
| Black / Standard | 2RN-521-T-B |
| Black / Shorty | 2AN-541-H-B |
| Black / Standard | 2AB-511B-T-B |
| Black / Shorty | 2RN-521-H-B |
| Black / Standard | 2RB-513-T-B |
| Black / Shorty | 2AB-511B-H-B |
| Black / Standard | 2AN-531-T-B |
| Black / Shorty | 2RB-513-H-B |
| Black / Standard | 2RN-511-S1-T-B |
| Black / Shorty | 2AN-531-H-B |
| Black / Standard | 2AB-521B-T-B |
| Black / Shorty | 2RN-511-S1-H-B |
| Black / Standard | 2RB-517-T-B |
| Black / Shorty | 2AB-521B-H-B |
| Red / Standard | 2AN-572-T-R |
| Black / Shorty | 2RB-517-H-B |
| Red / Standard | 2AB-541-T-R |
| Red / Shorty | 2AN-572-H-R |
| Red / Shorty | 2AB-521B-H-R |
| Red / Shorty | 2AB-541-H-R |
| Red / Shorty | 2RN-531-H-R |
| Red / Standard | 2RN-531-T-R |
| Red / Shorty | 2AN-532-H-R |
| Red / Standard | 2AN-532-T-R |
| Red / Shorty | 2RB-516-H-R |
| Red / Standard | 2RB-516-T-R |
| Red / Shorty | 2RB-514-H-R |
| Red / Standard | 2RB-514-T-R |
| Red / Shorty | 2AB-531-H-R |
| Red / Standard | 2AB-531-T-R |
| Red / Shorty | 2RN-512-H-R |
| Red / Standard | 2RN-512-T-R |
| Red / Shorty | 2RN-511-H-R |
| Red / Standard | 2RN-511-T-R |
| Red / Shorty | 2AN-521-H-R |
| Red / Standard | 2AN-521-T-R |
| Red / Shorty | 2AN-571-H-R |
| Red / Standard | 2AN-571-T-R |
| Red / Shorty | 2AN-551-H-R |
| Red / Standard | 2AN-551-T-R |
| Red / Shorty | 2AN-541-H-R |
| Red / Standard | 2AN-541-T-R |
| Red / Shorty | 2RN-521-H-R |
| Red / Standard | 2RN-521-T-R |
| Red / Shorty | 2AB-511B-H-R |
| Red / Standard | 2AB-511B-T-R |
| Red / Shorty | 2RN-511-S1-H-R |
| Red / Standard | 2RN-511-S1-T-R |
| Red / Standard | 2RB-517-T-R |
| Red / Standard | 2AB-521B-T-R |
| Red / Shorty | 2RB-517-H-R |
Clutch Lever
| Product Variant | Manufacturer Part # |
| --- | --- |
| Gold / Standard | 2AD-611-T-G |
| Gold / Shorty | 2AN-642-H-G |
| Gold / Shorty | 2AN-651-H-G |
| Gold / Shorty | 2AN-641-H-G |
| Gold / Shorty | 2AN-632-H-G |
| Gold / Shorty | 2AD-621-H-G |
| Gold / Standard | 2AB-521C-T-G |
| Gold / Standard | 2AN-631-T-G |
| Gold / Shorty | 2AN-631-H-G |
| Gold / Standard | 2RB-522-T-G |
| Gold / Shorty | 2RB-522-H-G |
| Gold / Standard | 2AN-641-T-G |
| Gold / Shorty | 2AN-662-H-G |
| Gold / Standard | 2AN-662-T-G |
| Gold / Shorty | 2AN-671-H-G |
| Gold / Standard | 2AD-621-T-G |
| Gold / Standard | 2AN-671-T-G |
| Gold / Standard | 2AN-632-T-G |
| Gold / Shorty | 2AN-611-H-G |
| Gold / Shorty | 2AN-614-H-G |
| Gold / Shorty | 2AN-622-H-G |
| Gold / Shorty | 2AN-612-H-G |
| Gold / Shorty | 2AN-643-H-G |
| Gold / Shorty | 2AN-681-H-G |
| Gold / Standard | 2AN-612-T-G |
| Black / Shorty | 2AN-672-H-B |
| Gold / Standard | 2AN-681-T-G |
| Black / Shorty | 2AD-621-H-B |
| Gold / Standard | 2AN-642-T-G |
| Black / Shorty | 2AN-632-H-B |
| Black / Standard | 2AD-621-T-B |
| Black / Shorty | 2AN-662-H-B |
| Black / Standard | 2AN-632-T-B |
| Black / Standard | 2AD-611-T-B |
| Black / Standard | 2AN-662-T-B |
| Black / Standard | 2AN-651-T-B |
| Black / Shorty | 2AD-611-H-B |
| Black / Standard | 2AB-511C-T-B |
| Black / Shorty | 2AN-642-H-B |
| Black / Standard | 2AB-611-T-B |
| Black / Shorty | 2AN-651-H-B |
| Black / Standard | 2AN-621-T-B |
| Black / Shorty | 2AB-511C-H-B |
| Black / Standard | 2AN-671-T-B |
| Black / Shorty | 2AB-611-H-B |
| Black / Standard | 2AB-521C-T-B |
| Black / Shorty | 2AN-621-H-B |
| Black / Standard | 2AN-631-T-B |
| Black / Shorty | 2AN-671-H-B |
| Black / Standard | 2RB-522-T-B |
| Black / Shorty | 2AB-521C-H-B |
| Black / Standard | 2AN-623-T-B |
| Black / Shorty | 2AN-631-H-B |
| Black / Standard | 2AN-641-T-B |
| Black / Shorty | 2RB-522-H-B |
| Black / Standard | 2AN-622-T-B |
| Black / Shorty | 2AN-623-H-B |
| Black / Standard | 2AN-613-T-B |
| Black / Shorty | 2AN-641-H-B |
| Black / Standard | 2AN-611-T-B |
| Black / Shorty | 2AN-622-H-B |
| Black / Standard | 2AN-643-T-B |
| Black / Shorty | 2AN-613-H-B |
| Black / Standard | 2AN-614-T-B |
| Black / Shorty | 2AN-611-H-B |
| Black / Standard | 2AN-612-T-B |
| Black / Shorty | 2AN-643-H-B |
| Black / Standard | 2RM-611-T-B |
| Black / Shorty | 2AN-614-H-B |
| Black / Standard | 2AN-681-T-B |
| Black / Shorty | 2AN-612-H-B |
| Black / Standard | 2RN-611-T-B |
| Black / Shorty | 2RM-611-H-B |
| Black / Standard | 2AN-683-T-B |
| Black / Shorty | 2AN-681-H-B |
| Black / Standard | 2AN-661-T-B |
| Black / Shorty | 2RN-611-H-B |
| Black / Standard | 2AN-642-T-B |
| Black / Shorty | 2AN-683-H-B |
| Red / Shorty | 2AN-672-H-R |
| Black / Shorty | 2AN-661-H-B |
| Red / Shorty | 2AD-621-H-R |
| Red / Standard | 2AN-672-T-R |
| Red / Shorty | 2AN-632-H-R |
| Red / Standard | 2AD-621-T-R |
| Red / Shorty | 2AD-611-H-R |
| Red / Standard | 2AN-632-T-R |
| Red / Shorty | 2AN-642-H-R |
| Red / Shorty | 2AN-662-H-R |
| Red / Shorty | 2AN-651-H-R |
| Red / Standard | 2AD-611-T-R |
| Red / Shorty | 2AB-611-H-R |
| Red / Standard | 2AN-651-T-R |
| Red / Shorty | 2AN-671-H-R |
| Red / Standard | 2AB-611-T-R |
| Red / Shorty | 2AB-521C-H-R |
| Red / Standard | 2AN-671-T-R |
| Red / Shorty | 2AN-631-H-R |
| Red / Standard | 2AB-521C-T-R |
| Red / Shorty | 2RB-522-H-R |
| Red / Standard | 2AN-631-T-R |
| Red / Standard | 2AN-641-T-R |
| Red / Standard | 2RB-522-T-R |
| Red / Standard | 2AN-622-T-R |
| Red / Shorty | 2AN-623-H-R |
| Red / Shorty | 2AN-613-H-R |
| Red / Shorty | 2AN-641-H-R |
| Red / Shorty | 2AN-611-H-R |
| Red / Shorty | 2AN-622-H-R |
| Red / Shorty | 2AN-643-H-R |
| Red / Standard | 2AN-611-T-R |
| Red / Shorty | 2AN-614-H-R |
| Red / Standard | 2AN-643-T-R |
| Red / Shorty | 2AN-612-H-R |
| Red / Standard | 2AN-614-T-R |
| Red / Shorty | 2AN-681-H-R |
| Red / Standard | 2AN-612-T-R |
| Red / Shorty | 2AN-683-H-R |
| Red / Standard | 2AN-681-T-R |
| Red / Shorty | 2AN-661-H-R |
| Red / Shorty | 2RN-611-H-R |
| Gold / Shorty | 2AB-511C-H-G |
| Red / Standard | 2AN-661-T-R |
| Gold / Standard | 2AB-511C-T-G |
| Red / Standard | 2AN-642-T-R |