CRG
CRG Internal Bar End Mirror Adapter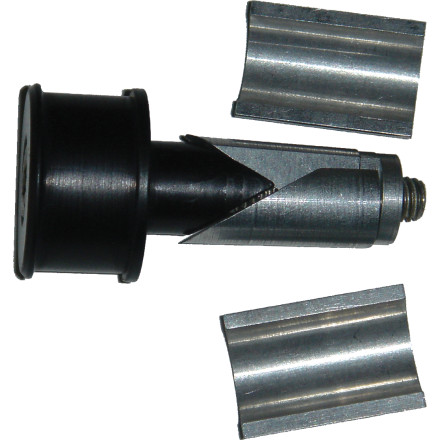 CRG Internal Bar End Mirror Adapter
5 Star
6
4 Star
4
3 Star
1
2 Star
0
1 Star
0
1 year 3 months ago
Connecticut
As expected
Easy install and fit as expected. No problem so far. Installed on 2016 yamaha FZ 09 with Woodcraft Clip-on Adapter
1 year 11 months ago
Florida Keys, Florida, USA
Perfect Adapter
I was at a loss on how to fit bar end mirrors on my 2015 Triumph Thruxton with LSL clip ons. I had been riding for about 6 months with no rearview mirrors and had too many close calls. It was time to solve this problem. The Thruxton has 1 inch bars with no extra room so that eliminates most of the mirror options and the LSL clip ons have an inside diameter of about 14mm. That eliminated every other option. This CRG piece fits perfectly and securely inside the LSL tubes and the black finish compliments the look. Even if you have a larger tube inside diameter, the package includes another set of larger wedges. I now have a standard 7/8 inch bar extension that will allow me far more options for bar end mirrors.
Perfect for CRG Blindsight Bar End Mirror
Living in a state (WA) that requires mirrors for both left and right sides, I was apprehensive about spending the funds for these mounts and looked at other affordable mounting options. None of them quite fit the bill to my liking. So, I pulled the trigger and bought two. I'm glad I did. Install was easy and construction flawless.
Over 6 years ago
Freehold Township, NJ, USA
CRG internal bar end mirror adapter
They work great with mirrors
Over 6 years ago
Gaffney, SC, USA
Definitely need this for the mirrors
If you're buying the bar mirrors I would recommend buying these along with it, it makes putting the mirrors on your bike a lot easier.
Over 8 years ago
Salt Lake City, UT
A must
These really give the mirrors a clean look and a really good mount on the bike. They were easy to install 5 min or less just start the screw a little and hold all the pieces on with one hand and slide it in the end of your handle bar and tighten very simple. Worth the money.
Over 8 years ago
Menasha,WI
Over 11 years ago
gbg, pa
these things really clean up the end of your bars with the addition of the mirrors. i thought about mounting my blindsights directly to the bar but decided against it after i saw these on a couple of bikes. like the other review says, installation can be tricky...but if you stick a little piece of tape on the outside cylinders to keep them together you'll have the adapter and mirror mounted in about 5 minutes. i definitely recommend these to anyone who is getting bar-end mirrors.
Over 12 years ago
Hartsville, SC
Advocatus Diaboli
The adapters work great. They go in in a couple of minutes and provide a stable support for the bar end mirrors. The bar end mirrors really add to the looks of the bike.
| Product Variant | Manufacturer Part # |
| --- | --- |
| CRG Internal Bar End Mirror Adapter | IA-100 |