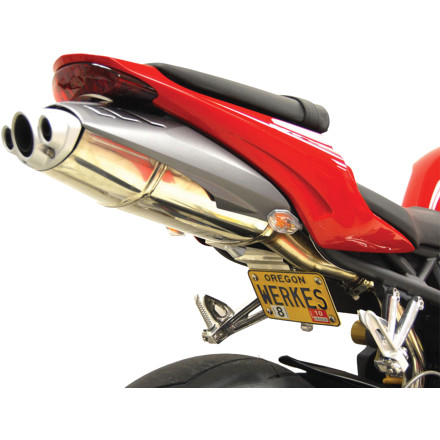 Competition Werkes Fender Eliminator Kit - Pivot License Plate Mount
5 Star
3
4 Star
1
3 Star
0
2 Star
1
1 Star
0
Over 6 years ago
Portland, OR
Quality Part
Easy to install, looks great, high quality materials and construction
Over 8 years ago
Connecticut
Compwerks Pivot eliminator
Great product. Hooks right up to the passenger pegs and the light is easy to install. The wheel is leaving a mark in my rear tire hugger, perhaps a rubber wheel as opposed to the hard one on there. If I get a carbon fiber hugger I will modify.
Over 9 years ago
Lompoc, CA
Wish I would have went with something else...
It looks nice and seems neat with the pivot and all. However, the "hard" plastic roller scratched my undertail. Also, if the plate is not mounted perfectly to the center it may also scratch the left or right side of the undertail. With modification it is nice but for the money I paid I don't think I should have had to mod it.
Everything fits perfect
this is a very very nice kit. makes the bike look a lot better
Over 11 years ago
avondale, az
See all bikes that this part fits...
| Product Variant | Manufacturer Part # |
| --- | --- |
| Competition Werkes Fender Eliminator Kit - Pivot License Plate Mount | 1H606 |
| Competition Werkes Fender Eliminator Kit - Pivot License Plate Mount | 1H1002LTD |
| Competition Werkes Fender Eliminator Kit - Pivot License Plate Mount | 1K606LTD |
| Competition Werkes Fender Eliminator Kit - Pivot License Plate Mount | 1K10 |
| Competition Werkes Fender Eliminator Kit - Pivot License Plate Mount | 1S756LTD |
| Competition Werkes Fender Eliminator Kit - Pivot License Plate Mount | 1S1004 |
| Competition Werkes Fender Eliminator Kit - Pivot License Plate Mount | 1Y607LTD |
| Competition Werkes Fender Eliminator Kit - Pivot License Plate Mount | 1H607LTD |
| Competition Werkes Fender Eliminator Kit - Pivot License Plate Mount | 1K607LTD |
| Competition Werkes Fender Eliminator Kit - Pivot License Plate Mount | 1Y1008LTD |
| Competition Werkes Fender Eliminator Kit - Pivot License Plate Mount | 1S1005LTD |
| Competition Werkes Fender Eliminator Kit - Pivot License Plate Mount | 1K1001LTD |
| Competition Werkes Fender Eliminator Kit - Pivot License Plate Mount | 1S757LTD |
| Competition Werkes Fender Eliminator Kit - Pivot License Plate Mount | 1Y608LTD |
| Competition Werkes Fender Eliminator Kit - Pivot License Plate Mount | 1H1003LTD |
| Competition Werkes Fender Eliminator Kit - Pivot License Plate Mount | 1K608LTD |
| Competition Werkes Fender Eliminator Kit - Pivot License Plate Mount | 1Y1007LTD |
| Competition Werkes Fender Eliminator Kit - Pivot License Plate Mount | 1T675 |
| Competition Werkes Fender Eliminator Kit - Pivot License Plate Mount | 1T677 |