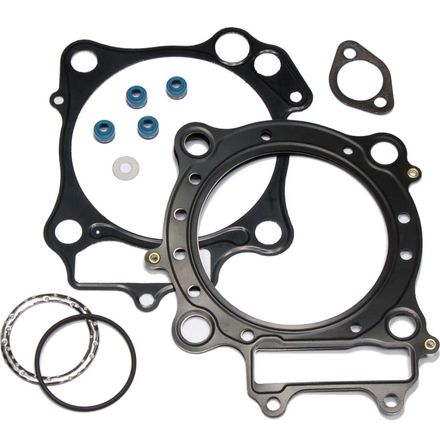 Cometic Top End Gasket Kit
5 Star
138
4 Star
24
3 Star
12
2 Star
13
1 Star
26
4 days 1 hour ago
Northern NJ
Good quality, good fit!
Fits good, quality product, no problems installing on my '02 grizzly 660
Everything's there
Everything you need to do a top end is in this kit and the quality is great
2 months 20 days ago
Gulf coast
Real racers/mechanics don't purchase from pics
I've bought cometic gaskets for years. They are the best. The rubber coating helps save time on future builds. No scraping off fiber residue. I've always received all gaskets in the kit. At the Bottom of the written description theirs a list of gaskets included in the kit. Pictures are just for advertising and are most likely not even pics of parts for your model.
3 months 11 days ago
massachusetts
Comes with 2 gaskets
Doesnt come with everything pictured
3 months 13 days ago
Alabama's
Great Fit
Bought these couple months ago, they did exactly as advertised
Not happy
I bought this gasket set expecting to get the valve stem seals and they were not in the package. Should not show them in the picture in the description if they are not going to come in the kit.
4 months 10 days ago
Atlanta, Georgia
Great product
Did everything it was supposed to do. Exact match for my engine. Performs as expected.
4 months 20 days ago
Wasilla Alaska
2004 YZ450f
The base gasket doesn't fit and the head gasket wholes are not close to correct spent 44$ on this and 4 off the gaskets dont fit wouldn't recommend.
Over 5 months ago
chesterfield virginia
Wow!!!
this kit was everything I hoped it would be. all gaskets I needed and all very good quality. I would sure buy this again!
Over 7 months ago
nashville, Tn
Okay
I bought this because i read the comments, there were only a couple that said they were missing gaskets, Well when I ordered it,
sure enough I was missing the head gasket.
See all bikes that this part fits...
| Product Variant | Manufacturer Part # |
| --- | --- |
| Cometic Top End Gasket Kit | C7760 |
| Cometic Top End Gasket Kit | C7859 |
| Cometic Top End Gasket Kit | C3267-EST |
| Cometic Top End Gasket Kit | C3136-EST |
| Cometic Top End Gasket Kit | C3268-EST |
| Cometic Top End Gasket Kit | C7070 |
| Cometic Top End Gasket Kit | C7071 |
| Cometic Top End Gasket Kit | C7072 |
| Cometic Top End Gasket Kit | C7073 |
| Cometic Top End Gasket Kit | C3150-EST |
| Cometic Top End Gasket Kit | C7978-EST |
| Cometic Top End Gasket Kit | C7971 |
| Cometic Top End Gasket Kit | C3142-EST |
| Cometic Top End Gasket Kit | C7778 |
| Cometic Top End Gasket Kit | C7508 |
| Cometic Top End Gasket Kit | C7120 |
| Cometic Top End Gasket Kit | C7059 |
| Cometic Top End Gasket Kit | C7112 |
| Cometic Top End Gasket Kit | C7136 |
| Cometic Top End Gasket Kit | C7779 |
| Cometic Top End Gasket Kit | C7467 |
| Cometic Top End Gasket Kit | C3099 |
| Cometic Top End Gasket Kit | C7064 |
| Cometic Top End Gasket Kit | C7065 |
| Cometic Top End Gasket Kit | C7123 |
| Cometic Top End Gasket Kit | C7156 |
| Cometic Top End Gasket Kit | C7280 |
| Cometic Top End Gasket Kit | C7505 |
| Cometic Top End Gasket Kit | C7054 |
| Cometic Top End Gasket Kit | C7857 |
| Cometic Top End Gasket Kit | C3054-EST |
| Cometic Top End Gasket Kit | C3175-EST |
| Cometic Top End Gasket Kit | C3406-EST |
| Cometic Top End Gasket Kit | C3102 |
| Cometic Top End Gasket Kit | C3233-EST |
| Cometic Top End Gasket Kit | C7349 |
| Cometic Top End Gasket Kit | C7143 |
| Cometic Top End Gasket Kit | C3051-EST |
| Cometic Top End Gasket Kit | C3139-EST |
| Cometic Top End Gasket Kit | C7096 |
| Cometic Top End Gasket Kit | C3066-EST |
| Cometic Top End Gasket Kit | C7853 |
| Cometic Top End Gasket Kit | C7936 |
| Cometic Top End Gasket Kit | C3105 |
| Cometic Top End Gasket Kit | C7084 |
| Cometic Top End Gasket Kit | C7139 |
| Cometic Top End Gasket Kit | C7158 |
| Cometic Top End Gasket Kit | C7399 |
| Cometic Top End Gasket Kit | C7855 |
| Cometic Top End Gasket Kit | C7113 |
| Cometic Top End Gasket Kit | C7250 |
| Cometic Top End Gasket Kit | C7337 |
| Cometic Top End Gasket Kit | C7507 |
| Cometic Top End Gasket Kit | C7400 |
| Cometic Top End Gasket Kit | C7689 |
| Cometic Top End Gasket Kit | C7137 |
| Cometic Top End Gasket Kit | C7851 |
| Cometic Top End Gasket Kit | C3057 |
| Cometic Top End Gasket Kit | C7947 |
| Cometic Top End Gasket Kit | C7908-EST |
| Cometic Top End Gasket Kit | C3395-EST |
| Cometic Top End Gasket Kit | C3211 |
| Cometic Top End Gasket Kit | C3164-EST |
| Cometic Top End Gasket Kit | C3428-EST |
| Cometic Top End Gasket Kit | C7279 |
| Cometic Top End Gasket Kit | C3412-EST |
| Cometic Top End Gasket Kit | C3263-EST |
| Cometic Top End Gasket Kit | C7292 |
| Cometic Top End Gasket Kit | N/A |
| Cometic Top End Gasket Kit | C7944 |
| Cometic Top End Gasket Kit | C3416 |
| Cometic Top End Gasket Kit | C7094 |
| Cometic Top End Gasket Kit | C7093-EST |
| Cometic Top End Gasket Kit | C7678 |
| Cometic Top End Gasket Kit | C7757 |
| Cometic Top End Gasket Kit | C7181 |
| Cometic Top End Gasket Kit | C3085 |
| Cometic Top End Gasket Kit | C7115 |
| Cometic Top End Gasket Kit | C7394 |
| Cometic Top End Gasket Kit | C7191 |
| Cometic Top End Gasket Kit | C3089 |
| Cometic Top End Gasket Kit | C7015 |
| Cometic Top End Gasket Kit | C7016 |
| Cometic Top End Gasket Kit | C7116 |
| Cometic Top End Gasket Kit | C7020 |
| Cometic Top End Gasket Kit | C7003 |
| Cometic Top End Gasket Kit | C7126 |
| Cometic Top End Gasket Kit | C3187 |
| Cometic Top End Gasket Kit | C7185 |
| Cometic Top End Gasket Kit | C3288-EST |
| Cometic Top End Gasket Kit | C3047-EST |
| Cometic Top End Gasket Kit | C3270-EST |
| Cometic Top End Gasket Kit | C7688 |
| Cometic Top End Gasket Kit | C7044 |
| Cometic Top End Gasket Kit | C3201-EST |
| Cometic Top End Gasket Kit | C7392 |
| Cometic Top End Gasket Kit | C7762 |
| Cometic Top End Gasket Kit | C7921 |
| Cometic Top End Gasket Kit | C7203 |
| Cometic Top End Gasket Kit | C7241 |
| Cometic Top End Gasket Kit | C7393 |
| Cometic Top End Gasket Kit | C7040 |
| Cometic Top End Gasket Kit | C7764 |
| Cometic Top End Gasket Kit | C7861 |
| Cometic Top End Gasket Kit | C7269 |
| Cometic Top End Gasket Kit | C3096 |
| Cometic Top End Gasket Kit | C7041 |
| Cometic Top End Gasket Kit | C7100 |
| Cometic Top End Gasket Kit | C7135 |
| Cometic Top End Gasket Kit | C7155 |
| Cometic Top End Gasket Kit | C7047 |
| Cometic Top End Gasket Kit | C7154 |
| Cometic Top End Gasket Kit | C7501 |
| Cometic Top End Gasket Kit | C7682 |
| Cometic Top End Gasket Kit | C7030 |
| Cometic Top End Gasket Kit | C7031 |
| Cometic Top End Gasket Kit | C7391 |
| Cometic Top End Gasket Kit | C7011 |
| Cometic Top End Gasket Kit | C7012 |
| Cometic Top End Gasket Kit | C7013 |
| Cometic Top End Gasket Kit | C7018 |
| Cometic Top End Gasket Kit | C7019 |
| Cometic Top End Gasket Kit | C7027 |
| Cometic Top End Gasket Kit | C7028 |
| Cometic Top End Gasket Kit | C7029 |
| Cometic Top End Gasket Kit | C7032 |
| Cometic Top End Gasket Kit | C7035 |
| Cometic Top End Gasket Kit | C7037 |
| Cometic Top End Gasket Kit | C7038 |
| Cometic Top End Gasket Kit | C7039 |
| Cometic Top End Gasket Kit | C7042 |
| Cometic Top End Gasket Kit | C7043 |
| Cometic Top End Gasket Kit | C7045 |
| Cometic Top End Gasket Kit | C7046 |
| Cometic Top End Gasket Kit | C7049 |
| Cometic Top End Gasket Kit | C7050 |
| Cometic Top End Gasket Kit | C7052 |
| Cometic Top End Gasket Kit | C7053 |
| Cometic Top End Gasket Kit | C7055 |
| Cometic Top End Gasket Kit | C7056 |
| Cometic Top End Gasket Kit | C7057 |
| Cometic Top End Gasket Kit | C7058 |
| Cometic Top End Gasket Kit | C7060 |
| Cometic Top End Gasket Kit | C7061 |
| Cometic Top End Gasket Kit | C7062 |
| Cometic Top End Gasket Kit | C7068 |
| Cometic Top End Gasket Kit | C7076 |
| Cometic Top End Gasket Kit | C7080 |
| Cometic Top End Gasket Kit | C7081 |
| Cometic Top End Gasket Kit | C7082 |
| Cometic Top End Gasket Kit | C7083 |
| Cometic Top End Gasket Kit | C7086 |
| Cometic Top End Gasket Kit | C7087 |
| Cometic Top End Gasket Kit | C7088 |
| Cometic Top End Gasket Kit | C7089 |
| Cometic Top End Gasket Kit | C7090 |
| Cometic Top End Gasket Kit | C7091 |
| Cometic Top End Gasket Kit | C7092 |
| Cometic Top End Gasket Kit | C7097 |
| Cometic Top End Gasket Kit | C7098 |
| Cometic Top End Gasket Kit | C7099 |
| Cometic Top End Gasket Kit | C7102 |
| Cometic Top End Gasket Kit | C7103 |
| Cometic Top End Gasket Kit | C7105 |
| Cometic Top End Gasket Kit | C7106 |
| Cometic Top End Gasket Kit | C7107 |
| Cometic Top End Gasket Kit | C7108 |
| Cometic Top End Gasket Kit | C7110 |
| Cometic Top End Gasket Kit | C7111 |
| Cometic Top End Gasket Kit | C7117 |
| Cometic Top End Gasket Kit | C7118 |
| Cometic Top End Gasket Kit | C7119 |
| Cometic Top End Gasket Kit | C7131 |
| Cometic Top End Gasket Kit | C7133 |
| Cometic Top End Gasket Kit | C7134 |
| Cometic Top End Gasket Kit | C7138 |
| Cometic Top End Gasket Kit | C7142 |
| Cometic Top End Gasket Kit | C7145 |
| Cometic Top End Gasket Kit | C7147 |
| Cometic Top End Gasket Kit | C7827 |
| Cometic Top End Gasket Kit | C3216 |
| Cometic Top End Gasket Kit | C7213 |
| Cometic Top End Gasket Kit | C7214 |
| Cometic Top End Gasket Kit | C7230 |
| Cometic Top End Gasket Kit | C7231 |
| Cometic Top End Gasket Kit | C7234 |
| Cometic Top End Gasket Kit | C7235 |
| Cometic Top End Gasket Kit | C7236 |
| Cometic Top End Gasket Kit | C7237 |
| Cometic Top End Gasket Kit | C7238 |
| Cometic Top End Gasket Kit | C7242 |
| Cometic Top End Gasket Kit | C7251 |
| Cometic Top End Gasket Kit | C7257 |
| Cometic Top End Gasket Kit | C7258 |
| Cometic Top End Gasket Kit | C7259 |
| Cometic Top End Gasket Kit | C7266 |
| Cometic Top End Gasket Kit | C7268 |
| Cometic Top End Gasket Kit | C7285 |
| Cometic Top End Gasket Kit | C7298 |
| Cometic Top End Gasket Kit | C7300 |
| Cometic Top End Gasket Kit | C7302 |
| Cometic Top End Gasket Kit | C7333 |
| Cometic Top End Gasket Kit | C7384 |
| Cometic Top End Gasket Kit | C7416 |
| Cometic Top End Gasket Kit | C7423 |
| Cometic Top End Gasket Kit | C7456 |
| Cometic Top End Gasket Kit | C7681 |
| Cometic Top End Gasket Kit | C7690 |
| Cometic Top End Gasket Kit | C7691 |
| Cometic Top End Gasket Kit | C7693 |
| Cometic Top End Gasket Kit | C7726 |
| Cometic Top End Gasket Kit | C7816 |
| Cometic Top End Gasket Kit | C7386 |
| Cometic Top End Gasket Kit | C7939 |
| Cometic Top End Gasket Kit | C7835 |
| Cometic Top End Gasket Kit | C7942 |
| Cometic Top End Gasket Kit | C7943 |
| Cometic Top End Gasket Kit | C3222 |
| Cometic Top End Gasket Kit | C7974 |
| Cometic Top End Gasket Kit | C7989 |
| Cometic Top End Gasket Kit | C7000 |
| Cometic Top End Gasket Kit | C7001 |
| Cometic Top End Gasket Kit | C7002 |
| Cometic Top End Gasket Kit | C7005 |
| Cometic Top End Gasket Kit | C7006 |
| Cometic Top End Gasket Kit | C7007 |
| Cometic Top End Gasket Kit | C7008 |
| Cometic Top End Gasket Kit | C7009 |
| Cometic Top End Gasket Kit | C7010 |
| Cometic Top End Gasket Kit | C7021 |
| Cometic Top End Gasket Kit | C3519-EST |
| Cometic Top End Gasket Kit | C3511-EST |
| Cometic Top End Gasket Kit | C3241-EST |
| Cometic Top End Gasket Kit | C3542 |
| Cometic Top End Gasket Kit | C3541 |
| Cometic Top End Gasket Kit | C3549-EST |
| Cometic Top End Gasket Kit | C3540-EST |
| Cometic Top End Gasket Kit | C3510 |